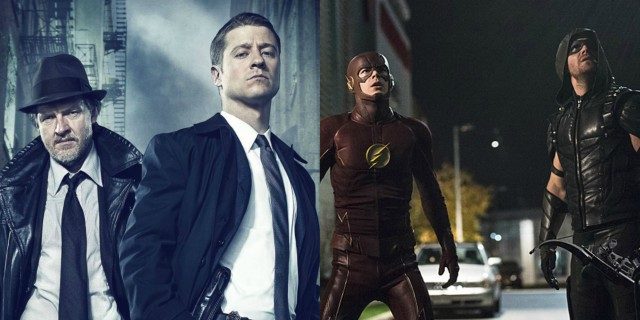 Well we appear to have a sudden barrage of season finale synopses of all the DC shows currently on air. We're pretty close to all of their season finales which means that they'll be leaving our television screens soon enough. Last we saw, Barry didn't have his speed while Genesis arrived in Star City. In Gotham, we have Azrael causing some mayhem while The Riddler intends to escape Arkham with some inmates. It looks like Barry will get his speed back over the course of the episodes leading up to the finale. Oliver now appears to be immune to Darhk's magic but what about the rest of the vigilantes? Azrael seems to have been dealt with leading up to the finale. Or has he? We all know he'll make it through because he's batman. All these questions may be answered over the course of the next few episodes. The synopsis for Gotham's Season Finale titled "Transference" reads:
While Gordon, Bruce and Lucius remain at Indian Hill, the city of Gotham will be met with a new threat as Hugo Strange's inmates devise a plan to escape and start their new lives.
Transference airs on May 22, but the real question is, what the hell are Gordon, Bruce and Lucius doing at Indian Hill? If Gotham is being torn apart by inmates, shouldn't they be doing something to stop it? Real irresponsible of them but let's wait and see. Meanwhile, The Flash's synopsis reads:
After Zoom (guest star Teddy Sears) reveals his true plan, Barry (Grant Gustin) vows to do whatever it takes to stop him.
Now that is short. What is Zoom's true plan? I thought it was to steal everyone's speed and terrorize people. Looks like there's more to the character after all. I've said it before that The Man In The Mask is actually the real Jay Garrick and I'll say it again. It looks like Zoom's plan will involve the Man In The Mask somehow culminating in the big reveal. The episode is called "The Race of his Life" and airs on May 23.
Oliver (Stephen Amell) teams up with a surprising force in an attempt to stop Damien Darhk (guest star Neal McDonough) and his magic once and for all.
Now that is cause for hype. Who is the 'surprising' force? I wouldn't count on a past ally like The Flash, Vixen or Constantine to be the surprising force. It's someone who's supposed to be an enemy. Biggest guest here: Malcolm Merlyn. Obviously, Darhk did something to piss him off and now he's all #TeamArrow. Do remember that Thea's trapped in that underground prison with Darhk's henchmen. He could certainly do much to piss off Malcolm. The episode titled "Schism" airs on May 24.
So that means we're gonna see all our Superhero shows bow out together. But what will we do then? We will wait…