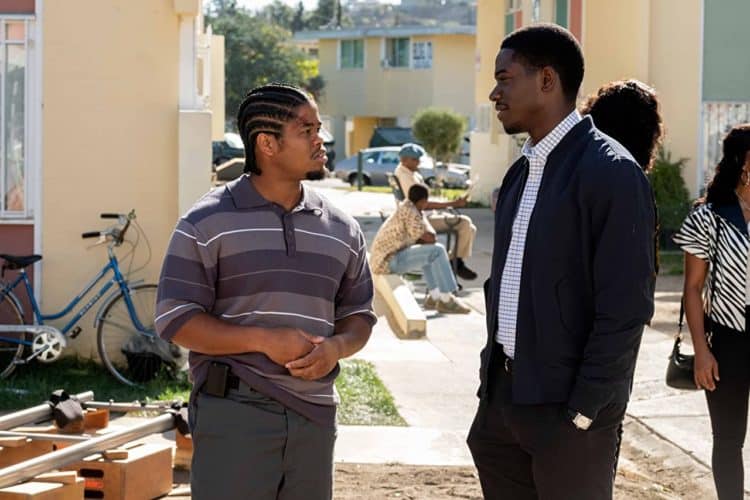 On Snowfall Season 5, Episode 3 Teddy came back on the scene after getting rid of his replacement. As a result, Franklin wasn't able to obtain the price cut that he had promised Jerome and Louie. Skully doesn't take Louie and Jerome going back on their word easy and they find out that he's planning to rob and kill them during the next drop off. Jerome and Louie wins back Skully trust by exposing a traitor in his crew that paid them to kill him. Franklin and Teddy come head to head and Teddy insists that he didn't have anything to do with his father's disappearance. Snowfall Season 5, Episode 4 sees the return of Sissy, Franklin's mother to her South Central LA home after being in Cuba for about a year. Sissy is still grieving the loss of Alton. Being back at home she realizes that so much has changed. Franklin's engaged with a baby on the way. When Jerome hears an upcoming local rapper on the radio spitting a verse accusing Franklin of being connected to a few murders he takes Leon and one of his goon to the projects to shut the boy up. The projects gets raided thanks to Detective Buckley, the cop Louie has been paying for protection. Detective Buckley makes an example out of Jerome, Leon and their goon in front of the whole community. It's payback for Louie not taking him serious when he told her that he needed her to give him someone high profile in order to keep his boss happy.
When Franklin found out about the raid he paid Jerome and Louie a visit to see if they had everything under control. Louie promises to smooth over the situation with Detective Buckley. Meanwhile Franklin appeals to Teddy for help in easing some of the pressure his organization has been receiving from the LAPD. Teddy informs Franklin that after Alton outed him, the CIA cut all ties with him and their only working with him now on a independent contractor basis. Franklin realizes that he is essentially alone without protection from the government he serves by dealing their drugs. Teddy recommends Franklin to insulate himself and to only interact with family. Leon is still furious about the way the police treated them during the raid at the projects. They harassed them and sic their vicious dogs on some of them. Leon is determined to stand up for the people in the projects. He plans on going to war with the police and he visits Avi to purchase rocket launchers. Avi unsuccessfully tries to help Leon see that it's a bad idea so he stalls the shipment of weapons.
Franklin plans a big welcome home dinner for Sissy and everyone is invited. After her heated standoff with Franklin in Episode 3, Louie tells Jerome that she's not coming. Jerome begs Louie to not put him in the middle of her and Franklin's beef. Louie agrees to go to the family dinner for Jerome. A family dinner is the last thing on Leon's mind. When Franklin extends an invitation to his best friend he declines choosing to stay with the people in the projects. Dinner with the family is tense to the say least. Louie doesn't make things any better by bluntly asking Sissy if she knows what happened to Alton. Sissy wastes no time in pointing the finger at Teddy MacDonald. Sissy senses the tension in the air and Franklin admits that Teddy is back in the picture and that he's back supplying them. On the way back home, Sissy tells Franklin that she wants back in the game. It's so weird to hear these words come out of Sissy's mouth considering that she's always been against Franklin dealing drugs. When Sissy initially agreed to work with Franklin it was inkh supposed to be for a short period. She and Alton fled to Cuba to get away from this very lifestyle and now she's choosing to get back involved all over again. Sissy makes it clear that she doesn't want to be left out the loop on anything.
Back at their home, Veronique confronts Franklin with her concerns about Sissy's safety with Teddy is back. Veronique feels like Franklin is downplaying how dangerous Teddy is. Franklin believes as long as they keep the money flowing they will be fine. Later that evening Sissy visits a diner where she is approached by a named Rueben. Sissy informs him that Teddy is back and she wants to make sure her family is safe and then she wants Teddy dead.