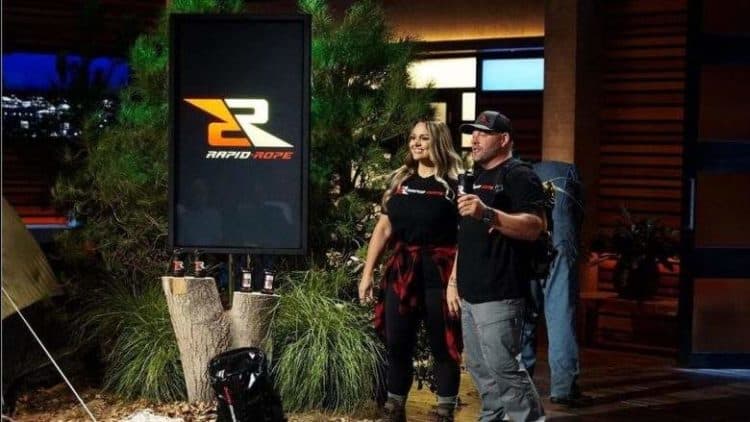 If you've never watched the show Shark Tank on ABC (with reruns on CNBC), it is the brainchild of Dallas Mavericks owner (and Broadcast.com creator) Mark Cuban. He took the idea from a Japanese show called Dragons' Den and brought the franchise to the United States. The premise of the show is that five "sharks" — potential investors in small businesses — hear pitches from entrepreneurs who are looking to take their successful small business to the next level. The cast varies, but it almost always includes Cuban and "Mr. Wonderful" (Kevin O'Leary). Other common cast members include Lori Greiner, of QVC fame, as well as Robert Herjavec, Barbara Corcoran, and Daymond Johnson, although such popular figures as baseball player Alex Rodriguez and reality show star Bethenny Frankel have taken turns. The show has won the Primetime Emmy Award for Outstanding Structured Reality Program four times, and Outstanding Reality Program twice. The show's eleventh season began in September of 2019.
Back in January of 2020, a heartwarming couple came on to Shark Tank to get investors for their business selling the Rapid Rope. The couple is Chris and Geanie Rodgers, and their invention can hold 1,100 pounds, but it is also simple to cut and can be purchased in a can. To help with their pitch, the couple brought in a friend dressed (and acting like) a zombie. Chris hogtied the zombie, adding some drama to the presentation, according to USA Today.
The couple invested their entire life savings of $115,000 to launch the business, which at the time of the episode had generated $172,000 in sales. Chris wanted to leave his job as an electrical lineman behind in order to pursue the business full time, but Rapid Rope was not generating enough income for his family for him to afford to do that, so he keeps working. Geanie had worked as a nurse, but she had to quit to stay home with their adopted son from Ethiopia, who suffers from colitis. Their family includes five children altogether.
The Rodgers family has taken part in charitable endeavors, such as building a school and naming it after their adopted son, and they have also put on a fun run to raise cash to send to help children in need in Africa. The problem for the sharks was that they did not know how they could help the business. Rohan Oza, a guest shark on this episode, pledged $10,000 to the next fun run, but the couple did not get the funding they had requested: $200,000 for 20 percent equity in the company. Instead, they got $200,000 from Barbara Corcoran but had to give up 30 percent equity in exchange, after trying to counter and get Corcoran down to 25 percent in equity.
So what is Rapid Rope used fro? According to Heavy.com, you can use this rope for a wide variety of fastening applications. You can tie a Christmas tree to the top of your station wagon. You can tie down a sofa in your pickup truck bed. You can put the rope back inside a canister that you can set in a cup holder in your car or truck, so that you do not have a rope tangled up in your trunk or in your truck bed.
There are some other interesting facts about this family that you should know. For example, they have applied to be in Shark Tank twice before but had been turned down. For their third application, they went to an open call, so that they would have a better chance of receiving a callback. They made their pitch at an open call, and three weeks later they found that they had advanced to the next round. Then it was time to fill out some paperwork and wait for an email.
The family was actually in Ghana when they found out they had been approved for the show. They were leading a youth mission trip at the time, as part of their volunteer work with Ghana Make a Difference, a nonprofit that helps children in that nation. They found out about Shark Tank via email and had 48 hours to get their paperwork in. They had to track down a printer in Ghana, sign the papers and scan and email it back to ABC — not quite as easy in Ghana as it would have been at home.
After that, they spent months working on their pitch with their assigned producers, and in September of 2019 they found out that they would be on the show in January. They went to California to record their pitch; however, the show tapes more pitches than what viewers see on the air, so at the time it was not certain whether their product would make it onto the air. They spent almost an hour in the tank, and then they found out on New Year's Day that their pitch would appear in the January 19 episode.
If you're actually interested in the rope, you can buy it with the canister for $24.95. It is available on the company website. A replacement rope is available for $14.95. You can choose white, green or orange rope. The canister is shatterproof and comes with a canister with 120 feet of the rope. The product has actually been around since 2017, but the family has had a number of other priorities (such as helping their adopted son deal with his colitis), but now they are at a point where they can expand the product and use it to give back as well.
Friends and family have been pitching in to help make more canisters of the rope and get them ready for distribution. Given the boost in scale that appearances on Shark Tank give to small businesses, the Rodgers family can certainly expect a spike in interest, traffic — and sales. As time goes by, it will be interesting to see how much more good the Rodgers can do in the world if their latest venture is a success.