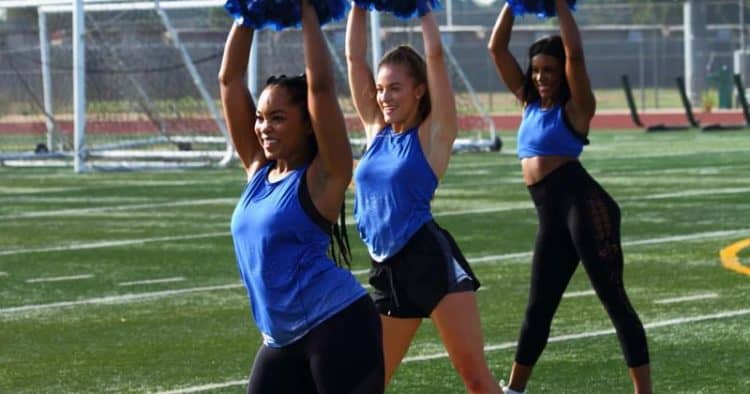 Sydney Malakeh is a young woman who acts for a living. She's starred in "Cheer Camp Killer," a movie about, well, cheer camp and a killer if the title didn't quite make it clear. However, she's also someone who hasn't been in the business long enough that we all know everything there is to know about her. In fact, the internet is not too familiar with her at all. It took us some hard work, some deep digging, and some creativity to even gain a little personal information about her to share with her fans. You do want to know more about her, right? Now's your chance, because no one else knows too much.
1. She's Young
We don't know her date of birth, but we do know she's quite young. The year she was born was 1999 if our internet sources are accurate. That means she's either a fresh new 21-year-old, or she has a very exciting birthday coming up to celebrate before the new year arrives in a few months.
2. She's a California Girl
Her birthplace is rumored to be Los Angeles, which makes her a through and through California girl. We don't know if she was raised there as well as born there, but we know she's there now working on movies and becoming a lot more famous. She's not yet a household name, but that will change.
3. She's a Dog Lover
She's been spending her time in quarantine doing things the right way (don't take that too literally, people, as there is no right or wrong way to spend your time locked up at home). She's been fostering a pup, whose name is Willow Rose, and we think that she must have a huge heart and a lot to offer and give back to the world.
4. She Cheered During the Pandemic
And, by cheered, we mean she filmed this movie about a cheer camp killer for Lifetime while she was in the middle of a pandemic along with the rest of the world. She did report, via her Instagram feed, however, that no one got sick on the set and that the team she worked with was highly professional.
5. She's a Fan of Manifestation
It's something we've all been hearing about for many years, but it seems that manifestation is taking on a life of its own during the 2020 season. We've heard more and more people talk about working hard to manifest their dreams and to make their own realities happen, and we also know that Sydney Malakeh is a believer in manifesting your own dreams. We applaud her for that.
6. She's Worked With Awesome People
2020 was not a big year for many people – well, it was a big year, but in all the wrong ways if you ask most – but it was a big year for this young actress. She starred in not one, but two Lifetime movies this year. "The Wrong Stepfather," was the other one, and it aired back in July. She got to work with William McNamara and Vivica A. Fox…and we think that is really cool.
7. Her Mom is Her Best Friend
We might not know much about her mom, other than the fact that her name is Andi, but she's her daughter's best friend, and we think that is very sweet. They get along well, they have fun together, and they are clearly very close with one another. We love it.
8. She's Got A Big Dream
She's a young woman who is very close to her mom, and her dad, and she's got a dream. She's going to work hard enough so that she can reach the goal of buying her parents their own house in LA so that they can be close together and spend their time with her. She said on Instagram, "So I can see you every single day, that way you can never get rid of me," and we love it.
9. She Loves the Beach
If we can be sure of one thing about this young actress, it's that she loves the beach. She has a lot of photos of herself on the beach, and it's clear to us she's a fan. She also seems to love being outside in general, whether it's in the middle of the road, in a field, or on her balcony. We get it.
10. She's Private
She doesn't share too much about herself. She keeps it on the down low. Her private life is her private life. She doesn't give anyone anything that they don't need to know, and we respect that about her.