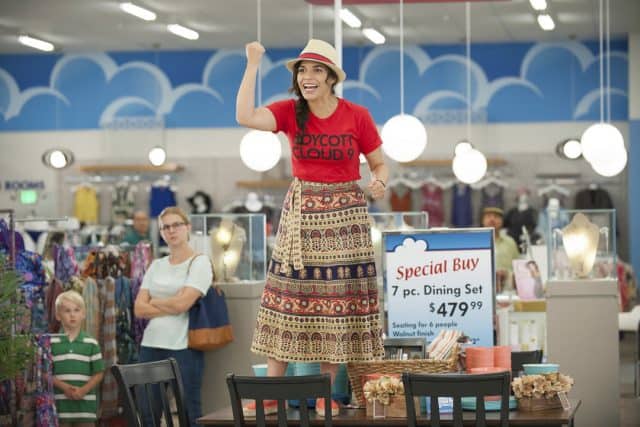 Fall television is back in full swing, and with it, NBC's breakout hit comedy Superstore. This was one of my favorite shows of the fall television season because it has heart, humor, and best of all, it perfectly captures what it's like to work in a retail store. Frankly, it's something the world should know about.
This week on Superstore: Picking up exactly where we left off last season, the team has walked out in protest after Glenn's firing. Jonah, Amy, Glenn, Garrett, Mateo, and the rest of the workers stand up to corporate for Glenn's job, maternity leave, and overtime pay. Meanwhile, Dina resumes her job as assistant manager and continues working through the strike.
It's a well-known fact that most big-box retailers don't give their employees great pay or benefits. So this episode, while entertaining, has turned into a poignant example of the world we live in today. One of the reasons I love this show is because of the real, human stories it tells. Take Mateo for instance. He wanted to stand with his friends and for what's right, but also didn't want to lose his job. He's simply a human. That story just happened to be funny, too, but real life often is.
What I like best about this show is that no one cast member really stands out. I mean, sure, you've got your Ugly Betty fans here to see America Ferrera, but where the show really shines is in the ensemble. I've always thought that was true, but it's especially prevalent in this episode. Each character had a chance to nail a punch line, and to decide for themselves what's right and wrong. I'm not sure who this "Dougie" character is, but it's an A+ addition in my book.
I think Lauren Ash is excellent in the role, but I absolutely hated Dina in this episode. She was cold and unforgiving. Perhaps this was a direct result of her heartbreak from Jonah. I guess only time and future episodes will tell, eh?
As I always do with comedies, here are some of my favorite quotes/moments from the episode:
"She's a fart noise!"- Garrett
"Dougie, we all know that's you. You're the only one who vapes."- Jonah
"You look like Carmen Sandiego"- Amy
"That's in the front in case you're a homosexual."- Dina
"I guess some five year old is having a horrifying birthday party."- Jonah
Loved Garrett deterring customers via the intercom.
"What a mess! I'm taking my business to Target!"- Glenn
I'm not sure that the show is back in full-force Season 1 mode just yet, but this was still a solid, funny season premiere. Now that the status quo has been re-established, I'm looking forward to a great many more stories about quirky, rude, and downright insane retail customers.
Still, this is one of my favorite comedies returning this year, and I was not disappointed in the premiere. It's going to be a great year…unless of course, you're a retail worker.
What did you guys think? Did you enjoy the episode? Let us know in the comments!
Superstore airs Thursdays at 8/7c on NBC
Superstore Season 2 Episode 1 Review: "Strike"
Summary
The entire crew, except for Dina, goes on strike to protest the firing of Glenn, while corporate sends a rep to handle the strike.