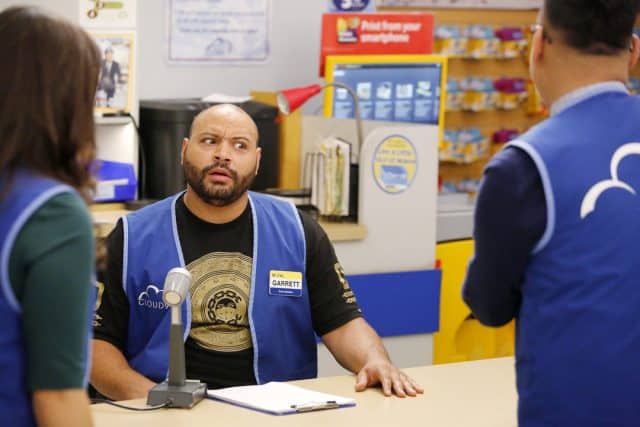 Now that fall TV is in full swing, so is the sophomore NBC comedy Superstore. After re-establishing the status quo with last week's episode, this week's swung for the fences with some fantastic physical bits and some top notch dialogue. "Back to Work" hit all the right notes, and was a lot of fun.
This week on Superstore: Jeff from corporate hangs around to get a feel for normal operations at the store. Amy puts Marcus on the meat slicer, and he immediately slices off his thumb. The entire crew searches for the thumb and tries to hide it from Jeff. Mateo works to impress Jeff, and Glenn wants Jeff to think he's tough. Dina makes several halfhearted attempts at an apology for turning on the employees. Cheyenne visits to show pictures of her baby.
This was easily the funniest episode so far. I know there have only been two episodes this season, but I'm not sure any episodes from last season were able to reach "Back to Work"'s consistent, focused level of both physical comedy and hilarious dialogue. I don't recall ever laughing so hard at a Superstore episode.
The high pressure situation of having the district manager around was really the key to the effective comedy. As a former retail worker, I understand just how much stress this can create in a normally relaxed environment. It puts everyone on edge, which creates wonderfully high comedic stakes.
Just as important to this particular episode were the physical bits. Namely, Amy and Marcus running around like chickens with missing heads after Marcus cut off his thumb. I never thought losing a limb could be so funny. But not just that. Garrett checking out the stuff in that lady's cart was a fantastic physical bit, too. Working in retail is a very physical job, so having great physical comedy comes with the territory.
As always, here are some of my favorite quotes/moments from the episode:
"Yeah, we're pretty perfect"
"March 14th cannot be manufactured"
"Attention Cloud 9 shoppers: Beef products from Cloud 9 ranch are now 80% off! But maybe ask yourself why we would do that!"- Garrett
"Nice to meet you, Matato"- Jeff
Any and all dialogue centered around the severed thumb was gold
"Those girls are big for 12, but there's two of us, so it'll be a fair fight this time."- Glenn
"Actually, I am kinda lazy"
The dialogue was sharp. The physical comedy was on point. Yet, there is still something extra that makes Superstore so special. It's got a ton of heart. All of the antics were centered around everyone wanting things to go well. Even Dina, who put up a cold exterior, helped out Amy when it mattered the most. Retail, and Superstore, are fantastic metaphors for life. There's only one way you'll get through it, and that's by helping each other out.
This was the best Superstore episode yet. Everything worked together for the good of the show, and there were plenty of laughs to be had. Hopefully they can stay atop their game, especially now that they've gotten a back nine order for Season 2!
What did you guys think? Did you enjoy the episode? Let us know in the comments!
Superstore airs Thursdays at 8/7c on NBC
Superstore Season 2 Episode 3 Review: "Back to Work"
Summary
The gang scrambles to impress the district manager, on their first day back after a walkout, on this week's hilarious episode of Superstore.