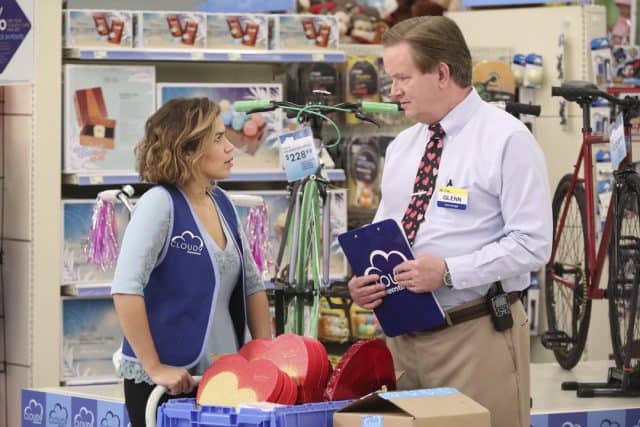 In retail, holidays can easily become the bane of your existence. It seems like the store is always prepping for the next big holiday, then clearing it all out in a day and setting up for the next one that's 2-3 months away. Superstore has always done a stellar job of capturing what real life is like inside a retail store, and (in several ways) "Valentine's Day" lives up to that standard.
This week on Superstore: Glenn and Amy decide to play matchmaker for Myrtle, but it spectacularly backfires. Mateo has reached his wits end with Sandra's pretend relationship. Jonah goes undercover to help Dina catch a shoplifter, but ends up making a love connection instead.
The approach to the holidays is what struck me most about this episode, and how it's eerily reminiscent of my retail days. But perhaps the most parallel element is not the store decorations or mass amounts of candy, but the actual pairing off of employees. I've known lots of people over the years who have matched just because they both worked at the same store. Making love connections at work is common, but in a retail store it happens by the truckload.
I love the realistic retail environment created in this show, but all of that took a back seat to the Mateo/Sandra/Garrett/Jeff saga in this episode. Mateo getting annoyed with Sandra was great, but the best part of the entire episode by far was Garrett finding out the truth about Mateo and Jeff, and then trolling Mateo as hard as possible. I have to admit, that's exactly what I'd do if I found out some information like that. Nico Santos nailed the jealous boyfriend bit, and Colton Dunn achieved perfection in trolling. I could only hope to be as excellent a troll as he one day.
"Valentine's Day" also opened the door for a major discussion on sexual harassment versus dating in the workplace, and what's ok versus what isn't. It managed to simultaneously address the issue and still make fun of those people who jump to conclusions and make unfair accusations of one party or another. Also, I can tell you from experience that the sexual harassment video (which some view as a workplace comedy cliche) actually exists. Still, the whole story proves interesting because men and women take offense to different things, and if you don't say "I'm uncomfortable", you can't expect someone to know that you're uncomfortable.
A few other thoughts:
Flash mob at the beginning was much better than Bo's.
"Bitten by Cupid". Glenn thinks that Cupid is a wild animal and it's amazing.
"It's like Christian Mingle, but for everyone". An accurate description of Match.com.
I can see this Sandra thing blowing up in Mateo's face. Like someone reporting to corporate that Jeff is dating a subordinate, which would cause problems for Sandra, Mateo, and Jeff.
"You were my victim!" Glenn's naivety is astoundingly funny.
All told, Superstore told a funny story and was still able to make some relevant points. This is the mark of a truly great show.
What did you guys think? Did you enjoy the episode? Let us know in the comments!
Superstore airs Thursdays at 8/7c on NBC
Superstore Season 2 Episode 13 Review: "Valentine's Day"
Summary
Amy and Glenn try to play matchmaker on Valentine's day, which spectacularly backfires, on this week's excellent Superstore.