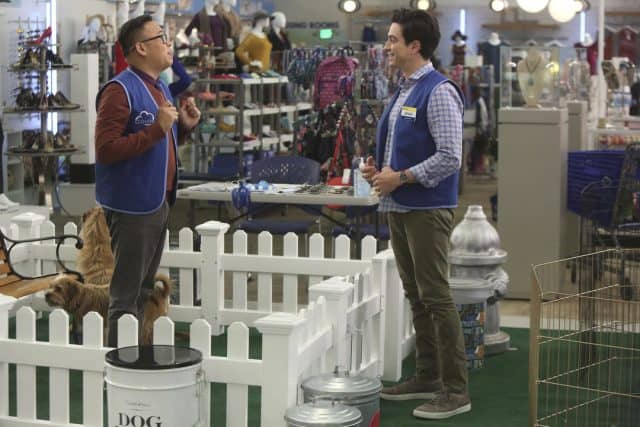 Superstore is having the opposite of a sophomore slump. As a matter of fact, it's really found a groove early in it's second season. I know it can be tacky to continually rave about a show for several weeks running. But before our very eyes, Superstore is full of heart, hilarious, and is meeting every challenge that it sets for itself. So gushing may be tacky, but gush I shall, until everyone I know watches.
This week on Superstore: Jonah and Mateo are partnered up to work the store's dog adoption promotion. They begin to take it seriously when they find out the dogs not adopted will be euthanized. Meanwhile, Cheyenne and Bo are fighting, which pushes Bo to think about their future, and Cheyenne to consider another admirer. Garrett decides to be a stickler for the rules to Dina.
It's really kind of incredible how easily this show takes me back to my days in retail. Jonah and Mateo working together really spoke to me. First of all, it was wonderful to see Ben Feldman and Nico Santos work together for an entire episode. They've got great chemistry, and we don't get to see them very often, especially since they're "rivals". That was always the case in retail, too. There would be someone that worked with you that you didn't like, but once the two of you worked on a major project together (like hanging all of the store's Halloween costumes), you become friends. Though I don't think Jonah and Mateo are set to become besties right away, it was both a sweet and funny portion of the show. Not to mention I love dogs and get all weepy, so I'm glad they (spoilers) saved them all!
I also found it interesting that Amy subtly projected her own issues with marriage into her conversation with Cheyenne. Obviously, Amy is experiencing some negative feelings about marriage, and there were just little, subtle moments in which she conveyed that to Cheyenne…er…the audience, because Cheyenne's totally clueless. For the record, I don't think Cheyenne should be with Bo or her former English teacher. But, even though it's nearly a Sophie's choice, I'd side with Amy and pick Bo. Only because continually seeing him on the show will cause me to A) continually shout "ALANGULON! SON OF ZORN!" and B) laugh because he reminds me of actual people that I know from my time in retail.
I'm trying to morph my "favorite quotes/moments" section of my sitcom reviews into more "extraneous thoughts" type stuff. Let's see how that goes:
I thought Glenn would be bad at impressions, so I was vindicated until his actually pretty decent Bane.
I found Bo being described as a "wannabe rapper who's saving for a gold tooth" abnormally hilarious
"Not a Leguizamo fan?"
Of all the fantastic Bo-isms, the best one is definitely "Nah, that's Jared's. Ricky wishes."
I also quite enjoyed Glenn's YouTube debut.
I would have like to see Dina suffer just a little bit more at Garrett's rule-following hand. But hey, it was still funny.
I don't know that this week's episode tops last week's hilarious romp, but it was right up there. Bo is always a welcome addition back to the show, and of course who can beat an episode with puppies!?!?! I can't.
Ultimately, "Dog Adoption Day" puts another tick in the win column for Superstore. An enjoyable, hilarious episode.
What did you guys think? Did you enjoy the episode? Let us know in the comments!
Superstore airs Thursdays at 8/7c on NBC
Superstore Season 2 Episode 6 Review: "Dog Adoption Day"
Summary
Jonah and Mateo work together to make sure every dog at the store gets adopted instead of euthanized, on this week's hilarious Superstore.