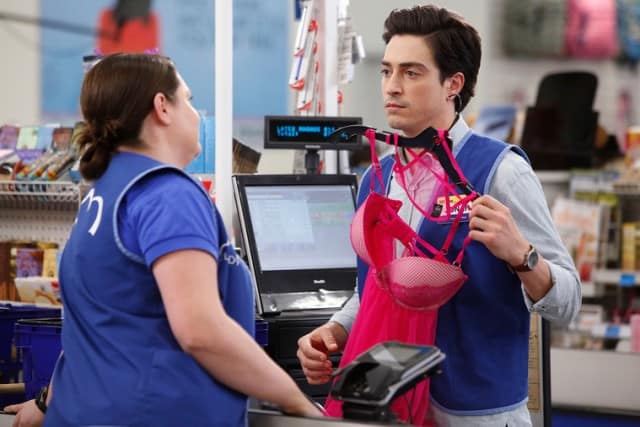 I can't believe that, almost as quickly as it started, Superstore is almost finished with its first season. This comedy has been the sleeper mid-season hit that NBC desperately needed, and viewers desperately deserved. As it tackles realistic scenarios and topics, it's one of the funniest sitcoms on TV right now, and this episode was no exception. "Demotion" was motivated both by plot and emotion, and moved the show into a strong place as it prepares for its season finale next week.
This week on Superstore: Dina takes a demotion for "personal reasons", which are to pursue a relationship with Jonah. With the Assistant Manager position open, Amy refuses it, but agrees to help Glenn search for someone. Jonah must learn how to give bad news. Garrett helps Mateo prepare for his Assistant Manager interview.
If you've been following this show, and the description above didn't make you giggle a little, you might want to check yourself before you wreck yourself. In a string of unending hilarious scenarios, this was one of the best that Superstore has done yet. Mostly, of course, because Garrett had a hand in every plot, and where there's Garrett, there's chaos. Not only was this a really funny installment, but there was plenty of heart behind it.
The only thing I didn't like about this episode was Dina's horrible time at the make-up counter. I love that character, but that wasn't a scenario that landed with me. Dina is a great character, but her lack of self-awareness is her worst quality. At the same time, I hope that her demotion creates different partnership scenarios in the future, because she would be an odd couple with everyone, and that would be awesome.
The BEST part of this show has been a recurring theme, but that's the genuine heart that this show has. In previous reviews, I've mentioned my retail background, and this show perfectly illustrates what it's like to work in a retail store. There are a lot of downsides and ridiculous situations, but one of my fondest memories was becoming like a family with those I worked with. As Garrett tried to help Jonah and "help" Mateo, or Amy tried to help Glenn, or Cheyenne ridiculously failed at helping Dina, the running theme was that they're becoming close and helping each other. I was already feeling strong things for these characters, but "Demotion" was full of the feels.
As always, here are some of my favorite quotes/moments from the episode:
"I didn't know Dina was into fancy little porcelain doll men"- Garrett
"I'm going to miss your constant criticism of me, a lot!"- Glenn, to Dina
"Are her birds okay? Did anyone check the live webcam?"- Amy
"I have virtually no standards."- Glenn
Those random bits with the guy eating off the free sample table, and the half naked guy in the dressing room were gold. Random, but hilarious.
"Box of chocolates. Never know what you're gonna get!"- Dina
I was just as impressed with this episode as I have been with the rest of Season 1. I'm so sad that it's ending for the season, but the penultimate installment was one of its best. Does anyone else think Dina is going to flip when she finds out that new boo of hers stole headphones? Guess we better tune in and find out.
What did you guys think? Did you enjoy this episode? Let us know in the comments!
Superstore's Season Finale airs Monday, February 22nd at 8/7c on NBC
Superstore Season 1 Episode 10 Review:
Summary
The gang tries to find a new assistant manager in this week's hilarious Superstore.