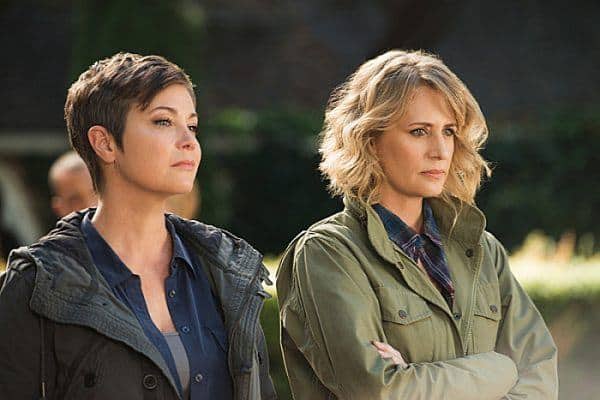 Though it had been hinted at for weeks, a Supernatural backdoor pilot will air during the 13th season of the CW classic. This information was confirmed this week during the Supernatural panel at San Diego's Comic Con festivities. The series, if picked up by the network, will star Kim Rhodes. Rhodes plays Sheriff Jody Mills and has appeared in several episodes of Supernatural since 2010.
Along with Jody Mills, viewers will be welcomed by a cat of young women. These ladies all have been orphaned due to some type of supernatural disaster in their lives. Brianna Buckmaster will play Sheriff Donna Hanscum, Katherine Ramdeen will portray Alex Jones, and Kathryn Newton will star as Claire Novak. All three actresses began appearing on Supernatural as early as 2014.
There will be the inclusion of a new character named Patience Turner. She will be played by Clark Backo, who recently appeared on the first season of Designated Survivor. Patience will find out that she has psychic abilities inherited from her grandmother Missouri Moseley. Fans of Supernatural may not remember Missouri as she only appeared in one episode during the series first season. She was played by the talented Loretta Devine. It has been revealed that Devine will return for at least one episode of Supernatural.
Are you excited for the Supernatural spinoff? Let us know in the comments section below.
Photo by: CW
Save