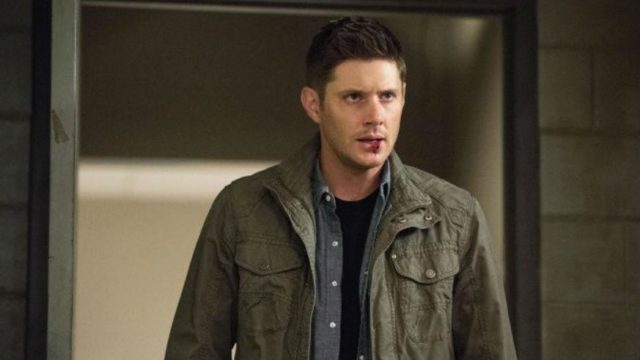 I'm so excited to be bringing you Supernatural reviews. I'm not an original member of the fandom, but I've been watching faithfully for several years. This show is capable of some masterful storytelling, and Supernatural is poised to tell some more great ones in Season 13. Though not the whole gang is back, there is a sense of mystery and intrigue going forward. And of course, we all know that we haven't seen the last of Castiel.
When we left our heroes last, Crowley sacrificed himself to close the interdimensional rift between two worlds. He died a hero, nobly trapping Lucifer in another world, but also inadvertently trapping Mary Winchester with him. Before that happened, Castiel was killed and Kelly Cline died giving birth to Jack. Not surprisingly, when we pick up, Dean is out for blood and Sam is doing his best to use his head. There were a few bombs that dropped in the premiere episode, too, namely that Jack considers Castiel, and not Lucifer, his father. That and though Sam and Dean consider their mother dead, Lucifer has kept Mary alive.
Keeping Jack away from the angels (and Dean) was an exciting story. Discovering Jack has virtually unlimited power while running from the angels made for an exciting one-off story, and set up an interesting premise going forward. Sam and Dean will essentially become Jack's parents, since he is an orphan. I assume that Dean and Sam are more willing than usual to take him in, too, because of the gigantic hole in their lives left by Castiel, Crowley, and Mary. This should create a dynamic never before seen on Supernatural. We've seen the Winchesters be orphaned, and with their parents and parental figures, but making them the parents will present a whole new twist on the show.
Shrouded in a little more mystery is what the dynamic will be between Mary and Lucifer in the alternate dimension. Since Sam and Dean are assuming that Mary is dead, they're not going to be knocking down the door to the other dimension anytime soon. So why does Lucifer need Mary? To not wander a strange land alone? As collateral when he finally returns to "Earth One"? I don't have any ideas at present, but a season premiere is supposed to whet your appetite for the rest of the season, and it sure did.
Here are a few other thoughts:
Jensen Ackles gets a bad rap as an actor sometimes. We've seen some truly great work from him on the series, but the scene where he prayed to Chuck/God, reeling from his losses was a powerful, emotional moment. He deserves some "Performer of the Week" accolades. A phenomenal performance.
Of course, I also got emotional when Jack said goodbye to Kelly and the boys to Castiel. They gave him a hunter's funeral, which is on one hand laughable when you remember how terribly the whole "Agent Beyonce" phase went for old Cas. But it will just be that much more remarkable when God finally comes through and brings Castiel back from the dead….again.
Sometimes I worry that death is meaningless on this show, but if it brings Castiel back to me I do not care.
This is the part where I say how excited I am to have Mark Pellegrino back on the show for the long haul. Rick Springfield can't hold a candle to that dude.
The episode went pretty much how I expected it would, but it was still a raw, emotional, strong episode of Supernatural. It was a strong kick-off to what is sure to be an electric season of television. Luckily, we all know that we won't have to miss Cas for long.
What did you guys think? Did you enjoy the episode? Let us know!
Supernatural airs Thursdays at 8/7c on the CW
Supernatural Season 13 Episode 1 Review: "Lost and Found"
Summary
Sam and Dean, reeling from the loss of their family, must locate and deal with Lucifer's son Jack on the Season 13 premiere of Supernatural