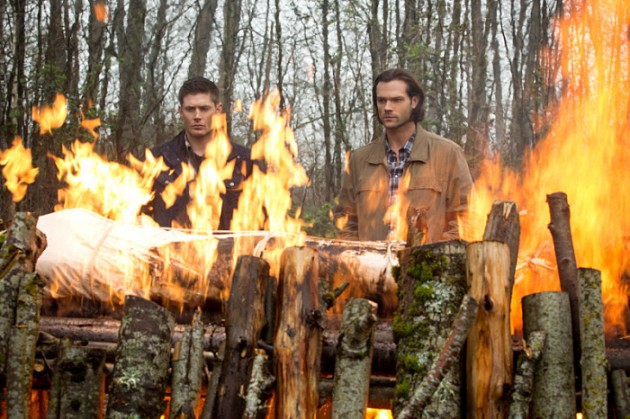 I've been down on this season of Supernatural, and with good reason. It had been going over and over the same character and plot beats as before. It was putting the brothers at odds, and to be frank, I'm tired of that storyline. I wanted something more, something different that would really revitalize my interest in the proceedings going on in front of me.
Supernatural did that last night. I mean, holy god; I don't know where this episode has been hiding, but it was the most entertaining and most engaging episode they've done in forever. I was actually disappointed that the episode was coming to an end; I actually forgot to take notes at some points because I was so engrossed in the action.
Putting the plot to the side, this episode was the best bit of character work they've done, ever. Ever. The introduction and arc of Cyrus was genius, and it worked so, so well. I had no idea where they were going with him, but I knew he'd be a player; it was only when Dean returned to the bunker that I realized the purpose of Cyrus: he was Dean Winchester's nudge over the edge.
Castiel believes that The Mark is pushing Dean to do these awful things; it would make sense, after all. But I personally think that it isn't The Mark. I think we're seeing the real Dean, in some ways. Dean went on these rampages long before he was infected by The Mark; hell, even Dean torturing the poor kid by giving him false hope rings true. This isn't the Dean that had to put on a mask to torture Alistair; this is the Dean that came back from Purgatory changed. The Mark amplifies those tendencies, sure, but Dean is a willing conduit.
Supernatural also took a turn for the brutal; from the moment the episode put the plastic bag around that bully's head, I knew something was different. Suffocating someone with a plastic bag is intentionally, cruelly violent; if they wanted him unconscious, they could've injected him with something, or got him in a headlock. To chose a plastic bag is to be a terrorist; it's about fear.
It just mushroomed from there. A kid was operated on while still alive, and we got to hear him scream. We watched Dean cut throats and shoot people in the head. We watched Crowley cough up blood. All of the camp that has been such an integral part to any Supernatural exercise was totally missing. It was incredible. This was the show that Supernatural began as, before they toned down the horror and the fear. I remember the Woman in White, from the pilot, and how genuinely scary she was; I see that same blackness in Dean Winchester. I don't know how long this will last; probably through the end of the season, at least. But it's been a welcome change from the way things are usually done.
God, I just can't get over it. I can't get over Cyrus. I can't get over how perfect of an arc that was. That was such a clever and well-executed piece of writing. I want to frame that whole arc and send Andrew Dabb and the rest of the Supernatural writers an Edible Arrangement. I've been hard on them, and they just totally blew my mind. I am so impressed.
I'm also genuinely distressed at Sam Winchester's future. There is no way he and Dean can coexist, or at least not in a pleasant way. Dean 100% blames Sam for Charlie's death, and him saying that he thought that Sam should be burning on that pyre instead of Charlie was so chilling. Dean actively wishing that his brother was dead, like really actually burnt bones and away from him, speaks to a divide and a darkness that exists between the two brothers that is growing more and more vast by the second.
It sets up a future confrontation, because it can't stand. If Dean is going around doing what he's doing then Sam has to do something. Sam is going to have to kill his brother, or die trying. Sam and Dean are as broken as they ever have and maybe ever could be, and I never thought I'd see a day where I can't wait for a continuation of that storyline.
Crowley might be the only thing that brings them together. He's broke bad, going back to the murderous evil King that he was pre-human blood and pre-Dean's friendship. Even more than getting Charlie killed, this might be Sam's greatest crime; he turned one of the most powerful evil beings in the world off the path of good and straight back into the depths of the fire he reigns over. He's literally created a monster, sprung from his own head, owing its entire existence to Sam's inability to move forward.
This is the end times. This feels like a final arc. This feels like Sam and Dean will fulfill, if indirectly, the apocalyptic scenario they spent so much effort avoiding. All of those years ago, they stopped the destruction of the world because of the love they had for each other; the difference between Michael and Lucifer and Sam and Dean was that Michael and Lucifer saw no other way to handle things. But we're there, now. We're staring it in the face. Sam and Dean have to fight.
Or Castiel has to. Had Sam been the one to confront him at the bunker, I believe that Dean would've killed him. But Cas lives another day. Believe in whatever theory that you want, but it is unavoidable that Dean Winchester has forgiven Cas and has not forgiven Sam. I say this because Dean killed an innocent teenage boy, who posed him no threat, who stood cowering, and who died in a pool of blood. Cas has been absolved of his sins for whatever reason you want. Is it because he's in love with Cas? Is it because Destiel is end game? I can't say. But I can say that Dean values Cas over Sam, and that is a new paradigm for a show that has been locked into Groundhog Day for nearly three seasons.
I am so excited for next week. I wish it was here now. I hope that this carries over into the next episode, and the next season. And if Season 11 is to be the last, we might have a final arc that could carry us all the way there. God, I hope so.
I really, really hope so.
[Photo via The CW]