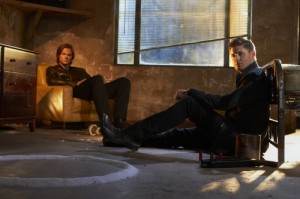 The Supernatural hellatus is now upon us. Fortunately, we only have to wait a month before we learn the outcome of the midseason finale cliffhanger. With ten episodes behind us, I thought this was an opportune time to look back at the first half of Supernatural's seventh season and put together a midseason review. But I wanted to present a more complete picture of opinions than just my own, because the Supernatural fandom is the collective totality of so many voices (and even factions). So I've solicited the opinions of many well-known writers and fansites in the fandom and put together what I hope is is a fair and comprehensive look back at the season so far. Our goal is really to explore three main themes: (1) what season 7 has been doing right so far, (2) what fans are taking issue with this season, and (3) some thoughts on the rest of the season.
What's promising right off the bat is that a lot of the writers involved in this review are very optimistic about season 7. I think that Danielle Turchiano put it best when she told me that she felt a bit hesitant about season 7 after an uneven sixth season. However, "From the first few moments of the seventh season premiere, "Meet The New Boss," I was re-hooked anew. Season six was meant to reboot the series a bit after Eric Kripke's five season arc came to its explosive end two years ago, but it was in season seven that really felt like the tide had turned".
Strong Season Premiere. In fact, several writers, including myself, agreed that the season 7 premiere of Supernatural was very good. In its history, the show has had two stand-out season premieres: season 2's "In My Time of Dying" and season 4's "Lazarus Rising". AOL TV's Laura Prudom thinks that "Meet the New Boss" deserves to be added to the list: "I thought that the season premiere was one of the strongest openers to date, up there with "Lazarus Rising" and "In My Time of Dying". It was well-plotted and paced and how compelling the show's Castiel-centric episodes can be."
The season premiere was amazing and managed to weave together multiple storylines in a manner that didn't feel jumbled or rushed. Castiel's "possession" was explored and Sam's slow descent into the more pronounced madness of episode 7.02 was subtle and poignant. The season's big bads (the leviathans) were also introduced to the audience right off the bat, which I thought was far more effective and satisfying for the overall season arc than delaying the introduction of Eve had been in season 6.
Back to Being Brothers. After the distance between Sam and Dean in season 6 (and even seasons 4 and 5), it's been so refreshing to see the brothers back on the same page. More than anything else, I've always firmly believed that the Sam and Dean relationship is integral to the show. Supernatural, and its fans, hurt when the brothers are at odds. Despite the whole Amy situation (which I will come back to), I haven't been worried about the brothers being out of sync in season 7. In fact, even during the Amy situation, I knew everything would be resolved.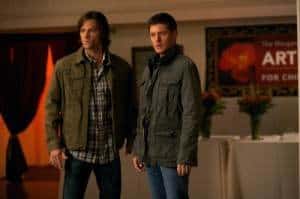 Sure, the brothers are occasionally at odds for keeping secrets (think back to how Dean dealt with his father's death and Sam trying to coax John's last works from him), but none of those secrets – save the one about Ruby – have ever really come close to destroying the brothers' relationship. I am overjoyed that the boys are back in sync and dealing with their problems together. Dean may say that he can't or couldn't trust Sam because of his unstable mental state, but there's still no one in the world that Dean loves and trusts as much as Sam. And while it may have looked like the boys were at odds on how to handle the Bobby situation in "Death's Door", they were really just acting like themselves – with Sam the one who wants to deal with a crisis head-on, while Dean just wants to deny that it's happening at all.
Individual Episodes Have a Very Early Supernatural Feel. In addition to the outstanding season premiere, there seems to be agreement across the board that the first half of Supernatural's seventh season has contained several good episodes. Episodes like "Slash Fiction", "The Mentalists", "How To Win Friends and Influence Monsters" and the recent midseason finale have all been singled out as impressive. Laura said "I think that when Supernatural is firing on all cylinders, its best episodes this season (the ones mentioned above) have generally been more solid than most of last season". Alice Jester, from Winchester Family Business, agreed: "'Slash Fiction" is an old school lesson on how you amp up a mytharc, and the devastating "Death's Door" is nothing short of pure brilliance."
There's also a fine balance to be found between recognizing that the show has progressed from what it was in season 1 and going back to what made many fans fall in love with the show. That's not to say that the show has to completely disregard or forget seasons 3 to 6. In fact, it should remember the widening in the scope of the show while still finding a way to make it about the Winchesters as individuals and a unit. Thus far, I think it's achieved that in season 7. Vinnie, from Winchester Brothers, perhaps put it best when she told me "Not to take anything away from seasons 4-6 because, let's face it, those seasons gave us great arcs with great scenes with great characters, however the current season of Supernatural is going back to the gore and the scare and the bare bones brother duo that made it popular the first few seasons. It's also the most realistic – if a show about demon hunting brothers with biblical ties can be realistic – the show has ever been. It's showcased that they are fugitives that have to hide, that they're homeless and they have almost nothing. They are hunters and they are the hunted."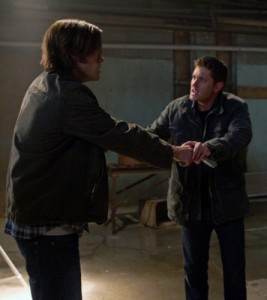 The Acting Has Been Stellar. It seems almost redundant to say that the acting on Supernatural is good, because it's always been good. This is a show that has been consistently overlooked for the strength of its talent, which is a crying shame. I think Jensen Ackles knows how to do nuanced and outright emotion in a way that many actors don't. But Jared Padalecki has also been hitting it out of the park this year. I thought his portrayal of Soulless Sam really allowed him to broaden his range in season 6, but there's something even more poignant about watching him play the damaged version of the Sam we really know and love. Laura agreed and said "Jared Padalecki has been doing great work in conveying Sam's troubled mental state, most notably in "Goodbye, Cruel World", and when it comes to alternating seamlessly between comedic beats and heartbreaking emotion, I don't think there's a more accomplished actor currently on television than Jensen Ackles."
In addition, Jim Beaver was so amazing in the midseason finale, "Death's Door", that I would be remiss not to mention his performance. I've always loved Bobby as a character and, in anticipation of the midseason finale, took a look back at some of his most memorable scenes, but there was something even more transcendent about his performance in "Death's Door". Danielle rightly said "Jim Beaver finally got his time, too, even if it was at the eleventh hour." Whatever complaints some fans may have about Supernatural, I think we can all agree that none of those complaints relate to the performances of the show's main actors.
Fun Guest Stars. Supernatural has always been a show that was very good about bringing in talented and memorable guest stars. The main cast might consist of few characters, but the show has never been lacking in talented ancillary characters. From Jeffrey Dean Morgan as John to Richard Speight Jr. and Sebastian Roché as angels, we've grown to love secondary characters as much as the main stars. This season has been no exception. The casting of Buffy's James Marsters and Charisma Carpenter resulted in a fun and classic-feeling Supernatural episode. TV Guide's Tina Charles agreed and said "I'm loving the guest stars this season. It has pretty much been a fandom explosion with Joss Whedon favorites coming on (Jewel Staite, Charisma Carpenter and James Marsters) as well as returning favorites like Steven Williams, Mark Sheppard and Mark Pellegrino popping in to cause some trouble."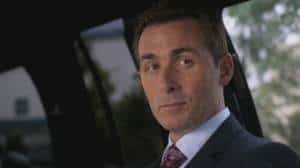 Leviathans Are Fun. I have to admit that the character of Eve didn't really work for me in season 6. I can appreciate the difficulty that Supernatural has in creating a new big bad after season 5. The truth is that the previous big bads all lasted for more than a single season and had many, many episodes to develop. The show had years to develop characters like Azazel, Lilith and Lucifer, so I appreciate that it must be very difficult to come up with convincing new villains and flesh them out in only a few episodes. Already I find the leviathans to be better villains this year.
Danielle told me, and I agree, that "The leviathans as the 'big bad' of season seven are a truly refreshing take — one that both furthers the heaven/hell dichotomy started in my favorite season (four!), as well as introduced a villain that is an enigma to these men. I've been thrilled to watch them come up against not only the same type of monster week after week but the actual exact same monster — because they have no idea how to kill it. It adds a new level of tension because the boys, who have always been our heroes, are proving more powerless than ever. And little by little, they are losing their crutches. Watching them work their way out of this own is bound to be emotional, dark, and all around insane." I've personally enjoyed the character of Dick Roman, childish and amusing puns about his name aside. I don't think he's up to Crowley levels, but he certainly has a fun and charismatic personality, which I attribute to both the character and the actor playing him (James Patrick Stuart).
A Stellar Midseason Finale. As a final note in terms of what the show is doing well this season, I would be remiss not to mention the fantastic "Death's Door". We've talked about how wonderful it was, but it truly was among the most emotionally resonant episodes of Supernatural.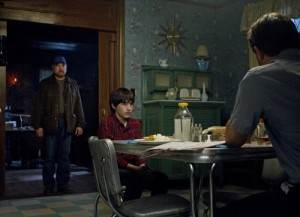 "'Death's Door' was perhaps the single-most powerful episode of Supernatural they have ever produced. Not only was it chock full of non-expositional backstory and emotional character moments, but it also pushed the plot further by embracing the personal. Monsters were always things Dean and Sam 'had' to fight because it was their job, but whenever revenge or fear for their loved ones are thrown in the mix, things get a whole lot juicier and fast", Danielle said.
I know some fans have taken issue with the fact that the episode didn't really move along the mythology (besides giving Sam and Dean a real reason to want to kill the leviathans besides the fact that they're bad), but the midseason finale hasn't always been about the mythological arc. Consider season 1's "Asylum" or season 3's "A Very Supernatural Christmas". Both of those episodes were more about exploring emotional concepts than the mythology of the season. The only thing that drove me crazy about the episode was the cliffhanger. I understand the need for it, but I am on pins and needles waiting for the outcome.
Continued on next page…