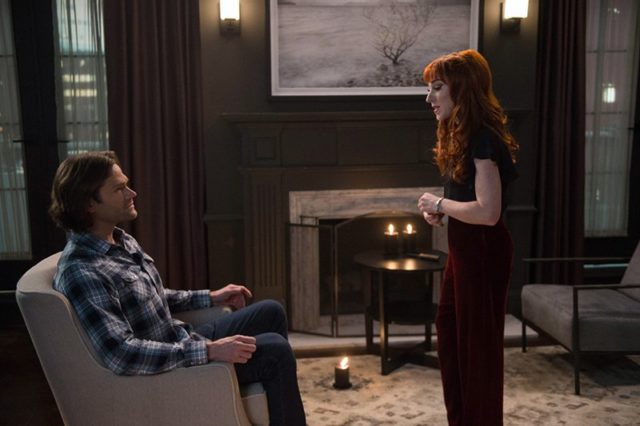 Supernatural's 13th season has been something of a renaissance. Though I would contend that they hit bottom years ago and have steadily gotten better every year for the last six years or so, thirteen has still had a noticeable difference. I'm certain that some of the difference is bringing back long lost characters like Lucifer and Gabriel, but really the stories have been meatier and the characters are being explored further. Supernatural has always thrived on the strength of its supporting cast, and those recurring players haven't been this good in a long time.
The most obvious reason I'm complimenting the supporting cast is because of Ruth Connell's Rowena. As the Winchesters try to assemble their remaining allies that are currently on this world, Rowena's name came up on a very short list. Of course, then we find out that Rowena is on a rampage, killing both human beings and the reapers that come to collect them. By doing this, she's throwing off people's fates and that draws the attention of Sam and Dean. It seems pretty run of the mill to make Rowena break bad (again) and put her up to nefarious things, but once the Winchesters find out why she's doing it, it's both compelling and heartbreaking. She never let on that she cared for Crowley (Fergus) at all, and she's trying to bring him back. Rowena is one of the better frenemies that Sam and Dean have, so I'm glad they're still finding ways to include her in the show.
The other story surrounding Castiel and heaven was interesting for several reasons. One, there was little to no mention of Lucifer at all, which seems odd because he was ruling heaven just a couple of episodes ago. Still, Castiel was reunited with several angels he's known from his past and they can't leave heaven to help him, because they're afraid it will crumble. The prospect of heaven crumbling is makes for an interesting potential Season 14 story. This part of "Funeralia" felt like just foreshadowing and little else, but I was excited by the prospect all the same.
A few other thoughts:
In addition to the potential Season 14 storyline courtesy of Castiel and the Angels (new band name, I call it), I'm equally interested in both Death saying "I'll see you later" and the forecast of Sam killing Rowena. I have a feeling, though, that while ghosts falling out of heaven might be a Season 14 story, we will see these other two things play out (or start to) before the end of this season.
"It's a sports term like slam dunk or ball handling." Castiel is the best mansplainer ever.
"That bacon cheeseburger is for emergencies only"
"Have you ever heard of the butterfly effect?" "Ashton's second best movie!"
I'm intrigued by what "Funeralia" means for the rest of this season of Supernatural, and even next season. This type of episode is underrated by most viewers, but it put a lot of chess pieces in place, and really showed depth to some of the characters who don't get as much screen time as Sam and Dean. Overall, I'm pleased.
What did you guys think? Did you enjoy it? Let us know!!
Supernatural airs Thursdays at 8/7c on the CW
Tell us what's wrong with this post? How could we improve it? :)
Let us improve this post!