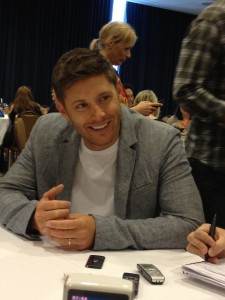 After the Supernatural panel earlier today at Comic-Con, we visited the press room and spoke with Jensen Ackles, Jared Padalecki, Misha Collins, Jim Beaver, Mark Sheppard and Ben Edlund, asking them to elaborate on the teasers they dropped during the panel. Fortunately, they were able to give us a bit more information (and we have also included videos below).
Dean's Journey Back
As was mentioned in the panel, Dean's time in Purgatory will be told primarily through flashbacks throughout the season. Padalecki said that Dean's time in Hell wasn't really shown, but they will be showing his experience this time.
In terms of the Supernatural timeline, a year will have passed from the events of the previous season's finale when the show returns for season 8. "[There will be a] character introduced in the first episode that helps explain how Dean got out [of Purgatory]," Ackles explained. "That character doesn't just go away. [He/she] is going to stick around, and, of course, cause problems. Because Dean is indebted to this character for his exit [from Purgatory] it makes the situation volatile. That's how the onion gets peeled back [about Dean's time in Purgatory. It happens] through Dean's crazy relationship with the new character."
For fans who are curious about episode 8.03 (the one Ackles is currently directing), he told us that he has been appearing in scenes throughout the entire 8 days of filming. In other words, Dean will be appearing in the episode even more than the last two episodes he directed.
Sam's New Life
'Sam [has been] living in normalcy [for the year]," 'Padalecki said. "Sam got out of the life. [He was] without Bobby, Cas and Dean, and had no Kevin in sight. Sam [basically said to himself] 'everyone I know is dead'. He didn't know what happened [to Dean]." As the season progresses, we'll see flashbacks about what happened to Sam while he was trying to live a normal life. Padalecki said that during that year, Sam enjoyed himself. "I think he wanted to be normal for so long. He was moving forward outside of hunting." Unlike when the boys went to Hell, there are no real leads for Sam to chase this time around. Although, while he was happy, he was still clearly grieving for everyone that he had lost, so that "happiness" is tempered by loss. At the same time, don't expect to see Sam like he was in the season 4 flashback episode 'I Know What You Did Last Summer'.
When asked if Sam's time with his new girlfriend Amelia will be like Dean's time off from hunting with Lisa, Padalecki said there are some parallels, but it's clearly a different situation. During the time Sam was in Hell, Dean technically still had other people around him, including Bobby, but Sam doesn't have anyone now. "Sam's not leaving anybody," Padalecki explained.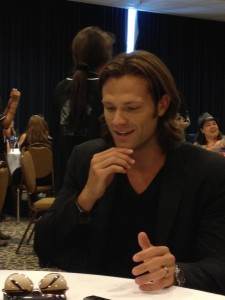 Still, some fans may be worried that Sam and Amelia's relationship will affect the central relationship of Sam and Dean. Padalecki assured us that this new romance will not come at the expanse of Sam and Dean's relationship. We will see more of Amelia in the current timeline, as well as in flashbacks. She herself is a bit of a damaged soul, but Supernatural will never be a soap opera about romantic relationships. Edlund assured us that the writers plan on being as small as they can with the romance story. It's meant to be a very small part of the overall supernatural aspects of the show.
On a side note, fans who were wondering about Sam's sideburns can rest assured that they have been significantly trimmed. Padalecki joked that "they were gradually taking over my face."
Winchester Reunion
While we don't know a lot about the reunion between Sam and Dean, we do know there will be a bit of initial tension. Dean will feel slightly resentful that Sam didn't try to find him, according to Edlund. Dean will essentially ask "'why didn't you look [for me]? We had a tacit agreement that we always look [even if we said we wouldn't]'." 'Padalecki also said that Dean will question how Sam just cut himself out of a life of hunting. Wasn't he paying attention to the strange things happening around the country? For his part, Sam will explain that he knew there were other hunters out there to take care of things and he chose to do this with his life instead.
This struggle will have them grappling with the question of how to live a normal life in a life of hunting. All they have done for most of their life is be at the mercy of this massive duty. In a way, Sam getting out of hunting was the right thing to do. Living a normal life made him realize (once again) what he was fighting for all this time. That will, ultimately, make him a better hunter, Edlund explained.
Castiel's New State
In the Supernatural panel, Misha Collins was asked when Castiel would return. Although he refused to answer at the time, he did tell reporters that we would see Castiel again in episode 2, although that will contain Purgatory flashbacks. Later, we will continue to see more of Dean and Castiel in Purgatory. But will he still be the same Crazy Castiel he was at the end of season 7? Collins indicated that the crazy would be toned down, primarily, he thinks, because of Cas being in survival mode in Purgatory. There may be further explanation as to his new state revealed later, but he's pretty confident as to the reasons Castiel has had a bit of a transformation.
How much of a transformation? We'll see more of "old Cas," Collins said. He will still have all of his past experiences and won't be as naive as he was when we first met him, but he will revert back slightly in terms of his personality.