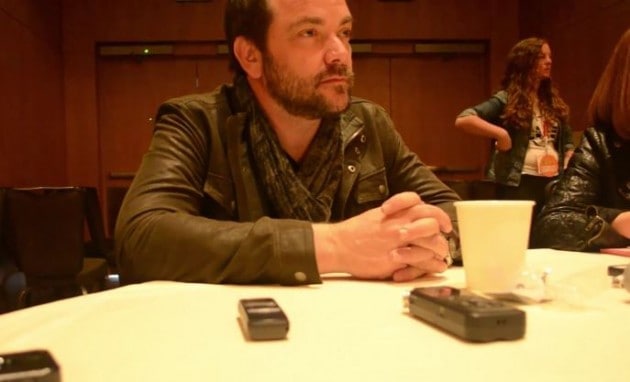 We were able to get a lot information from the cast and producers of Supernatural while we were at San Diego Comic-Con, such as details about Season 11's big bad and the show's upcoming Impala episode that will show what Sam and Dean do when they're not hunting demons and monsters. However, one actor from the series was particularly tight-lipped about his status in the new season. Mark Sheppard wouldn't reveal any information about what's coming up for Crowley in the new season of Supernatural, simply telling us that "I'm dead," and that he was just attending Comic-Con as a fan.
But even though Sheppard didn't give us any major teases about the new season (because we highly, highly doubt that Crowley is actually dead), he did reflect on Supernatural's most recent season, sharing his thoughts on what it was like to learn more about Crowley's past and explore his relationship with his mother, Rowena (Ruth Connell). Additionally, Sheppard also discussed what he thinks it means to be a fan (and how odd it is if you're not a fan of at least one thing) and also if there were any particular actors that he would love to see guest star on Supernatural at some point.
Watch the roundtable interview with Mark Sheppard below, and if you haven't already, check out our other interviews with Supernatural stars Jared Padalecki, Jensen Ackles, and Misha Collins and executive producers Jeremy Carver and Andrew Dabb. Also, be sure to check back on TVOvermind for more awesome Comic-Con content this week from other major series, such as Once Upon a Time, The Originals, and Outlander.
Supernatural Season 11 premieres on Wednesday, Oct. 7, at 9 p.m. on The CW.
[Photo via YouTube]