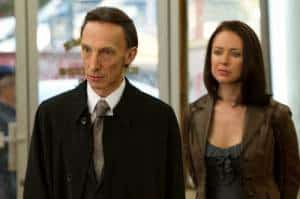 I'm a terrible person. I was at dinner while Supernatural aired live on the east coast and when a friend texted me about the episode I made her tell me the ending. Because I couldn't stand the anticipation. I had to know if Sam got his soul back.
And he did.
But first, we head to Chinatown.
The Doctor Will be Right With You
Dean meets with Dr. Robert (an old friend of John Winchester) in the back of a Chinese deli. Along with his assistant, Eva, Dr. Robert kills Dean for a short period of time. This allows him to go into the ether and summon Tessa in order to set up a meeting with Death.
Enter Julian Richings, again, as the coolest of the Horsemen. Dean wants to bargain: he'll return Death's ring if Death will retrieve Sam AND Adam's souls. FINALLY. Finally someone remembers that Adam jumped into the hole too. But I guess they couldn't book Jake Abel for this episode, because Death forces Dean to choose one brother to save. Naturally, he chooses Sam, and also asks if Death can fix Sam's damaged soul. Death agrees to block out the bad parts behind a wall in Sam's mind as Dr. Robert tries to revive him with a defibrillator. Tessa points out the wall won't be permanent, but Dean still wants the soul retrieved.
Of course, Death doesn't do anything for free. He wants Dean to put on his ring and act as Death for a day.
Back at Bobby's house, where Sam apparently stalked off to after the last episode, Dean is explaining the deal and the wall to Sam, who's having none of it. Sam stalks off again, apparently to 'wrap his head around it', but Bobby and Dean soon find him trying to steal Death's ring. Dean promises him that he's doing the right thing and Sam agrees with the plan (though Dean warns Bobby to watch Sam).
The Worst Job in the World?
When Dean puts on the ring he's instantly transported to another city, with Tessa (who doesn't like the whole plan) as his reluctant guide. Dean seems to get the hang of the job quickly, although he has no real answer for 'what does it all mean?'But the job gets harder when he has to reap a sick 12 year old girl. When he doesn't want to reap the girl, Tessa insists that it's destiny, which is something Dean really doesn't believe in. The doctor soon delivers the good news to the little girl's father that she's healed.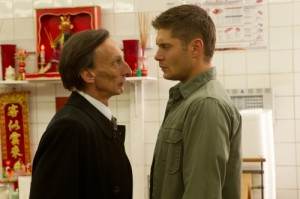 But the universe has to balance itself out, so when Dean refused to reap the girl, the nurse gets into an accident and dies. Because, like in Final Destination, Death will always find a way. Dean feels incredibly guilty when the nurse's husband shows up and sees his wife's body. Tessa returns and insists that Dean reap the young girl in order to reset the natural order. Before he agrees, he gets into the husband's car to save him from drinking and driving out of grief. To do that he takes off the ring so he can grab the wheel.
Dean puts the ring back on, even though he knows he failed to fulfill his end of the bargain. He reaps the young girl, who's upset about leaving her father alone. I really liked how the first question everyone asked when they died was 'why?'As if death wasn't an inevitable part of life, as if we're all somehow surprised when our time comes. 'What does it all mean?'was asked, but not every time and not as the first question.
Here's….Johnny!
Back at Bobby's apparently sprawling estate, Sam is in one of the empty buildings, summoning Balthazar. When asked, the angel offers up a spell that will ensure Sam's soul can never be returned to his body, but it will require Sam to 'scar his vessel'with patricide. Only his father is dead…but he can go for the next best thing.
Sam and Bobby play a little game of cat and mouse when Sam turns on his surrogate father. When Bobby manages to lock himself in a room Sam breaks down the door with an axe. And then…oh my god, the most amazing thing happens! Bobby activates a TRAP DOOR IN HIS FLOOR that Sam falls through into the basement. Bobby has a trap door! Jesus, is there anything this guy can't do?
Sam tries to reason with Bobby as to why he's doing this spell, but he's adamant that he doesn't want his soul back. Sam manages to trick Bobby into entering the basement, where he finds that Sam has disappeared. Bobby goes searching through his sprawling junk yard estate, following the bloody trail Sam leaves, before the younger man knocks him unconscious.
Sam ties up Bobby in the basement and raises a knife to kill him, but Dean arrives in the nick of time to knock him out.
Concluded on next page…