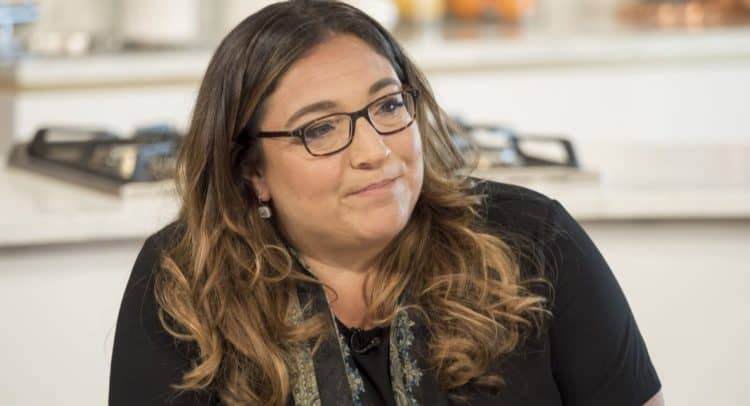 After an 8-year hiatus, SuperNanny is back, and so too is its star, Jo Frost. Frost first made her debut in 2004, when she was cast on the UK version of the international hit. Her parenting tips and signature style of discipline won her an instant fanbase, while her memorable phrases (who can even remember a time when we didn't know what a "naughty step" was?) quickly entered common parlance. 15 years later, she's ready to tackle a new generation of out-of-control kids… and the results promise to be as entertaining as ever. Find out more with these ten little facts.
1. She started working as a nanny at 18
Frost has been a nanny for over 30 years, taking her first position in childcare at the age of 18. At 32, she achieved instant fame by showcasing the same training techniques she had learned over the years on Channel 4's Supernanny. The show made her an overnight sensation, and soon she was appearing on Oprah and being praised by every celebrity with a baby.
2. She lost her mother at 24
Frost suffered a devastating tragedy at the age of 24, when she lost her mother to throat cancer. "It shattered my heart," she told the Telegraph. "I don't adhere to any particular faith, but I am very spiritual. I know my mum is with me. There are times when I sense her presence, like a scent in the air. I'm so lucky to have had a mother like her. If I can be even half the mother she was, I'll be content."
3. She's got royal fans
It's not just Average Joe's and Jane's who are fans of Frost's methods. Before the birth of their first child, Prince William and the Duchess of Cambridge prepared for parenthood by watching DVDs of Frost's show, Supernanny. Although Frost admitted to being pleased with having fans in high places ("I'm glad they're watching," she told The Telegraph. "I'm pleased."), she refused to be drawn on whether they'd ever called her for parenting advice. "If they did," she said, "I definitely would not share that information with you. Those who freely want to talk about receiving my help, do. And those who don't remain silent. I think integrity's really important; really important."
4. She's written 6 books
While she may be best known for her TV work, Frost has also penned six highly successful books, including Supernanny: How to Get the Best from Your Children (2005), Ask Supernanny: What Every Parent Wants to Know (2006), Jo Frost's Confident Baby Care (2007), Jo Frost's Confident Toddler Care (2011), Jo Frost's Toddler SOS (2013), and Jo Frost's Toddler Rules (2014).
5. She's tackled addiction
Frost hasn't limited her talents to just the one program. Following on from the international success of Supernanny, she has starred in several other reality TV programs, including Jo Frost: Extreme Parental Guidance, Jo Frost: Nanny on Tour, and Jo Frost On Britain's Killer Kids. In 2013, she tackled the difficult subjects of addiction and abuse in TLC's Family S.O.S. with Jo Frost. However, America was not quite ready to embrace Frost's ventures into edgier territory, and the show was cancelled after just one season.
6. She's an award winner
While Frost has sometimes drawn ire from parenting experts (Newcastle University media and cultural-studies lecturer Tracey Jensen, for example, has called out her TV show for shaming mothers), TV award panels have fallen over themselves to heap accolades on her endeavors. As well as scooping both the RTS Royal Television Award and the International Rose D'Or Award in the UK, Frost has also received nominations for the TV Guide's People's Choice Award in 2006, and an International Emmy Award nomination in the same year.
7. She's active in charity work
Keen to use her public platform for good, Frost has spent the last few years building up her philanthropic profile. In addition to serving as a global ambassador for The United Nations Campaign Shot@Life (a movement that aims to improve public understanding of global immunization), she also works closely with the Anaphylaxis Campaign in both the UK and the USA to help raise awareness and provide support for people with life-threatening allergies; serves as a public parental educator for YoungMinds (a foundation that supports mental wellbeing in children and young people); and actively supports the works of Book Trust, Save the Children, and several other leading cancer foundations.
8. She's big on social media
Frost clearly spotted the potential of social media early on and has actively used it throughout her career to help her connect directly with her existing fan base, and, of course, increase it in the process. As well as having huge followings on Instagram, Twitter, and Facebook, she also has a dedicated YouTube Channel featuring a plethora of training and instructive videos built around her unique style. Fans can even ask her a question directly on her website and have Frost answer the question (with prior approval, of course) on YouTube. Just a small sampling of her previous videos have included "Engaging Little Ones in a Learning Game", "Regulating Tech Time", "Teaching Kids to Care for Belongings", "The Naughty Step", "Teaching Kids to Declutter" and "When Dad's the Primary Caregiver".
9. She offers private consultations
If you've watched all the shows, read all the books, and scanned all the tweets, but are still struggling to get your kids under control, worry not. For parents in need of some one-on-one advice (and who can afford the cost), Jo Frost offers personal consultations through her website. Judging by the glowing reviews left by satisfied customers, the service appears to be a resounding success. "What an incredible experience!!! What can I say about Jo Frost? She is just amazing! I felt like she had known me for years. The way she understood my individual situation and the way she was able to read between the lines, I was amazed. THANK YOU so much for your time and words shared with me. They have been the boost that I needed to make a positive change in my children's and my own life," one person raved, while another echoed their sentiments with, "Thank you so much for being authentic and oh so genuine—a trait which is in short supply these days! Your advice has given me strength over our 6-week sessions. Most importantly, I have seen the results I had hoped for. My relationship with my children has made us all much happier and my husband and I feel more connected as a couple. This has improved our parenting altogether."
10. She's a millionaire
It took Frost 32 years to get her face on TV, but she has more than made up for it since. Thanks to the international success of Supernanny and her collection of best-selling books, she has amassed a fortune of $1.5 millionaccording to Celebrity Net Worth.