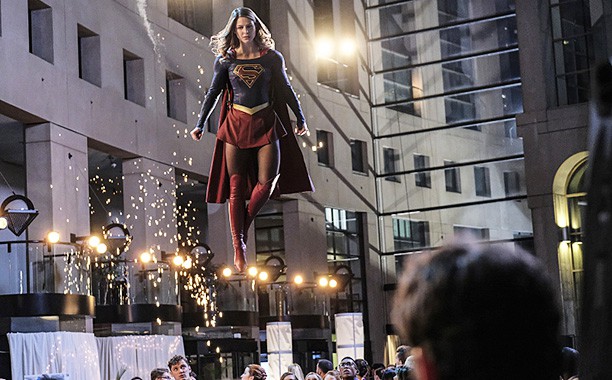 Out of all the CW DC television shows, Supergirl really balances itself better than any of the others. The show does a great job of making sure it never throws episodes at viewers that feel like complete filler, and even the case of the week episodes are handled nicely. Through two seasons, Supergirl ensures to always include something meaningful into the episodes that help character or story growth. Season two has established a nice growth pattern through these introductory episodes, and now it seems like the pieces are finally coming together. "Crossfire" seems to be moving the show into it's long-term track and there are lots of ideas to look forward to.
One of biggest and best choices Supergirl has made this season is to really focus on the main characters and give them purpose. When looking at The Flash, Arrow and Legends of Tomorrow, either all of a majority of the characters operate in a hero role. While it's no surprise to see Supergirl moving in the same direction, the character destinations all feel authentic so far. Adding Winn to the DEO has him happy, Hank discovering the alien bar allows him to feel natural and even Mon-El gives Kara a little taste of home. Everyone seems like they have a purpose outside of hunting down the bad guy and it's really refreshing. The characters will always have personal side stories, but Supergirl really nails theirs and avoids pumping out cheap stereotypical ideas so the characters can have legitimate depth.
The show has been building up Alex's personal realization that she is either gay or bisexual, and last night finally built to the character's self-relization about that. Before this episode, a decent bit of the Alex plot has felt pretty forced; the choice to make her question her sexuality is a solid idea, but a lot of the dialogue has felt like it's been trying to slap viewers in the face to make sure they understand what's going on. Yet, "Crossfire" finally delivers some really authentic feeling scenes in Alex's personal life through her interactions with Maggie. The writers really nail the awkwardness a person can run into when admitting to themselves who they really are. Her conversation with Maggie at the end of the episode is very genuine because Alex clearly doesn't know how to react to this self-discovery, but at the very least, she can say enough to get the message across. It was a little disappointing that the episode never gave Alex and Kara a scene to talk about this, but that will only be a great moment between the sisters saved for a later time.
Supergirl seems to be putting a large emphasis on characters discovering who they really are in this season. The addition of Mon-El, a.k.a. Mike, is cool for comic fans but last night showed how fun of an addition to the show he will be. There was a really nice message within his story that he needs to decide who he is going to be on Earth. Mon-El brings a nice edge to the cast of all inherently good people; we don't know much about his past, but the character seems to have that light-hearted party boy attitude. It will be interesting to see his development, but it's a solid choice for the show to insinuate Mon-El might feel differently than Kara or Clark about being a hero. Supergirl has introduced a lot of fun characters, and Mon-El seems like he has a unique story ahead as being someone the viewers can really watch grow into a hero.
Yet, Mon-El is not the only person on Supergirl going through a transition into a hero. Last night, "Crossfire" gave viewers the first look at James trying to operate as a vigilante. The one thing that Supergirl has not done well is make James interesting; throughout the entire first season and now the first five episodes of the second season, James still does not make anything exciting. The character has had some good moments, and it feels proper that he wants something greater out of life because he's close with heroes, but the choice to make him Guardian was very lackluster. A lot of it falls on the choice to openly reveal it a couple of weeks early, but already knowing what's coming has definitely diminished the mystery behind who he might have become. With the addition of Mon-El and the introduction of Ms. Martian, it seems like a forced time to try and develop James into a hero. It probably would have made the story more compelling had the writers chosen to wait until the end of season two, or even wait until season three to introduce his transition. Had the story evolved to the point where James is surrounded by five or so friends that are all heroes would have made his want to contribute feel more authentic.
Supergirl isn't perfect, but it's a really good show from a consistency standpoint. The show has covered so much ground through only five episodes and there is a ton to look forward to. All of the characters introduced in Supregirl feel a little less known from a fan standpoint which should give the writers more freedom to build them all up properly. The story doesn't have any overly negative ideas but just needs to be careful it isn't trying to force too much at once. While the James story might be a little out of place currently, it doesn't distract or takeaway from all of the great Supergirl has established. With the reveal of Mama Luthor running Cadmus, season two is only getting more interesting each week!
Other Thoughts:
* So…. could they have telegraphed the Cadmus woman being Mama Luthor? Seriously writers, you might as well just give her a name tag.
*I'm happy that Winn will be helping James. While I am not a fan of that story at all, I really enjoy how the show has brought those two closer together.
* I really really really hope that Lena Luthor continues to be a good girl, because she seems like a nice character for Kara to connect with outside of her inner circle.