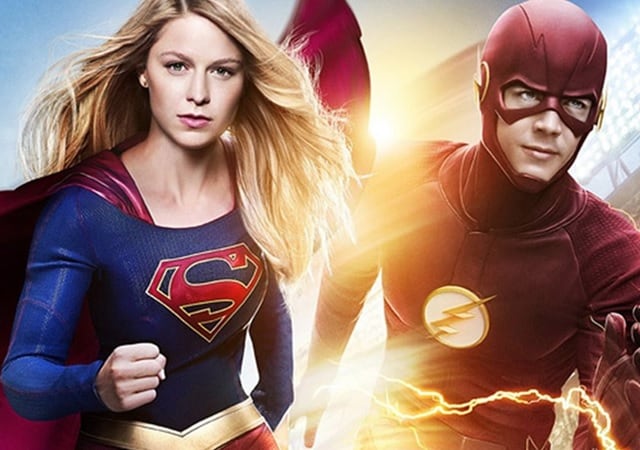 This week's Supergirl has been one of the most anticipated episodes of the season since the initial announcement as The Flash himself crossed over into Kara Zor-El's Earth for an epic and fun crossover event.
As the big comic book fan that I'm, I always love when superheroes crosses over into each others books, films or TV shows. While we have had a lot of the "Vs" theme going on lately with superheroes on the screen, "Worlds Finest" gave us a break from that as we saw these two heroes come together. There is no other way to say it: seeing Grant Gustin and Melissa Benoist being 110% adorkable was the funnest superhero interaction that I have seen in a very long time. As enjoyable as the crossovers with Arrow and The Flash has been, this one took it to the ideal level. Seeing Barry and Kara form this powerful bond was very special because of how similar both shows are.
Gustin's Barry fit in so well with these characters that I wish badly that we can get to the point quicker of seeing their worlds officially merge through something like a "Crisis on Infinite Earths" or "Flashpoint". One of their best scenes was when Barry was able to give Kara some needed inspiration as she is dealing with the city still not believing in her after what happened in "Falling". Barry has gone through something similar thanks to Zoom so who better to help Kara with that problem than someone who had to go through that too. Obviously the race was a special moment too, even though we don't get a clear winner. The episode also features another dynamic duo as Siobhan goes full out as Silver Banshee by teaming up with Livewire.
While I still had issues understanding how Siobhan's transformation into Silver Banshee worked, I liked how good her costume and effects looked in action. As we have seen her progression over the course of 3-4 episodes, I was glad with how she turned out. I was also a little shocked, but in a good way, over how they eventually defeated those two. As Kara almost sacrifices herself to save the citizens, the city stepped up and saved her which was a powerful and emotional scene. The way the citizens got in front of her as a shield, reminded me a lot of the train scene in Spider-Man 2. But overall, the city now believes in her which happened faster than I expected.
The only nitpick I had with "Worlds Finest" was the out-of-nowhere jealousy on Jimmy's side when Barry and Kara connected so much. This is the guy that needed some space from her after "Falling" so to see him make the leap to this stage, was unexpected. However, as someone who has been waiting to see Kara and Jimmy get together, their kiss at the end was appreciated. Although the reveal that he and the rest of the city is now brain-washed by Non, was a cliffhanger that I didn't see coming. Overall, "Worlds Finest" worked extremly well as a fun superhero crossover, but also a strong Supergirl episode. While we don't know the how just yet, I'm very confident that this is only the beginning for crossovers between the CBS and CW DC shows. I just hope that it is sooner rather than later because the amount of entertainment we got through this crossover, is something that I think we all would want to see more of on a regular basis.
Supergirl returns with new episodes on Monday, April 11, 8/7c on CBS.
[Photo: Robert Voets/Warner Bros. Entertainment Inc.]