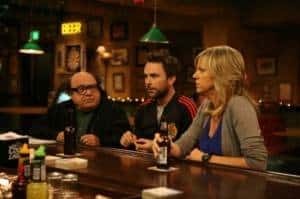 Maureen Ponderosa wakes to find her new husband, Dennis Reynolds, leaving for work. Her clinginess which was only hinted at last week is now in full force. Dennis forgets that they're married and still leaves cab fare for her to get home.
But she lives there now. Jobless.
After he warns her to stay away from his sex tape drawer, she tells him that he loves him. He makes a joking, "choking" gesture at her and gets a little serious with it. And then chuckles.
"Dennis Gets Divorced"
Since being booted from Dennis' apartment, Mac finds himself closer to Charlie's position in life. He now uses Paddy's sink to bathe. The boys decide to throw Dennis a bachelor party at a strip club, much to Frank's excitement. His domestic partnership has left him confused and eager to get his hetero on.
Dee is still reaping the rewards of her hookup with Bill Ponderosa in the last episode. He even bought her a brand new car.
At the strip club, the boys find themselves discussing Mac's peculiar dance moves, texting etiquette, how much money constitutes "making it rain", Charlie's domestic partnership laminate and Maureen's constant one-upping of Dennis.
Dee comes home to find Bill asking to stay at her place. He came clean to his wife and has since been kicked out. Dee regrettably lets him in to discuss his next step and what will happen with the new car, but Bill would rather wear Dee's bathrobe and have sex.
Mac and Dennis noisily stumble home, singing Thin Lizzy riffs and waking Maureen. They guys invite her to drink, but she thinks drinking makes people ugly. Dennis drunkenly asks for a divorce and points out her faults with an emphasis on her dead tooth.
"And I hate it! And it's annoying!"
Maureen proceeds to strike herself in the chest á lá Mark Wahlberg in Fear. Mac and Dennis flee, hoping that they're no accused of any sort of domestic battery.
Charlie and Frank, screaming at each other, decide to dissolve their domestic partnership and hope to maybe get the same lawyer as Dennis for his divorce.
The problem is the only lawyer they know that doesn't have a restraining order against them is Charlie's creepy uncle Jack, who we first met at Charlie's molestation intervention in season one.
Dee pulls up to Bill's house thinking that he'll be gone for good, but Bill returns with his two kids and yells at Dee to drive.
Uncle Jack mediates Charlie and Frank's annulment. Charlie gets to keep his hot plate and Frank gets to keep several drawings of elephants that Charlie made for him. They really just want to get things back to how they were, before they got married.
Panicked, Dee asks Jack for legal help with her possible kidnapping. Jack naturally assumes Dee has the kids locked up in some sort of backyard bunker for some sort of inappropriate touching. Naturally.
Bill's wife shows up at Paddy's to get the kids back, and offers Dee money for the sex she had with Bill. Dee explains that she's not a prostitute and Bill's wife congratulate her for being one of the only women Bill didn't have to pay for sex. Good for Dee!
Mac and Dennis, along with Jack, arrive at the apartment to meet with Maureen and her lawyer, the same lawyer from seasons past who now seems to be out to ruin the lives of the gang, much like they did his.
Jack, being the legal eagle he is, is out-lawyered by the real lawyer, and transfers Maureen's $90,000 debt to Dennis.
But hey, at least he's not married anymore!
Jack asks Dennis and the other lawyer to pose for a picture "for the website! We're lawyers!"