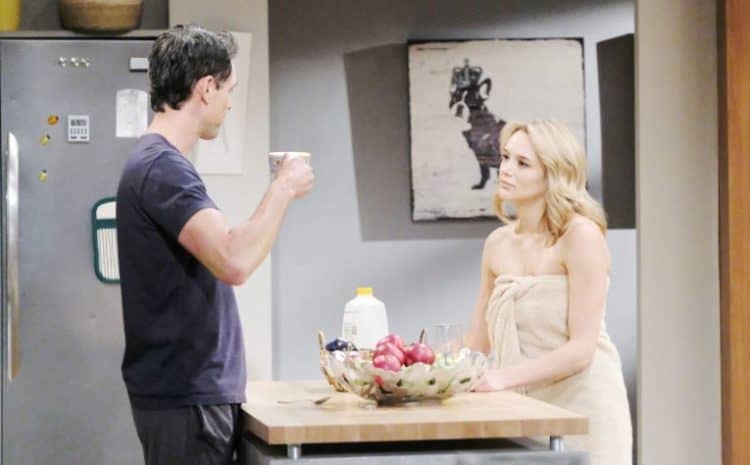 Young and the Restless fans know that thing will never really work out at all for the people who can't get their lives together, but it also won't work out for those who can. For one, we are going to see that some people can do all they can to make their lives better and more important, and others can't seem to handle anything else. Cane has made more than his fair share of mistakes over the past couple of months, but he's been there for Lily since this accident occurred. He has encouraged her, protected her, and done everything in his power to speak to her about what is going on and how he can protect her. He's shown her he cares, and he will not stop for her. And that is evident by the way he and Devon clashed already this week. Cane knows it kills his wife that her own brother has blamed her for the death of his wife and his baby. She ran a red light, yes. But she didn't mean for anyone to die because of it.
And now Lily has turned herself in, and she will face the consequences of that action. She will have a chance to do what needs to be done, and she will have a chance to ger her life in order in the short term, but she has to focus on the way things are going with everyone else in her life right now. She's upset by things, and she will be there as long as she can trying to make this right. She wants her brother to forgive her and see that she's not trying to do things like this on purpose. She's putting her own freedom, her own kids, and her own marriage on the line to make sure that she can get him to believe she didn't do this on purpose.
What's Happening on Young and the Restless
#YR I love Mariah and Devon friendship.❤❤❤

— TaylorMariaSharon (@wally_lw) August 3, 2018
If there is a thing that's coming from all of this, it's that there is a friendship becoming a lot stronger between Mariah and Devon. It's unlikely since they were together, but they did end things on a nicer note that other couples. She might have turned into one of the most boring character lines on the set recently, but she's been there for him to honor him even though she and Hilary didn't get along. She won't hurt her friend, and that's what makes her a good one. Fans are responding well to this, too, and that might change things for her character.
What's Next on Young and the Restless
Next week on #YR, tension builds in Genoa City. You won't want to miss it! pic.twitter.com/e1sEl1aVyW

— Young and Restless (@YandR_CBS) August 3, 2018
Ashley is going to be the comfort that Neil needs in this difficult time. His life is upside down right now thanks to what is going on with his kids and their lives, and he is going to need her to be there for him to help her get things done. She's upset, she's not in a good place, and she's not going to fail him. She might be dealing with her own stuff right now, but she's made it clear she will comfort him, and we will see a lot of that coming this week. He watched as his own son lost a wife and a child because his daughter caused a car accident. He watched as his son took his daughter's life from her when he told her she did this and he lost his entire family because of her. She is not a good person in his eyes right now, and that is not something a parent can easily see.
And that is not something we want to see, either. But we will see that there is a big situation going on elsewhere, too. Billy cannot keep his life together, and we are not surprised by any of that. Summer is working very hard to make sure she can seduce him, and we believe it is working to every extent of the situation. And this means that Phyllis is going to lose her mind in the coming days. It's ugly.
Stay tuned for more Young and the Restless and be sure to check out TVOvermind daily for the latest Young and the Restless spoilers, news, and updates.