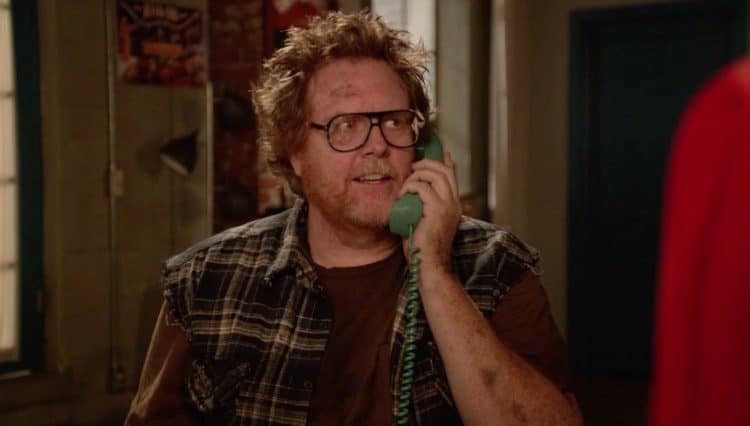 From a professional and personal standpoint there isn't a whole lot of literature on Steve Agee that isn't data-driven, but there are a lot of stats that show just how successful he's been in his career thus far. Despite this lack it's pretty obvious that he's been around for a while and he's been doing quite well with his career. As a writer, an actor, and a person steeped in comedy he's been able to make a name for himself and experience success on a level that might be deemed as adequate to impressive by many people when measured up against many others. In a big way this is something a person can be proud of since not only is it away from the public eye in a lot of ways but it's just enough to stay popular and stay on the radar so that one can be found when someone wants to take the time and effort.
Here are a few things about Steve that you might not have known.
10. It sounds like he'll be a part of the next Suicide Squad.
According to Emmanuel Gomez of LRM he'll be taking on the role of King Shark in the upcoming Suicide Squad movie, a role that a lot of people thought Michael Rooker was going to take on even though denied the rumors completely.
9. He has his own podcast.
Steve sounds like a busy man since he's been doing quite a few things for the length of his career and has been balancing it all somehow in an effort to maintain and keep a reputation that has served him well thus far.
8. Steve works with Sara Silverman a lot.
A lot of people tend to get on pretty well with a lot of other folks but there are many that do manage to find their favorites more often than not and are seen to interact or work with them more often than anyone else. It's a pretty common sight in Hollywood when people get used to each other and tend to sync up when it comes to talent or shared interests.
7. It would seem that his net worth is under review.
It's not quite as easy to gauge a person's net worth at all times since the numbers can tend to go up and down according what they're doing, what they own, and where their income tends to come from. There are a lot of factors that go into this it would seem.
6. He was featured in a movie called The Bogus Witch Project.
Not too surprisingly Rotten Tomatoes finally did something right and gave this movie an 11 percent, which would be satisfying except for the fact that this is a giant 'duh' moment since the movie wasn't really meant to impress anyone and was just a big spoof on The Blair Witch Project.
5. Steve just turned 50 this year.
He's not a young man any longer but he's still able to get up and do his thing it would seem since he's been active for a while and doesn't seem like he's going to just fade away anytime soon. The older some actors get it almost seems they start getting even more active for a while until their bodies just can't take it any longer.
4. He has a decent following on social media.
His followers are in the tens of thousands which is impressive enough since it means that people want to know what's going on with him and are interested in his career. It's not a record number of followers but it seems to be worth a bit since he's considered to be one of those individuals that has gained a lot of positive regard.
3. Photography seems to be something he enjoys.
Looking at his Instagram account you can see that he appreciates a lot of different angles and scenery that's kind of impressive and almost seems like the kind of wall art you might want to hang in your living room or throughout your house.
2. He was in Guardians of the Galaxy vol. 2 and Brightburn.
He was part of Yondu's, then Taserface's, crew in GOTG and played the part of EJ in Brightburn, both characters that were destined to be noticed only when they had to be and not much else. It's something at least, as he's been there long enough to be part of the project.
1. A lot of his writing credits seem to come from Jimmy Kimmel Live!.
It's kind of interesting to think that Jimmy Kimmel doesn't do a lot of his writing, but he's not the only one since the hosts of nighttime TV tend to have a team of writers that write a lot of their material, though only a couple of them ever seem to give their people the credit they deserve.
He's made his career and he's no doubt enjoying it.