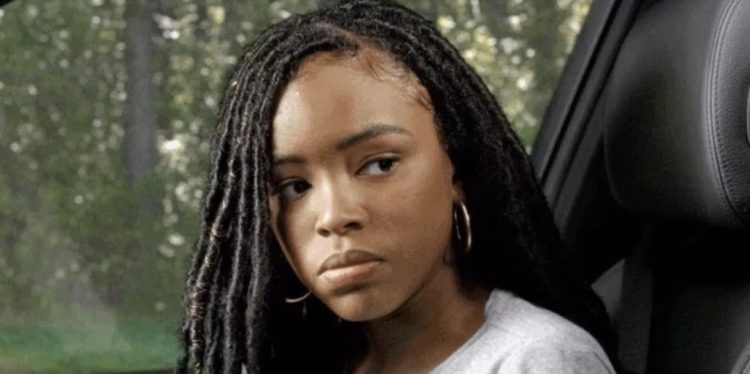 If you're not already familiar with the name Lovie Simone, then pay attention. This Bronx born actress is about to hit the big time. After several years of working on voice-overs, commercials, and minor independent films, the 20-year-old is about to achieve household-name status as one of the stars of the Blumhouse and Columbia Pictures remake of the iconic 1990s teen drama, 'The Craft'. The original movie made breakout stars of its cast of Robin Tunney, Fairuza Balk, Neve Campbell, Christine Taylor, and Rachel True, and if the early signs are anything to go by, the remake is set to do exactly the same for its lineup of Simone, Gideon Adlon, Cailee Spaeny, and Zoey Luna. Prepare to get acquainted with the talented actress with these top ten facts.
1. She's a twin
Simone was born on November 29, 1998, in NYC, New York. Since the family left the Big Apple in 2010, Simone has resided in Orange County with her twin sister, younger brother, sister, parents, and pet dog Ziggy (named after Ziggy Marley). Despite making strides in the entertainment industry, Simone is clearly a fan of family life and still lives at home with the rest of her siblings.
2. She was discovered in 2009
Simone was first discovered at the age of 11 while studying at an acting school in New York. After signing with her manager, she began securing acting gigs on commercials, with her most prominent booking coming with a national commercial for JC Penney.
3. She's worked with her idols
Before the announcement was made that Simone would be appearing on the new reboot of The Craft, her biggest role to date has been as Zora on Greenleaf. The series, which also stars Oprah Winfrey, Desiree Ross, Keith David, and Lynn Whitefield, has received overwhelming praise from critics, doing much to elevate Simone's status in the industry, as well as giving her the opportunity to work with some of her idols. Simone was initially cast as a recurring member of the show but was promoted to a series regular in the 2nd season after her character proved a huge hit with fans.
4. She has her own YouTube channel
Despite being one of the big new names to watch in 2019, Simone has described herself as a typical teenage girl, remaining grounded enough to eschew the stylists and stick to doing her own makeup for red carpet events. If you're a fan of her look, you're in luck- the multi-talented star has her own YouTube channel which she keeps regularly updated with her hair and makeup tutorials.
5. Oprah Winfrey is her mentor
Work alongside one of the most experienced and influential stars in entertainment, and it's unlikely you'll come away from the experience without picking up at least a few hints and tips along the way. During her time working with Oprah Winfrey on Greenleaf, Simone has learned enough from the older woman to adopt a whole new perspective on life. "I'm very passionate and sometimes my passion looks like aggression," she shared with ASOS. "She told me you can be friends with anyone… with the amount of hate in the world right now, you shouldn't have hate towards people. She taught me to spread love."
6. She's a huge Netflix fan
She may be about to film one of the most anticipated movies in recent years, but that doesn't mean Simone doesn't get to relax and chill with Netflix like the rest of us. "I watch a lot of Netflix," she's admitted to Information Cradle. "I watch Criminal Minds, and I watch a whole bunch of movies. I like Stranger Things; The Get Down, Bob's Burgers, so pretty much anything that is streaming on Netflix."
7. She made a splash at Sundance
Earlier this year, Simone's latest film project Selah and the Spades premiered at the Sundance Film Festival. Simone's portrayal of the lead character of Selah Summers (a senior at a Pennsylvania boarding school who heads up ring of high school drug dealers called The Spades) won substantial acclaim, while the film itself was such a sensation that in July 2019, Amazon Studies picked up the distribution rights to develop an original series around the same story.
8. Her character in The Craft is still a mystery
While the lineup for The Craft is now complete, it remains a mystery as to who will play who. While we know the new coven will comprise of Cailee Spaeny, Gideon Adlon, Simone, and Zoey Luna, who will play Rochelle, the only black student at the high school who enacts revenge against a bully with her magic; Bonnie, a student left traumatized by a car accident; Nancy, the troubled daughter of an abusive stepfather; and Sarah, a suicidal newcomer to the school, only time will tell.
9. She's starred opposite Jennifer Hudson
In 2018, Simone starred opposite a cast of luminaries including Jennifer Ehle, John David Washington, Mikey Madison, and Jennifer Hudson in the Anthony Mandler directed movie, Monster. Of all the cast, Simone was most star-struck at meeting A$AP Rocky, as she revealed to Information Cradle. "Meeting A$AP Rocky… Oh my God, my heart dropped," she shared. "So I was really star-struck, but I was also keeping it professional."
10. Her best advice has come from Keith David
Along with the inspirational advice she's taken from Oprah Winfrey, there's another member of Greenleaf's cast who can give himself a pat on the back for his positive influence on Simone. After asking Keith David how he got so good at his craft, he replied "Acting shouldn't seem like you're acting," a piece of advice his young protegee has apparently taken well and truly to heart. "Since then, I put myself in that position," she's said. "I think, "How would I feel if this were happening to me?" After I put myself in that perspective, I just act it out. It was a small piece of advice, but it helped me a lot."Blumhouse