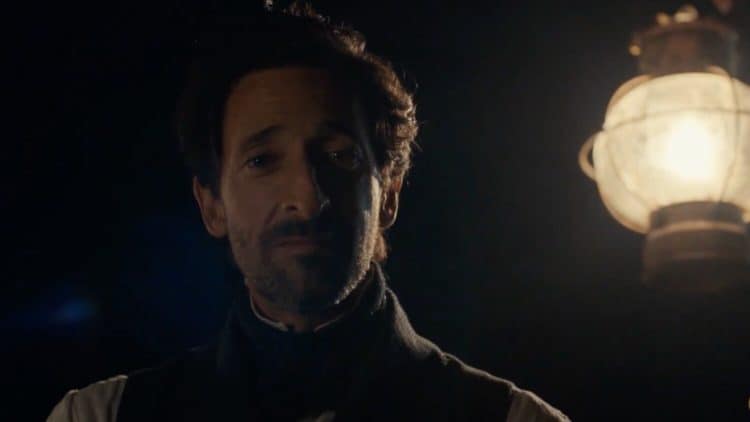 The first impression of the Chapelwaite series is that it feels like it's been a while since we've seen Adrien Brody in anything that's really worth watching, but of course, that's a matter of opinion. The second impression is that it looks and sounds absolutely creepy, which is what a lot of people expect from Stephen King, since his stories are the stuff of nightmares according to a lot of people, while some can't help but feel that King might have access to a level of existence where these demented and wonderfully dark ideas tend to come from. Some authors might be on the same wavelength and find themselves dipping into the same idea pool from time to time, but it's fair to say that others are a little too intimidated by the idea of not knowing what's within the depths to partake of the same experience. In looking at the teaser trailer of Chapelwaite it's easy to get lost in the shadows that are to be found throughout the trailer, and the utter darkness that refuses to yield at first appears to be a welcoming of sorts to the family as they seek to make the imposing structure seen in the trailer their home. There is a story that has been fashioned to explain Chapelwaite, but allowing people to figure this out on their own sounds like more fun than trying to theorize, analyze, and spoil the eventual fun that's to be had. In essence, especially with a Stephen King story, this is like inviting a person to walk through a supposedly haunted house without any prep or idea of the layout, while telling them that you're 'right behind them'. Yes, it's that kind of creepy, uncertain fun.
There's a certain joy in watching people enjoy a Stephen King story with their fists balled up under their chin or in front of their mouth, waiting with baited anticipation for something to happen, or a jump scare to emerge and vindicate their tense and uncertain pose. In Chapelwaite it almost feels as though the payoff isn't going to come right away though since it feels as though it might need to build for a while in order to really get going. That's not a bad thing, as allowing the story to develop could help in a big way since it will tell us more about the family, their circumstances, and why they're such prime targets for whatever might be about to happen. Whether people want to admit it or not, there are those in horror movies and series that are meant to be weaker or stronger than others when it comes to the dangers and horrors they have to face. So far, from having read the synopsis, it would appear that this family is in need of stability, of something that can keep them together, and there won't be much chance of that once they move into this home and attempt to settle in. This type of story has been told numerous times throughout the years and it's fair to say that it's still a popular tale so long as it changes a little each time.
Being set in a different time period is bound to help as well since the modernization of such stories isn't a bad thing, but it does sometimes cause many people to become far more critical of the overall story. In all fairness this happens with period pieces quite a bit as well, but if the story is told in a manner that allows the audience to focus on the story and the characters instead of any perceived inaccuracies then the director will have done their job and created something that will survive no matter how much is pointed out throughout the lifetime of the series. There are times when those that want to see everything displayed correctly in a period piece need to loosen their standards just enough to realize that fiction isn't going to follow the rules at each and every turn, that retconning history is necessary at times in order to tell a tale. The funny thing about this is that altering history just a bit to accommodate a story is something that has happened repeatedly throughout history, and while those that seek to catch such errors appear to live for the chance to tell the tale as it really happened, they appear to forget that once something is written and left alone for so long, people tend to believe it anyway, and in some cases, it becomes documented history, no matter if it was true or not. That's one reason why I would gladly urge anyone interested in watching Chapelwaite to watch for the story, not just for the historical accuracy that some are so devoted to. Watching the story FOR the story makes it easier to enjoy it.