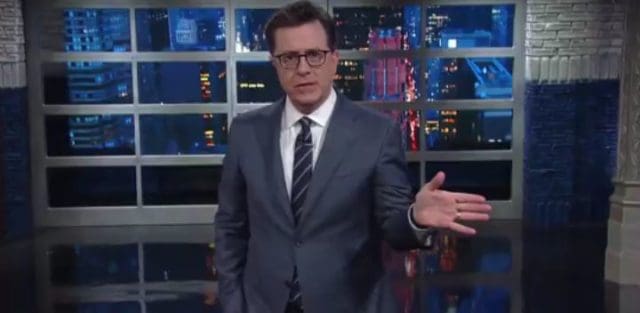 Amazingly last night The Late Show didn't lead off with anything about the White House or politics. Stephen Colbert went right into his monologue focusing on the firing of Bill O'Reilly from Fox News. Colbert admitted right off the bat that in the past he's made plenty of remarks about O'Reilly. Whether you liked O'Reilly or not it didn't change the fact that he had the number one cable news show for 15 years. It's easily to understand why he was fired but with that kind of success it's also easy to see why this was so drawn out. Don't get me wrong, I dislike O'Reilly just as much as the next guy but replacing him and expecting the same success will prove difficult for Fox.
But that's not what we're focusing on. We're focusing on how Colbert not only made the announcement but how he decided to say goodbye. Colbert admitted that the two didn't and don't see eye to eye on just about "anything." Colbert made sure to let his audience know he took no pleasure in O'Reilly's downfall at which point he asked for the camera to be taken off him so he could celebrate without the world watching. But that wasn't the best part.
The best part was his "proper" send off which you'll see in the video below.
Tell us what's wrong with this post? How could we improve it? :)
Let us improve this post!