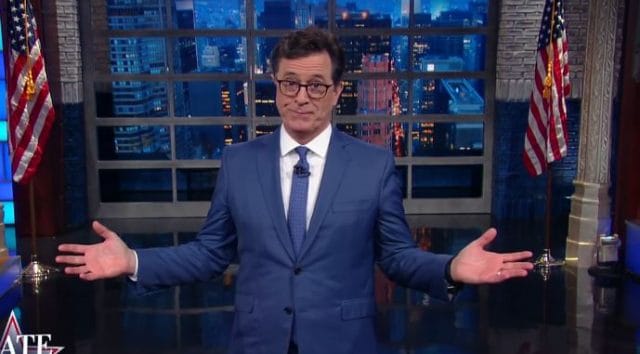 The Late Show With Stephen Colbert had aired live after the first two presidential debates between Donald Trump and Hillary Clinton, so it only made sense that Colbert and his team would go live one last time following the third and final debate last night. Last night's debate, which was moderated by FOX News' Chris Wallace, was probably the most civil and policy-focused of the three contests. However, when you're dealing with Donald Trump, "kind of civil" and "kind of focused" isn't saying a lot, which is why there were still so many WTF moments from the Republican presidential candidate, most notably his refusal to accept whatever results may come on Election Day next month.
Recently, Trump has been claiming that the 2016 election is rigged, as the media, international banks, and special interest groups rally behind Hillary Clinton and work together to take him down. During these statements, Trump has mentioned that he's not sure if he would believe the results of this year's election if he doesn't end up winning, which is why Chris Wallace challenged him on this stance last night. "What I'm saying is that I'll tell you at the time," Trump explained. "I'll keep you in suspense."
"Oh, suspense!" Colbert said last night in response to Trump's comments. "Democracy's going to end with a cliffhanger. I guess we're all going to have to wait until November 9 to find out if we still have a country, if Donald Trump is in the mood for a peaceful transfer of power, or if he's just going to wipe his fat a** with the constitution."
Colbert wasn't done with Trump after that, though. Throughout his 11-minute monologue, the Late Show host took shots at Trump's financial failings, the "locker room talk" comments Trump made with Billy Bush, and even Trump's lack of Emmy wins.
"He may have a point there with the Emmys," Colbert joked, before bringing out two of his own Emmy statues on stage with him. "I'm beginning to suspect those television awards may be controlled by members of the media."
Watch Stephen Colbert break down the rest of Wednesday night's presidential debate in the video below:
[Photo via YouTube]