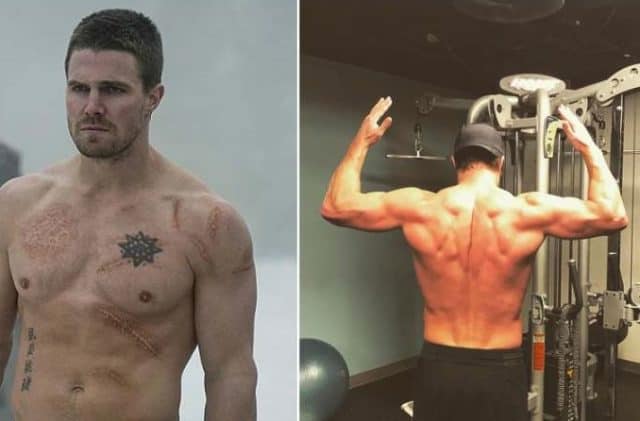 If you're going to be one of the toughest superheros on screen, you better look the part. It seems that Stephen Amell certainly has no problem looking the part in his TV superhero show, Arrow. He's been taking off his shirt on screen for about 6 years now, and he still looks good as ever. We know that it didn't just happen magically for Amell, and he must be constantly working out to keep up his shape. True enough, we've seen "before Arrow" photos of Amell, and although he's always been a tad buff, he didn't get all beefed up until he started getting ready for Arrow.
Amell is incredibly in shape, and he has to be considering that he also does most of his stunts on the show. First off, Amell says that he does a tremendous amount of bodyweight training, only because it's something that his character Oliver Queen would do in real life. That means that Amell works out a lot outdoors. He believes that you don't need the gym to achieve the results that you want. Amell is also known for doing a lot of parkour, and doing that alone can get a person towards lean and ripped.
His workouts also vary a lot. Amell doesn't have anything set in stone. He varies the workouts not only to make them more fun but to make them more effective as well, challenging different muscle groups. It must be effective, especially since Amell only had 1 month to get in shape for the very first season of Arrow.
That being said, Amell does spend a good amount of time in the gym doing more crossfit type exercises than anything. When he's not doing parkour and/or running, he's doing some type of mixed martial arts such as kickboxing. He does this at least three times a week. He alternates this active recovery type of workouts by being in the gym doing a full workout routine: chest/triceps/abs on day 1, back/biceps/abs on day 3, and leg/calves on day 5. He takes a full recovery day on day 7 before getting back into it with his routine.
The next part, of course, is his diet. Proper diet and nutrition is just as important to achieve a lean and muscular body just as Amell does. With the amount of calories he burns everyday, he has to consume enough to cover all of what he burns. To get the lean muscle that Arrow has, Amell has excluded a few things from his diet, and that includes processed sugar, gluten, dairy, and beer (because it contains gluten). He also makes sure he consumed a lot more protein and healthy fats to get the body that he's going for. He also cut back on carbohydrates a lot and increased his vegetable intake.
All of these put together will help anyone get in awesome shape; it surely does it for Stephen Amell. But of course, you'll have to see what works out for your body or not if you were to follow his routines and diet. However, you can try to look like him all you want; but there's only one Green Arrow, and he's already on TV.