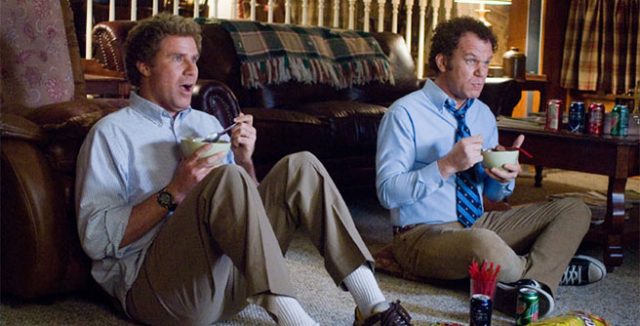 I find it pretty fortuitous that Step Brothers was on Starz last night and I'm reading about the fact that there are no plans for a sequel today. P.S. I love when it's on real cable movie channel. Watching it edited for language is absolutely brutal. Let's talk about Step Brothers for a minute. First of all I have a very hard time accepting the fact that this movie is almost 10 years old already. Second of all, I place it in my all-time top five for comedies. Yes, seriously. Dumb and Dumber and Ace Ventura have automatic spots. I'd have to go with a Billy Madison or Happy Gilmore in there as well. And you have to admit when you saw American Pie in the theater it was incredible. Other than that I might put Something About Mary on the fringe and Superbad will always have a place in my heart.
But let's get back into Step Brothers. You either love Will Ferrell yelling loudly and cursing or you don't. I think it's that simple. If you like Will Ferrell yelling and cursing then I think Step Brothers is far and away his greatest display of this. John C. Reilly is awesome in everything he's in (Boogie Nights is my favorite) so we can skip him. Adam Scott was amazing and you can't deny how funny Richard Jenkins and Kathryn Hahn are as Alice and Dr. Dobak.
I've never seen a movie where simply "talking" makes me laugh. It's not even like the dialogue is so original. It's just watching Ferrell and O'Reilly that's so magical. Like I said, explaining myself would be of no use. You either really loved Step Brothers or you just didn't "get it." When Ferrell was asked about a Step Brothers 2 here's what he said.

You have to resist the temptation. It's just tough because the things everyone wants you to do sequels of are special because there's not a sequel of it. I guess we'll see, but as of now there are no plans. We just don't want to be doing sequels of everything."
To this I say bravo. I'm glad there won't be a sequel. This way Step Brothers can stand on its own and it'll always go down as one of my favorite comedies of all-time. It's about time someone stood up to the masses and just said "no."
Save
Tell us what's wrong with this post? How could we improve it? :)
Let us improve this post!