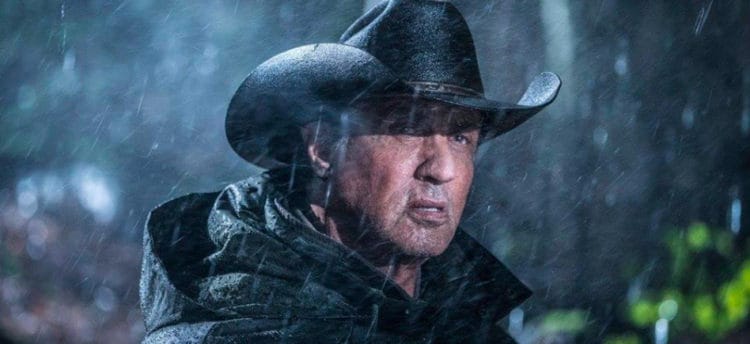 Ryan Park of The Hollywood Reporter couldn't be any more right when he states that Rambo is a one-man army. A lot of people scoffed at the last Rambo film made in 2008 since it didn't seem to be anything but the tired attempt of an aging action star trying to finish out his time on the big screen before the years finally took everything away. But honestly the last Rambo wasn't too bad and it did kind of lead into this one since Rambo had finally decided to try and come back to the world he'd known before he was taken by war and tragedy. In 1982, a year that was kind of popular for epics, Rambo made it plain and clear that he didn't want trouble, he was just passing through, and he would give his enemies a war they couldn't believe. As the years have gone on the Rambo legacy has kind of been tarnished by a few less than stellar movies, but it's still kept on chugging along since quite honestly people still have a lot of faith in Stallone and what he can do. But now that he's settled his whole Rocky affair, we think, it's time to wrap up another franchise that has been highly entertaining for a long time.
Hannah Frishberg of the New York Post seems to think that this might be the last of the Rambo films and she's not alone. In fact it makes a lot of sense considering how long Rambo has been fighting and because the last film indicated that he's simply not meant to be a peaceful man. One thing that's always been evident and has been highlighted in movies as well as literature is that when the world-weary soldier finally comes home, when they've fought their last fight, there's nothing left for them but the peace offered by the grave. Normal life, civilian life, doesn't always appeal to every person that's seen the worst that humanity has to offer, and Rambo is a prime example of this. He was so messed up in the first movie that just the sight of a razor sent him into a frenzy that had him assaulting and evading an entire building full of cops before making into the hills. That wasn't where it ended though since once in the hills he took on a squadron of reservists that couldn't even begin to handle him.
John Rambo is one of the most perfect and most human soldiers to ever be dramatized in the movies since despite being an unstoppable killing machine that can shut his emotions off without fail, he's also a man that continues to age like everyone else. This means he's not perfect, and despite how badass he has been and still is, he's taken damage throughout the last few movies and shown that he can bleed. What's even more apparent when you watch the trailer is that this movie will be about something that happened in his past, a wrong he has to right or a debt he has to settle, something of a volatile nature that will pit him against another group of individuals that are out to see him dead. Dave McNary of Variety states that we'll get to see plenty of explosions and all the action a Rambo movie can provide, and possibly more. The one thing we've learned throughout the years about Rambo is that he's not the kind of guy that back down to anyone, and he's certainly not the type of guy that a person goes after without an army behind them. With each movie he's gotten tougher and yet has also withdrawn a lot more, seeking his own type of peace well away from anyone else.
Now it seems that he's all alone and yet still has one more thing to fight for, which makes him more dangerous than anyone could possibly know. In the movies that came before he's been largely peaceful until it comes time to fight back, when someone pushes him and won't stop pushing until there's no other course but to push back even harder. If you don't remember you might want to brush up on your Rambo lore before this movie hits the theaters since honestly it doesn't seem as though it's going to do a montage of the movies that have come before for the sake of the uninitiated. Rambo is going to be going after someone, presumably a Mexican cartel in this movie, and they're going to find out firsthand what many people have discovered, you don't push John Rambo unless you've got a damned good reason. The movie is supposed to release this coming September, and hopefully it will deliver in a way that's more convincing than the last movie.
On an amusing note, did anyone ever wonder what might have happened if the sheriff in the first movie had just left Rambo alone? Turn that one over a few times.