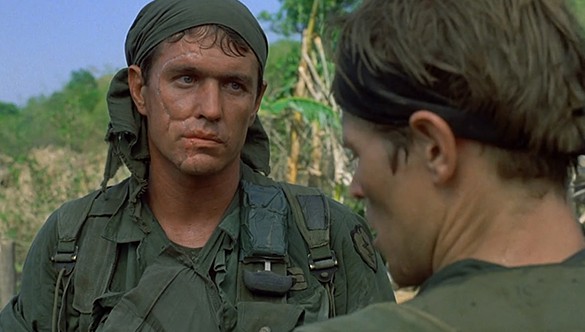 Tom Berenger has had some awesome roles in his time but the 80s seems to have been when he was really hitting his stride. In fact it can probably be said that this was when he was at his best while being at his worst. As far as being the good guy and the bad guy goes he's been both and he's been equally despicable and tragically impressive. I'll explain that latter part in a bit but when it comes to Tom Berenger you either think he's great or just so-so, because quite honestly the guy isn't all bad when it comes to acting. He's had to take on some roles that didn't seem up to his caliber and has even had to act as an extra a time or two, but all in all this guy has been one of the mainstays of Hollywood for so long that it just seems like we can't go without seeing him every few years in something. In other words he's a solid actor that can't be discounted when it comes to all he's contributed.
Here are just a few clips of his from the 80's that were particular good.
Platoon
Barnes was one of the worst men in the platoon hands down. He has no remorse, no pity, and will kill anyone he has to in order to get the information he needs. As soldiers go his hard-nosed style is something that can keep a platoon alive, or divide them and cause them to fight among themselves. The fact that he's so ruthless is a big part of why there's no pity for him at the end, but you can't help trying to think what might have happened to a man like Barnes that made him such a monster. Of all the characters that Berenger has played this has to be one of the most despicable, and it's one that got him nominated for an award as well.
Major League
Jake is the guy that's been there, done that, and somehow still keeps coming back for more. On this revived Indians team he's probably the guy with the most experience but also the least amount of business even being on the field. By the second film he's in the dugout as the manager, but in this film he's still an active participant and you can see how the toll on his body continues to wear on him throughout the movie. Berenger can be a truly awful bad guy but he can also be one of the most personable good guys you'd ever want to meet. No matter which character he plays though he's usually got that look like just sucked on a lemon and is trying to get the taste out of his mouth.
Shoot to Kill
When his girlfriend is taken hostage by a violent killer that no one has ever seen Berenger and the FBI agent that is hot on the killer's trail go after them. His character doesn't happen to think that the agent, who is a city-dweller, really has what it takes to make it in the wild, but the agent is bound and determined to prove that he's just as motivated as anyone to get the job done. You could say that Berenger is the good guy in this film, but he's more of a supporting actor and thus not the main character as he's been in other films. That's okay however, as he does just as well in the support role as he does in the lead.
Born on the Fourth of July
https://youtu.be/jzLqkWeWIos
He had a supporting part in this film as well and it didn't really matter since any time you see him you simply know that he's going to give an outstanding performance. Berenger is the kind of guy you want to pay attention to whether he's shouting at you or not. His manner is that of a guy that's used to authority even if off screen he's very different. It doesn't quite seem fair that he's been a supporting character in so many movies but he's played his part perfectly most times. In the 80's it was necessary to stand out as there were so many action movies being produced that trying to be counted among all of them was something of a difficulty that many people couldn't get over.
Berenger however has remained solid in his acting and in a way was one of those that kind of ended up owning the 80's as he put in one great performance after another. In some of his movies he was hard to watch because he was just that much of a bad guy, but in others you wouldn't have minded sitting down to have drink with the guy. That's how great he is, and how convincing.