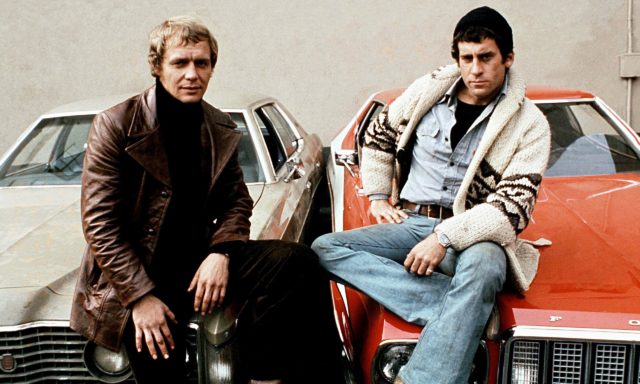 Remember "Starsky & Hutch", that highly entertaining television buddy cop show from the 70s that lasted for 93 episodes? It entertained many of us for endless weeknights from 1974 to 1979 on ABC and starred David Soul and Paul Michael Glaser, as well as one really hot car, namely a two-door Ford Gran Torino. The mismatched cop duo was resurrected in the 2004 theatrical release of the same name directed by Todd Phillips with Ben Stiller playing David Starsky, the high-strung workaholic.
Owen Wilson played Ken "Hutch" Hutchinson, who's a laid-back ladies' man. The two were detectives patrolling the Bay City, California crime-ridden streets. The body of a drug dealer who had been murdered is discovered on a local beach and Starsky and Hutch end up following the clues to find his killer. Their search leads them to Vince Vaughn's character who is a repeat offender and drug dealer named Reese Feldman. He's in the midst of a massive drug trafficking operation and it's up to Starsky and Hutch to prove it. The movie featured some excellent acting, amazing action scenes, and some pretty good dancing by Ben Stiller.
And now, "Starsky and Hutch" is coming back to the small screen at last. It's under development and will be a major co-production between Sony TV and Amazon. They've entered into a script-to-series commitment that will include writer/director James Gunn and the writing team of Brian and Mark Gunn. They're all cousins and have worked together on several occasions before. Brian and James were collaborators on "PG Porn", a web series that was very popular and garnered more than 100 million hits. Sean Gunn has been starring in "Guardians of the Galaxy" as Kraglin. He's also been in just about every one of James' movies under the banner of his production company, Troll Court Entertainment. And, Mark and Brian worked together to write the screenplay for "Journey to the Center of the Earth 2".
"Starsky and Hutch" isn't the only reboot coming down the pike on TV this season either. It's only one of a string of recently rebooted TV projects. In the upcoming fall season, CBS is going to be debuting a reboot of "SWAT" starring "Criminal Minds" hunk and ex-soap star on the "Young & the Restless", Shemar Moore. In addition, the Fall season will feature a reboot on CW of "Dynasty" from a more feminine point-of-view as opposed to the rather chauvinistic previous version. NBC also recently ordered a new reboot version of the fan fave, "Miami Vice,", as well as "The Munsters". Meanwhile, ABC will present a rebooted "Jetsons" series only with live-action.
As far as the "Starsky and Hutch" rights go, well in case you were wondering, Sony TV owns the TV rights as related to the 1970s series through its Spelling-Goldberg catalogue ownership. This includes the rights to "S.W.A.T", as well. On the other hand, the "Starsky and Hutch" film rights belong to Warner Bros. and WB produced the 2004 feature film. So, who will be playing Starsky, Hutch, and the ever-colorful Huggy Bear? That has yet to be seen. But, I know that all the "Starsky and Hutch" fans can't wait to find out. They'll have some pretty big shoes to fill so we hope the Gunns give it a great deal of thought and pin down an excellent cast to match the acting excellence of the previous two forays into the world of Starsky and Hutch.