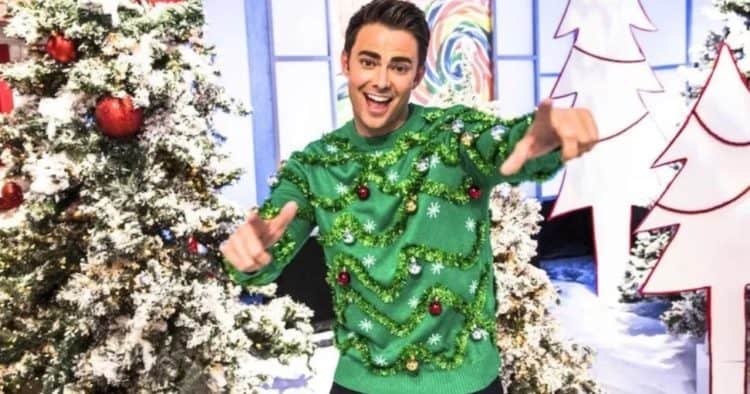 Everything about the holiday season is delightful and stressful. We love the spirit of the season, festive lights, family traditions and of course the presents. However, it's hard to imagine the holidays without thinking about the food. Holiday Wars embodies everything we love about cooking for the season. The smells of grandma's kitchen virtually waft out of the screen as you watch these incredible bakers and sugar artists compete to make sweet treats. Here are ten things you didn't know about Holiday Wars on Food Network.
1. Not The First
There are so many holiday baking shows. We don't just mean those on Food Network, though they're dedicated to cooking and baking. If Holiday Wars seems a little too familiar, you're not suffering from deja vu. Last year the Holiday Wars featured several talented teams of four who went head to head in various baking challenges to create the coolest, cutest, and most incredibly complex confections for the judges. The winner Adam Gueldener has baked for celebs and friends. One of the hardest parts for him was keeping mum after the competition because it's against the rules to spill any details about who won until the episode airs.
2. The Other Holiday Wars
You might have seen last year's Holiday Wars extravaganza, but there's another reason why this show might seem super familiar to you. Food Network also hosts Halloween Wars. While 'Holiday Wars' tends to be all about peace and goodwill, with more than a few jingle bells, the haunted holiday show is… a little different. A spooky baking show can be cute, but haunted treats can also be a bit on the creepy side, or downright frightening, depending on what the bakers are trying to achieve.
3. Everyone's Doing It
When you're looking for something to discuss around the watercooler, finding common ground with coworkers can be tough if you have different tastes. Everyone loves food. Maybe that's why so many people are watching Food Network. According to Discovery Inc, who own Food Network and numerous other properties, "Food Network is distributed to nearly 100 million U.S. households and draws over 46 million unique web users monthly." Moreover, the Food Network magazine is the number two bestseller on stands. That means there are a whole lot of people who see Holiday Wars.
4. Hosting the Party
Hosting a holiday gala is a time-honored tradition. Another recognizable part of the show will be its host. Johnathan Bennett hosted Halloween Wars, and he's back to bring the tidings of comfort and joy to this season's Holiday Wars competitors. He's also worked on Cake Wars. It seems Mr. Bennett loves a good food fight, and so do we. Plus, viewers love his quirky sense of humor, and punny take on all things cooking related.
5. Five Golden Rings
Okay, the title here is a little misleading. There won't be five golden rings on the show as far as we know. However, five teams of competitors will be working to create the best and most seasonal treats for each round of the competition. We love a good showdown, and this season's Holiday Wars promises more than a few surprising gifts for the festive-at-heart. We can't wait to see all the gorgeous cakes and sugar art in action.
6. The Naughty List
If your mouth is already watering, we have good news. The show kicked off on December first. If you didn't see it already, then you have time to catch up with the first episode titled "Stealing the Holiday List." Bakers and their sugar artist companions faced off to create their version of a Christmas time present heist that's sure to land them on Santa's radar, but maybe not in the way they hoped. Fortunately, it's all in good fun, and the jolly old elf himself probably won't mind too much that they had a blast pretending to wrap up the caper. After all, Santa does love his sweets. You'll have to watch yourself to see who stole the show.
7. Joining the Judges
The incomparable Chef Jason Smith joined in on the seasonal fun for the first episode of Holiday Wars. His sense of humor and whimsy are always a delight to watch. We don't want to spoiler anything, but in his own words: "It'll be more fun than goat packing Santa's sleigh!!!"
8. Elf Auditions
You probably think your last job interview was awkward, but you can't imagine what an elf goes through. Their choices pretty much consist of working for the man in red, playing second fiddle to some dungeon crawling, dragon-fighting hotshot, or possibly brawling with all the orcs in Mordor. Needless to say, only one of those jobs comes with cocoa. It's a pretty big deal to land the Kringle gig. Bakers and sugar artists will be showing off their skill portraying this unique job hunt on the second episode of Holiday Wars. You can catch that next week on December 8th, at 9 pm/8 Central.
9. More Episodes
The next two episodes will be just as unique as the rest. The pressure gets higher as the teams get eliminated, and everyone who remains is a step closer to the big prize. The third episode is a doozy. Teams will be asked to show Santa's side-gig in the offseason. We're not sure which is worse, planning a present heist, or giving away St. Nicks secrets. The grand finale will be a real face-off with Elves Vs. Reindeer. Who will win? We wouldn't tell you even if we knew.
10. Is it Worth it
Last year teams duked it out for the love of the audience, a chance to show off their next-level skills and a prize of ten thousand dollars. This year the new contestants are expected to do more, but the reward is bigger. Whoever wins will get twenty-five thousand dollars for their efforts. That's one expensive Christmas display.
Final Thoughts
We wish we could do some of the cool things these incredible artists do on the Food Network. Sadly, we're lucky if we don't burn our pre-packaged cookie dough. That makes Holiday Wars all the more magical for us. We can't wait to see which team will win this year. Who are your favorites so far? Let us know in the comments below.