Its no big secret that CBS has succeeded, resoundingly so, by playing it safe. The network has spent the past several years producing almost nothing but the same old police, legal, and hospital procedurals that are ratings gold, keeping their shows in the top ten almost every single week. But at the end of this week, something crazy is going to happen, and CBS is going to air a serialized, fixed-ending new show that will only last 13 episodes. Harper's Island is no longer just a one season series, its an event, and one that you've no doubt at least heard mentioned, unless you've been living under a rock. I had a chance to screen Harper's Island this week, and I was pleasantly surprised, aggravated, a little bummed out, and excited through the course of the episode. Regardless of my range of emotions, if you are a fan of murder-mysteries or horror films, you MUST tune in for this new show, and give it more than 1 episode before making up your mind.
The show's synopsis is:
HARPER'S ISLAND is about a group of family and friends who travel to a secluded island off the coast of Seattle for a destination wedding. This island is famous for a streak of unsolved murders from seven years ago. Although they've come to laugh and to love, what they don't know is they've also come… to die. As the wedding festivities begin, friendships are tested and secrets exposed as a murderer claims victims, one by one, transforming the wedding week of fun and celebration into a terrifying struggle for survival.

In every episode, someone is killed and every person is a suspect, from the wedding party to the island locals. By the end of the 13 episodes, all questions will be answered, the killer will be revealed and only a few will survive.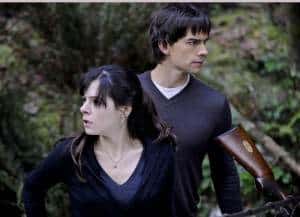 As the first episode begins, we see a yacht in a Seattle marina full of hot, mingling twenty-somethings, and for a moment you might wonder if you're watching 90210, One Tree Hill, or some other hideously hip and soapy CW drama. On the yacht, we get a nice intro of who's who, as most of the key characters make an appearance and we get a little set up and scoop on how the wedding will be on Harper's Island, and how the bride, Trish (Katie Cassidy), and groom, Henry (Christopher Gorham) are a Princess and the Pauper couple, and that daddy isn't too happy about the wedding. Just as things seem way to happy and cheerful, the camera pans down the side of the boat, under the water, and we see a wedding guest tied to the boat's props. He's been given scuba equipment for the sole purpose of keeping him alive to see his ultimate death, which comes shortly after when the captain turns on the engines and off they go to Harper's Island. Somehow, I don't think this guy is going to make it to the wedding.
On the boat-ride to the island we also learn that Harper's Island has a unique history, wherein seven years ago a man named John Wakefield killed six people on the island until he was finally shot by Sheriff Charlie Mills (Jim Beaver). Mills daughter, Abby (Elaine Cassidy) is best friends with Henry (the groom), and also lost her mother as a casualty to the killer seven years before. She returns to the island with the wedding party for the first time since the murders.
The first episode definitely gave off an initial vibe of some of the more recent, more hip horror movies out there, such as Scream and Final Destination. There's also a similar feel to Agatha Christie's famed murder-mystery, Ten Little Indians (or And Then There Were None). Even the back story of the character Abby Mills feels ominous and horror movie-quality. In fact, at first glance you'd almost believe that the main characters in this story are the bride and groom, Trish and Henry, however it shouldn't take viewers long to realize that this is Abby's story we're about to see unfolding. The worst thing that I can say about the initial episode is that its not really that edgy or dark, and instead comes off as a bit too twenty-something soapy in parts. Its not so bad that it makes me not want to watch the show, though. In fact, it really makes me want to tune in for future episodes even more so, to get a better feel for where they might take the tone for this show. I'm actually hoping it becomes more of a dark and foreboding mixed in with hip and clever story-telling. But few shows can pull off both so well (Dexter is one of the only ones that comes to mind).
At first glance, the actual killings and gore-related scenes might seem a bit over-the-top for television, but in reality I've seen far more detailed gore on CSI. Obviously, on CSI, the gore scenes are typically with people already dead, and here we are seeing brutal killings, which changes it slightly, but still the gore level is far, far below any other horror genre series or movie out there, so much so that horror fans that relish in that aspect will be greatly disappointed. Still, people are dying and we are given some visuals of those deaths.
I didn't find anything that special about the cinematography, music, or set design that made it stand out, though none of it was terrible either. I did notice what sounded an awful lot like an ominous Jaws beat a few times. I was simple hoping that they might take some cinematography-related leaps on this one, especially since we're looking at only 13 episodes, and having to see character's we grow to love each week get murdered.
Ultimately, Harper's Island is off to a great start, and holds a lot of promise, especially for such a daring and different approach from CBS, or any of the broadcast networks for that matter. However, if you're expecting this 'murder-mystery' to be a whodunit series, you might be mistaken. The killer on Harper's Island will definitely end up being one of the characters on the show, but at this point it seems that they will focus on the victims as being more shark bait, and giving us less clues as to who is actually doing the killing. That's just fine with me, and given the right tone, I still think this series could go down as one of the coolest and most entertaining serial-style, murder-horror shows ever on television. This is easy to say, since there really haven't been a whole lot of entertaining, serial-styled murder-horror shows actually on television. As always, only time will tell.
Harper's Island premieres this Thursday at 10:00 pm/ 9:00 C. To stay up-to-date on Harper's Island, visit our Harper's Island archive which will include character breakdowns, recaps, as well as commentaries as the story unfolds. You can also join in on our Harper's Island discussions in our forums.