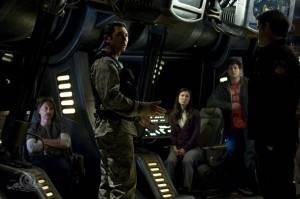 After multiple viewings of last week's Stargate Universe, I still feel a bit… disappointed.
Don't get me wrong. The space battle with the new alien enemies was pretty epic and the return of Lou Diamond Phillips's Col. Telford was far overdue. But unfortunately in the end, I was left with a bitter, bland taste in my mouth when the credits rolled. What just happened?
By looking at the pace and overall threat in "Resurgence", the episode didn't really feel like a midseason cliffhanger to me, but rather a two parter of which should've occurred earlier in the season. For instance in "The Greater Good" and "Malice", the first two parter of this season, the stakes were raised, people died, and the revelation of the bridge could've been a quintessential way to leave fans hanging and speculating for the next few months. The end of "Resurgence" didn't do that for me. Instead, I'm just simply waiting for SGU to return with new episodes without having the need to speculate on what's going to happen next.
In short, "Resurgence" felt like a standard Star Trek episode where you knew everyone would make it out alive, no matter how dire the circumstances. With that being said, and I stress this point to my utmost ability, it doesn't mean "Resurgence" wasn't a good episode. It just wasn't the caliber of last year's midseason finale,"Justice", which had fans talking for months about how would Rush make it back to the Destiny and what would the consequences be for Young when that happened. While there were cliffhangers, they aren't worth agonizing over during the hiatus. Good or bad thing? I'm still on the fence about that.
Now that I've acknowledged over that elephant in the room, let's talk about some of the pros of the episode.
First off, the scene between Eli and Rush was one of the highlights of the hour as the two characters finally vented from their losses of their loved ones, which was also long overdue. How Rush used berating Eli as means to critique himself as a person was a stroke of genius to the point that it was like watching a character time paradox between the mad scientist and the boy genius. In a lot of instances, Eli and Rush are the same people at different stages of their lives, with the Destiny serving as a 'personality crossroads'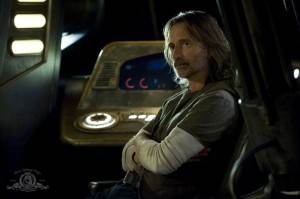 for the both of them to see not only what they lost as a person, but who they can become later in life as well. Eli has a heart attached to his science, while Rush doesn't to an extent. This alienates Rush from his fellow man in the name of science, which he seems perfectly fine about. Eli on the other hand seems to thrive on communication and the company of others, which in Rush's eyes is a deterrent that must be dealt with. On the other hand, Eli never wanted to be a super scientist to begin with, something Rush seems to forget a lot when it comes to steering Eli in the path of "greatness". It will be intriguing to see where David Blue (Eli) and Robert Carlyle (Rush) take the complexity between their characters in the latter half of this season, because they continue to shine when they bounce their distinctive personalities off of each other.
Chloe's done something, but was it good or bad? It would be more of a surprise if Chloe actually screwed over the crew of the Destiny by her actions in the finale, but something is telling me that she's has helped them out of a pickle. Again. I had really hoped that the episode was going to focus more on her transition more instead of the time given in the final product, which is a shame. What is more interesting is Chloe warning to not trust the Ursini (the aliens who were with Telford). Was this really a warning from Chloe? Or the alien DNA rapidly taking over her body?
The TJ/Varro story line is heating up, but I wonder how Col. Young will take it if he finds out? It was in fact Varro's hand (inadvertently) that shot TJ, causing her to lose her baby. Now that he's on the verge of divorce, will Col. Young let Varro take 'his girl', too?
All in all, 'Resurgence' left me wanting more in a midseason finale. As an overall episode of SGU? It was pretty good.
Your thoughts?
Tell us what's wrong with this post? How could we improve it? :)
Let us improve this post!