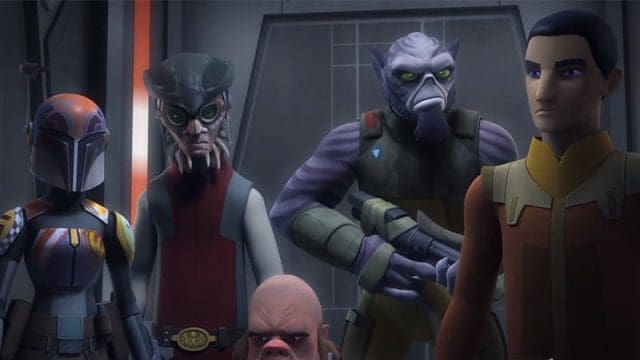 One of the best things to come from the Disney acquisition of the Star Wars franchise is Star Wars Rebels, the current animated series on Disney XD. Set between the events of Revenge of the Sith and A New Hope, the series has slowly matured into something truly fun to watch for fans of all ages. For the older crowd (including myself), it's also delivered plenty of great new material for franchise canon, and that looks to only increase as we move forward.
After being teased at San Diego Comic-Con this summer, we now know that season 3 of Star Wars Rebels will premiere on Disney XD on Saturday, September 24 with a one-hour premiere. The episode is titled "Steps into Shadow," and it will see our gang of heroes continuing their rebellion after the disastrous events of the season 2 finale. The synopsis for the premiere is as follows:
Having established a secret base on Atollon, the Ghost crew, now led by a more powerful Ezra, strengthens the rebel fleet by acquiring new resources and recruits eager to stand against the Empire. However, the Imperial efforts to eliminate the rebellion are now being led by the coldly analytical Grand Admiral Thrawn, whose strategic, tactical and cultural insights make him a threat unlike any they have faced before. In season three, Ezra and Sabine take on new roles and challenges as the rebels prepare for their biggest mission yet — a direct assault on the Empire.
New characters this season include Bendu, a mysterious Force-wielder voiced by Doctor Who's Tom Baker, and fan-favorite Grand Admiral Thrawn (voiced by Lars Mikkelsen), finally making his debut in the new canon.
Take a look at the newest teaser below:
[youtube https://www.youtube.com/watch?v=feSAjmDMu8M]
Star Wars Rebels returns on September 24 on Disney XD. Are you looking forward to the series' return? Let us know your thoughts in the comments down below!