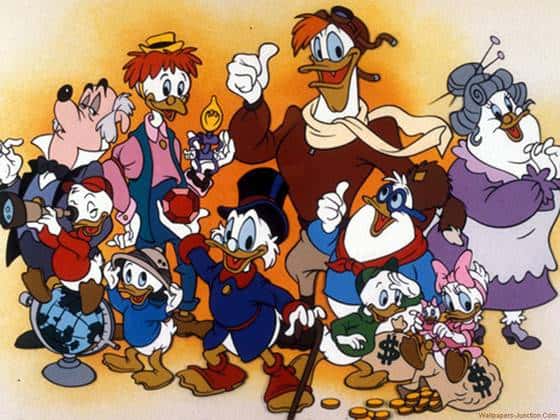 Pretty much every single one of these entries save one can be found on the new version of Ducktales, but it's possible that fans have forgotten about them in their original forms since for the 2017 version things had to change it seems. Reboots tend to do that occasionally but not always for the better since it would seem that some of them are a little less than what they used to be in terms of likability and design. But one has to roll with the new era and just learn to accept things as they are.
It still makes fans of the original show pine for the old days though.
5, Webby
It used to be that Webby was more of a timid tagalong than anything back in the day, but it seems now that she's more adventurous and even a little intimidating to the three brothers at times. When she first came in she was an innocent that got into trouble kind of by habit. Now she's one of the few people that Scrooge really relies on since she has a wide array of knowledge and is a bit older than the boys.
4. Duckworth
Duckworth is the long-suffering butler of Scrooge McDuck and has had to put up with Scrooge and his nephews for some time. In the new series however he'd already passed away years before but was summoned back by dark magic (yes it's still Disney) and now continues his duties as Scrooge's butler but as a ghost. The poor guy just can't seem to catch a break it would seem.
3.Mrs. Beakley
Mrs. Beakley hasn't changed much it seems but she's a little more down to earth now and doesn't wear hair pins in her do any longer. She's still protective of Webby since she is her grandmother, but she's more supportive of Webby helping Scrooge out occasionally on his adventures. She's always been slightly more than just a nanny however since when called upon to do so Mrs. Beakley has shown that she can get rough and tough with the best of them.
2. Doofus Drake
Doofus was the big, lovable nerd from the original series that always had a positive outlook on life but never really got much of a break because he was big, fat, and not too bright. He didn't make the jump from the old to the new series it seems, perhaps because his image wasn't something that the creators wanted to show. That would be a little hypocritical though it seems since they did happen to toughen Webby up a bit and bring on more feminine characters to the show. Why not let Doofus shine? For all of his faults he was loyal to the nephews and earned his place on the show.
1. Gyro Gearloose
Gyro is another character they changed around a bit since back in the day he was a nice, humble and quiet guy whose inventions did work, but not always the way they were supposed to. Yeah that might sound like it doesn't make sense but with Gyro it always worked out somehow. But apparently in this new series he's kind of arrogant but still every bit the genius he's always been.
Sigh, things gotta change eventually.