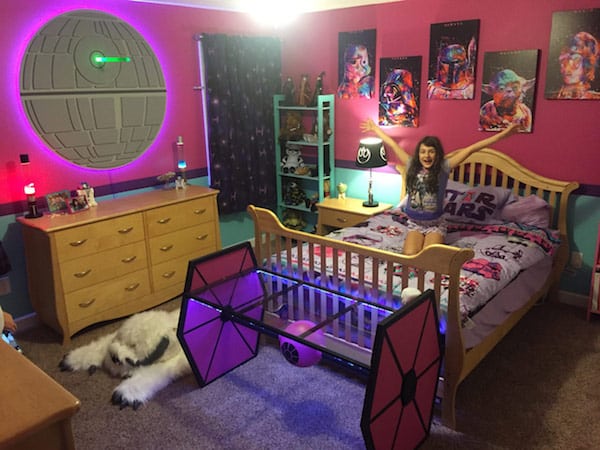 In my decade of writing on the internet I've seen more than my fair share movie and television themed bedrooms. Plenty of these bedrooms have come equipped with a Star Wars theme, but I don't think I've ever seen a "girls" themed bedroom integrate Star Wars so incredibly well. I quoted "girls" because for all I know boys like to have a pink room as well. I'm not here to judge. In fact I'd take a bedroom like this. The colors pop like crazy and the homemade Death Star wall decoration and TIE desk really stand out.
The girl, Emmie, and her father, Scott, took the project very seriously. Scott spoke with StarWars.com about how the room came together, noting that the bedding was the foundation of the color palette:
"She used that and made the color palette for the room. From there she and I both started looking for items that worked with those colors. She found the prints online and I worked with the artist to get them on canvas," Scott explains. "The Death Star was her idea, and I just made it and thought it needed to be big and the LED lighting and laser beam would help with the cool factor for the room. Most of the rest of the items were picked out by Emmie."
You can check out a few more pictures of the room below and for a full interview make sure you visit the Star Wars link I provided above.