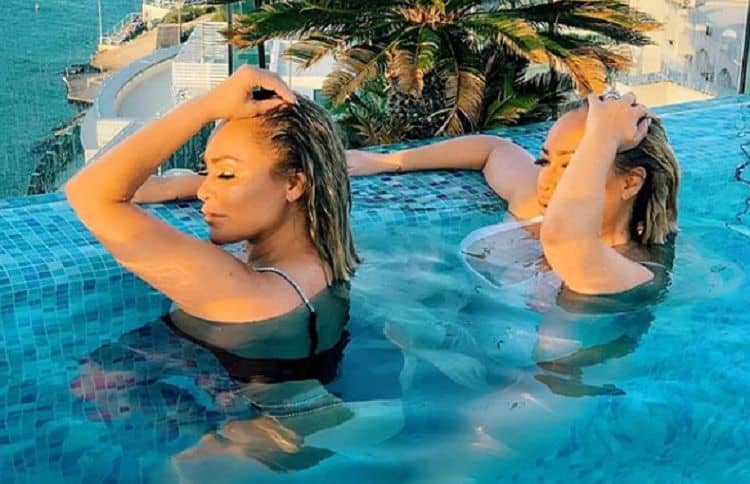 Darcey Silva is a 44-year-old businesswoman and one fierce cougar. She gained public attention after appearing on a reality TV show. During the show, she took her chances with a twenty-something-year-old trainer who resided halfway across the globe. Her twin sister, Stacey, is well known for her work on Mega Man Dies at the End, White T, and Cyanide and Happiness. Below are ten things that you did not know about these two sisters.
10. The two are Twins
If you ever get the chance to catch a glimpse of Stacey standing next to a strikingly identical woman on a magazine or an Instagram post and you feel like you are seeing the same person, you are likely mistaken. Stacey and Darcey are, often, photographed next to each other. The two sisters made the bold jump to join the business realm to assist each other take care of their children since they both found themselves struggling to raise their children as single parents. Looking back, it seems they did the right thing by adopting the plan since Darcey's current net worth is estimated at about one million dollars.
9. Sisterly Squabbles
While twin sisters are known to love one another unconditionally, sometimes disagreements might happen. In the case of Stacey and Darcey, one brawl got so fierce that the police had to be called. Back in 2018, cops were called to Middletown where the twins were quarreling. Both Darcey and Stacey were arrested for their actions and were subsequently charged with counts of disorderly conduct. You might think that Jesse, Darcey's boyfriend, had something to say about this encounter, right? Well, he kept his peace. It seems like the two were on a bit of a break up when the skirmishes took place.
8. Reality Television has been a Childhood Dream
We do know, by now at least, that Darcey gained tremendous attention and notoriety after she appeared on the 90 Day Fiancé TV show with her younger boyfriend, Jesse Meester. However, some rumors placed her on another dating show. The rumor has it that Darcey was a cast on Millionaire Matchmaker before she joined 90 Day Fiancé. This story has never been confirmed to date; however, given that she has a twin sister, it may have been Stacey who had been seen on Millionaire Matchmaker. The two sisters also took part in filming a pilot episode in 2010, which the two sisters and their family called The Twin Life.
7. They Regret their Time on the Reality Show '90 Day Fiance'
We all have our regrets, and the two celebrities are no different from the rest of humanity in that regard. While Darcey does not regret dating a much younger boyfriend, she does regret choosing to appear in a revealing reality TV show. After the two filmed their episodes and saw how the production cast was portraying their characters, both Stacey and Darcey were not thrilled. They voiced their concerns over the matter through Darcey's Facebook account.
6. Darcey is a mother
Other than being a very successful reality TV star and fashion designer, Darcey is a mother of two daughters. Her daughters, who are still teenagers, are said to be supportive of their mother's endeavors. The two daughters, Aniko and Aspen, have always said that if Darcey is happy, then they are so glad. What a lucky mother to have these kids; not all teenagers would take well their mother being on a reality show like 90 Day Fiancé.
5. Stacey and Darcey Recently Dropped a Single
Stacey and Darcey came back to premiere the second season of the reality show looking pretty and singing a new tune, literally. It looks like fashion and television are not enough to keep the two firecracker sisters satisfied, so the two decided to check out what the music industry can offer. The twins dropped a pop track called 'Lock Your Number'. Darcey said that the tune is bound to make the listeners want to dance as it will create a feeling of empowerment to have fun and enjoy life at any age. Unfortunately, close to all comments made about the track are negative.
4. Stacey is also a Mother of Two
Stacey too has two kids: Mateo and Parker. Strikingly, both of them are dating men from overseas. While Darcey is in the process of trading Jesse for Tom (an Englishman), Stacey is cozying up to Florian Sukaj from Albania.
3. The Two Have the Same Job
The sister's Instagram profiles are quite identical. Both bios bear the labels 'actress', 'TV personality', and 'producer'. The two are, additionally, the co-founders of House of Eleven — a clothing line — an Eleventh Entertainment. The entertainment company has only produced one film: White T: a comedy show that stars Jamal Mixon and Jerod Mixon.
2. Twin Sister Asks Darcey to Sponsor her Fiancé
Darcey cannot seem to take a break from drama. The cougar is facing backlash due to a series of comments made against Stacey Silva. Apparently, Darcey is against Stacey's relationship with Florian Sukaj. She has, previously, accused the Albanian of milking her sister and only using her to get a green card. It is hard to tell if there is any truth to the allegations, or if Darcey is feeling jealous.
1. Darcey Promises She Will Not Sponsor Florian
Darcey has been clear that she will never sponsor Florian. The 44-year-old has reiterated that she has no doubts on her sister's Fiance, despite Florian being her sister's man for over four years. In a statement released via Instagram, Darcey revealed that Stacey has been asking for her help in sponsoring Florian to relocate to the United States. However, she does not intend to help the two until she is sure that Florian can take care of Stacey and her two children. Seemingly, Darcey does not trust Florian's capability as a husband and a father figure. Darcey Silva added that her sister must figure out how she will help Florian on her own.