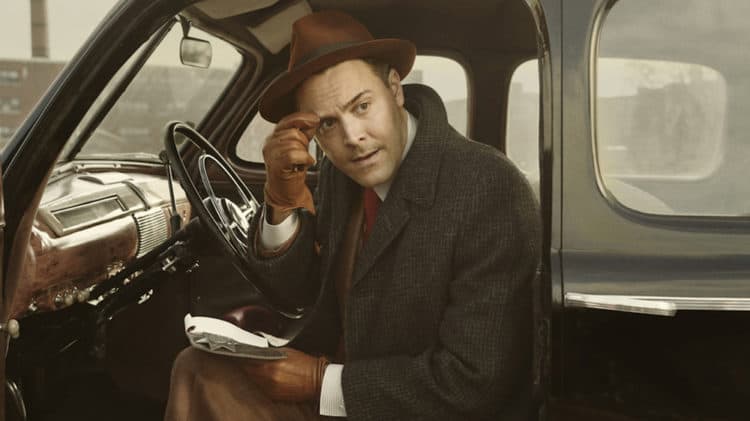 Jack Huston has all of the makings of a Hollywood star; he's good looking, talented, and charismatic. In the more than 15 years since making his on screen debut Jake has become well-known all over the world. He currently has nearly 50 acting credits to his name and the list is only going to continue to grow. Some of his most popular roles include playing Jamie Dalton in Eastwick and Richard Harrow in Boardwalk Empire. Most recently, Jack joined the cast of the anthology series Fargo and the project has earned him even more recognition. Whether you're a long time fan of his or are just getting acquainted, you probably have some great memories of his work. Keep reading to learn 10 things you didn't know about Jack Huston.
1. He Comes From Very Well-Known Roots
In most families, having just one person reach celebrity status is a big deal, but in Jack's family it's actually quite common. On his father's side, he comes from a long line of people who have found success in the entertainment industry. His mother's side of the family descends from British aristocracy. One of his ancestors, Robert Walpole, was the first Prime Minister of England.
2. He Was Born And Raised In England
Although Jack's father is American, Jack was born and raised in England which is also where he got his start as an actor. Once he realized that he wanted to pursue acting on a professional level, he decided to relocate to the Los Angeles area to access more opportunities.
3. His Role On Boardwalk Empire Holds A Special Place In His Heart
Most actors have at least one role that they'll always cherish, and for Jack Huston, that role is Richard Harrow. He told Brief Take, "When you are lucky enough to play a character that you truly love, for four or five years, it's one of the most special things for an actor to do because you get to not just play a character, but that character begins to sort of live inside you."
4. He's A Painter
Acting isn't the only art form that Jack is passionate about (and good at). He also loves the visual arts and he enjoys painting in his free time. He has shared several of his pieces on Instagram but it's unclear whether or not any of them have ever been for sale. Jake also an interest in photography.
5. He Didn't Attend Acting School
Jack's acting education was a little bit different from some of his colleagues. He attended Hurtwood House, a school which is heavily focused on providing an education in drama, however, he never actually attended acting school. Fortunately for Jack, things ended up working out in his favorite regardless.
6. He Loves Going To The Movies
There are lots of actors out there who don't enjoy watching TV or movies in their free time because it reminds them too much of being at work. That isn't Jack, though. During his interview with Brief Take he referred to himself as "a cinema guy" and shared that he loves going to the movies.
7. He Didn't Know His Character Was Being Killed Off Boardwalk Empire Ahead Of Time
Most actors are given a decent heads up when production is planning on writing their character out of a show. In Jack's cast on Boardwalk Empire, however, he didn't know that his character was going to be killed off until the day of the episode. Although he was sad to be leaving the show, Jack told Rolling Stone that he was very thankful for the opportunity to be a part of the series.
8. He Has Spoken Out Against Racism
Throughout his career Jack has built a large fan base that includes people from all over the world, and he has used his platform to show his support for causes that are important to him. He has shared several posts on social media showing his solidarity with the fight to end racism.
9. He Likes To Travel
There are so many things to see in the world Jack hopes to see as many of them as possible. He loves traveling and having new experiences and his career has allowed him to do a lot of it. He has visited several countries over the years including Barbados, Brazil, and Italy.
10. He Is An Advocate For Lung Cancer Awareness
Jack has a personal relationship with lung cancer. His grandfather passed away from long disease and his mentor, Peter Blythe, died of lung cancer. These two tragedies have resulted him becoming an advocate for lung cancer research and he partnered with Bristol-Myers Squibb on a campaign for lung cancer awareness.
Tell us what's wrong with this post? How could we improve it? :)
Let us improve this post!