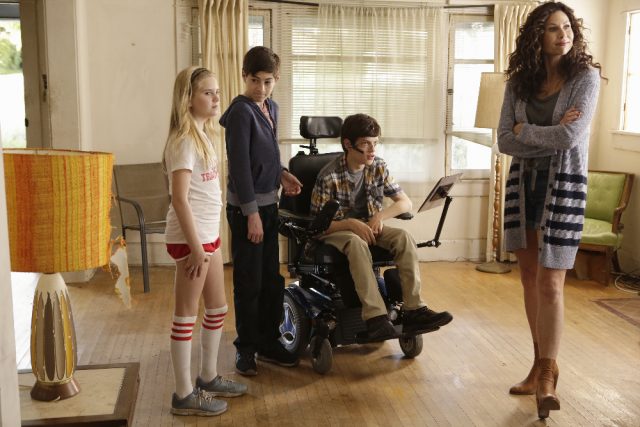 Over the past few years, ABC has become the home of television's best family comedies. From Modern Family to Fresh Off the Boat to black-ish, the network has never shied away from delivering fun, authentic, and unique family sitcoms, which is why it should be no surprise that ABC's latest offering, Speechless, is one of the best new shows of the fall. Without ever feeling saccharine, Speechless crafts a wacky family of individuals, specifically Minnie Driver's determined mom, Maya, and her son, J.J., who has cerebral palsy, and delivers more than a few heartwarming moments throughout "Pilot."
Similar to black-ish and Fresh Off the Boat, what makes Speechless feel so fresh and vibrant is that it sheds light on a minority group that deserves to have its story told. As someone who has individuals with specials needs in his family and who has worked multiple jobs focused on assisting people who are both mentally and physically disabled, I can't fully express how grateful I am that a series like Speechless exists. ABC is providing the show's writers and performers not just with a platform to provide more awareness for special needs individuals but, more importantly, an avenue to explore these people and their families' stories.
And while it would be so easy for Speechless to become overly sentimental or preachy, the series is able to achieve a solid balance between the heartfelt and hilarious throughout "Pilot." J.J. never appears or feels any "less than" compared to his two siblings; in fact, he constantly pokes fun at them and other people around them, such as the first aid he's given, who quits as quickly as she can because she can't deal with his foul mouth, edgy sense of humor, and the craziness that he and his family bring with them. Also, the show smartly gives J.J.'s younger brother, Ray, the main conflict of the premiere, as he struggles (like J.J. but in a different way) to also find his voice when standing up to their mom and expressing how he can often feel neglected when Maya puts so much focus on what J.J. wants and needs.
However, not everything works perfectly in "Pilot." Both Dylan and Jimmy need to become more defined characters (right now, all we know is that she's competitive, and he's goofy), but that can easily happen over the next few episodes. Also, Ray's romance with his astronomy club crush happens a little too fast for my liking. We don't even witness her asking him to the fair, and then he kisses her at the fair, despite the fact that she has a boyfriend–it's all a little rushed, and it feels like a couple of story beats were skipped over in order to keep the pilot within its 22-minute running time.
Mainly, though, what I don't want to see from Speechless every week is an ending scene like the one we get in "Pilot," with J.J. ruling the crowd from the stage as they applaud for him. It works here because he's only using them for their over-the-top sense of tolerance (I love Kenneth's comment about how they were during Black History Month) so that Ray can escape the wrath of his crush's boyfriend, but it could quickly become too sweet and sentimental if Speechless tries to do something like this every week. From the brief moments we get with Kenneth and J.J. together, though, this isn't a major worry for me; I can't see the two of them, with their similar senses of humor, ever letting the show feel too schmaltzy.
Minor nitpicks aside, Speechless' series premiere is a strong opening half hour for the comedy. Most of the jokes land (everything that came out of the overly respectful teacher's mouth was gold), the performances are uniformly excellent (especially Minnie Driver as Maya and Cedric Yarbrough as Kenneth), and the heartwarming moments (such as Maya's ferris wheel apology to Ray) hit. I'm not sure if Speechless will be a series that I'll review every week, but it's definitely one that I'll be tuning into every single Wednesday night.
While both J.J. and Ray spend most of "Pilot" struggling to find their voices, Speechless is able to demonstrate its own unique voice from the pilot's very first scene. I can't wait to see how that voice develops and strengthens throughout the show's first season.
What did you think of Speechless? Could this be ABC's new breakout comedy? Comment below and let me know.
[Photo credit: Nicole Wilder/ABC]
Speechless Season 1 Episode 1 Review: "Pilot"
Summary
ABC delivers another winning family comedy with the stellar series premiere of Speechless.