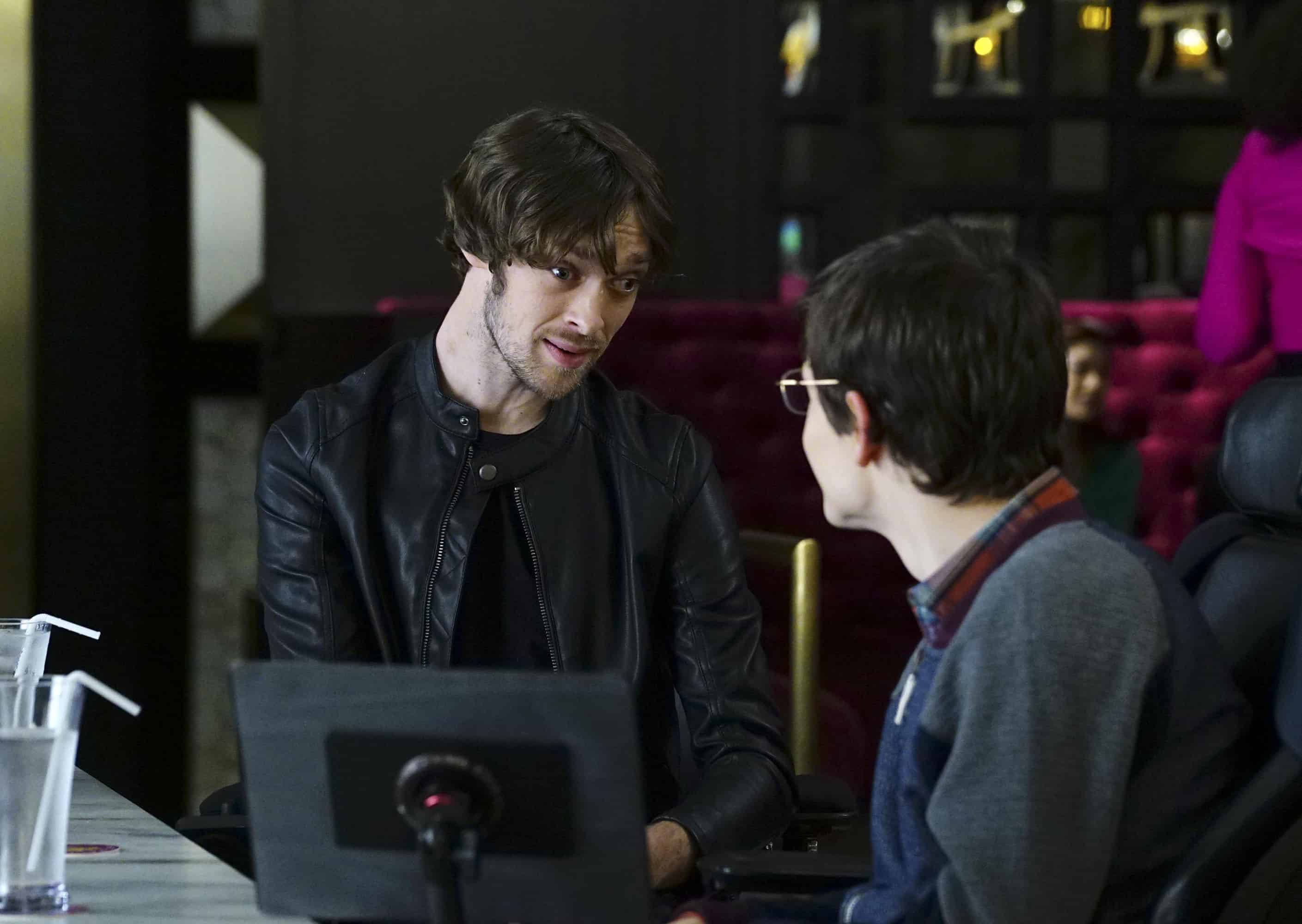 On this Week's Episode of Speechless:
Mya helps JJ run away, Dylan helps Kenneth find his old self and Ray and Jimmy spend time together.

This Week's Episode opens where the last episode left off, with JJ showing up at Kenneth's house and telling him they need to talk. After Kenneth carries JJ and his chair up the stairs to his apartment, JJ tells Kenneth he wants to live with him.
JJ overheard Mya asking Dylan and Ray who was going to take care of him when her and Jimmy are gone. He feels like they are making decisions about his future without him. Kenneth tells JJ he can't let him run away and has to take him back.

Meanwhile, at the DiMeo house, in the middle of Jimmy and Mya's conversation with Ray and Dylan about who will take care of JJ, Mya gets a call from Kenneth telling her that JJ is at his house and he is bringing him home but tells her not to "DiMeo" the situation when they get there.

While Mya steps away to talk to Kenneth, Ray starts to ask Jimmy another question about JJ. Jimmy not being good at dealing with emotional things avoids the question and takes Ray and Dylan to the Steakhouse they have been wanting to go to for months instead.

When Kenneth and JJ get there Mya apologizes to JJ for everyone making decisions about his future without him there. Then she ends up " DiMeoing" the situation by saying that since they hurt JJ, they will hurt by eating the Carolina Reaper pepper the hottest pepper known to man. When JJ leaves they don't end up eating them and Ray accidentally touches his eyes which causes them to burn.

Mya goes to find JJ and says they just wanted to show him how sorry they all feel. When JJ starts yelling at Mya she calls Jimmy in to read it because she says she can't yell at herself. Jimmy has Dylan come read for him when JJ starts yelling at him. JJ says they think he is a burden and a hot potato to pass around and he tells Kenneth he's mad at him for bringing him home.

When Mya and Jimmy find out that the reason JJ was at Kenneth's house was because he was running away, they become upset with Kenneth for bringing him home. They said JJ has the right to run away just like anyone else. So Mya decides to help JJ run away.
While Mya is helping JJ pack to run away, Dylan and Ray come up with a plan to bring up talking about emotional things wIth Jimmy in order to get things they want. While packing Mya asks JJ why he is running away? He says it's because he wants to see what he can do alone.

When Mya tells JJ he will be alone with her, he tells Mya she can't do everything for him. Which makes Mya upset and he agrees to run away with her but he tells her they get to go wherever he wants.
Ray and Dylan go to Jimmy and tell him they want to talk about emotional stuff. In order to avoid the conversation Jimmy gives Ray and Dylan his credit card to buy the video game they want. He let's them drink pop, sleep on the roof and let's Dylan swear,

While getting ready to leave to run away JJ tells Mya that Kenneth used to be a flamboyant college basketball star. Dylan overhears this and gets super excited. While riding around deciding where he wants to run away to JJ sees a Casino and decides that's where he wants to go. In order to get JJ in the Casino Mya tells the Security Guard they are married. Meanwhile, Dylan tries to help bring out the competitive champion Kenneth used to be.

Back at the DiMeo's house, Ray says he wants to talk about more emotional heavy stuff in order to get Jimmy to buy him a robe to which Jimmy is confused, as to why out of all the things he could ask for, he ask for a robe.

Back at the casino JJ and Mya play blackjack. Then JJ tells Mya he wants to go see erotica which Mya can't let him go through with and tells him he wins. She asks him to come home with her and JJ tells her that he does everything with her. When she tells him he can do plenty on his own he ask Mya to name one other person like him who does aside from wheels from Burger King kids Club. JJ asks Mya to understand she can't do everything for him and asks her if she can leave him alone so she does.

Meanwhile, Dylan asks Kenneth to meet her at the basketball court and tells Kenneth she thinks he misses being the Grim Leaper (his nickname in college) and that she was going to dunk on his face until she brings him out.

Kenneth tells her that guy is gone and the guy he is now is much happier and that he doesn't miss his old life at all. Dylan doesn't believe him because he still wears the key to the Corvette he had back then around his neck. She asks if he knows where it is now and he says it's in front of the owners house.

Back at the DiMeo house Ray tells Jimmy that he manipulated him and that it was wrong and that he used him. To which Jimmy replied he used him for something so small and so weird. Ray says he wants the robe because he shares a room and towels and he wants something that will give him privacy. Jimmy says he understands that and he might want to run away from the big problems sometimes but that makes it more satisfying when he can solve one of the little ones.


In the parking lot of the Casino, Mya see a guy named Lee in a wheelchair just like JJ leaving with his girlfriend and who can also drive so she decides to follow them. When she pulls into a parking lot right beside them she tells Lee that he needs to come meet JJ. When Maya goes to introduce herself Lee accidentally shoots her in the chest with his Taser because he has spasms. (spasms are the worst)

When Mya gets back to the Casino JJ apologize for hurting her feelings. She says it's ok and introduces him to Lee. Lee and JJ talk for awhile and he gives JJ his number and tells him he has to make space for himself if he ever wants to live his life.
Meanwhile Dylan and Kenneth steal his old Corvette that he named Sarah J to take it to the car wash and he starts to trash talk Dylan about their basketball game.

Back at the DiMeo house Ray and Jimmy sit in their robes and talk. Jimmy tells Ray he does have trouble talking about the big stuff but from now on maybe they can put on their robes and get real. Ray tells Jimmy that whatever JJ wants or needs he is on it.

At the very end of the episode both Dylan and Kenneth eat a Carolina Reaper pepper and whoever reaches for the milk first loses. (We don't see who loses but I think it's Kenneth) overall I thought this was a really great episode of Speechless.

Speechless Season 1 Episode 20 Review: "R-U-N --RUNAWAY"
Summary
Mya helps JJ run away, Dylan helps Kenneth find his old self and Ray and Jimmy spend time together. On this week's great episode of Speechless.