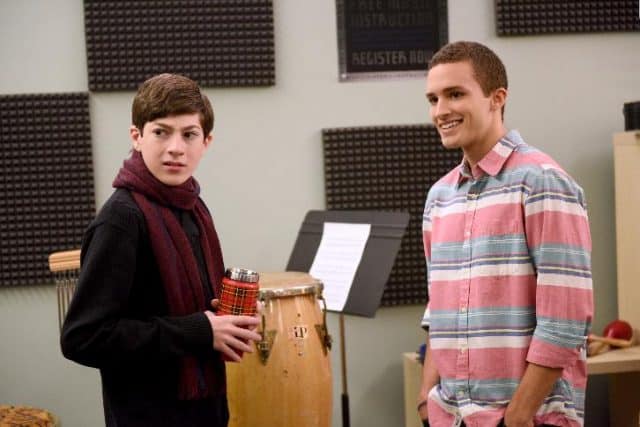 This week's episode of Speechless reminds me of a classic kids game called Whack A Mole, with one problem (or mole) after another popping up that the DiMeos have to face.
The episode opens with Maya buying a Christmas tree and feeling in the Christmas spirit for the first time ever, but that feeling doesn't last long before the first problem (or mole) pops up. While she is in Dylan's track team parent meeting the van gets "stolen" with all the Christmas presents inside.
Meanwhile Ray decides to join the school choir because he needs extracurriculars for college, but things don't go as he planned. When JJ joins the school choir too the new choir teacher (played by Julianne Hough) gives the solo that once belonged to him to JJ instead.
The second problem (or mole) that pops up is that Jimmy has to drive JJ's power chair to the school and when he gets there it dies. (this part of the storyline I actually really liked because I am in a wheelchair myself and there have been a few occasions when my mom or dad has had to drive my chair).
The third and final problem (or mole) of this episode occurs when Maya tells Dylan she will be there to see her race. When Maya goes back to the mall to try and replace the presents that were "stolen" she finds out that not only are all of her cards declined but Jimmy tells her that the insurance company will only pay out two hundred and fifty dollars. And to top it all off Maya can't remember where she parked the car which causes them to miss Dylan's race.
Lastly, Ray confronts JJ about the fact that he took his solo, which causes JJ to start to have a change of heart. The next night at the Christmas concert no one is really in the Christmas spirit anymore, but that all changes when they find out the school took up a collection to buy them a new van. That act of kindness inspires JJ to give Ray his solo back, but Ray says it would be better as a duet and they do it together (which I thought was a really sweet moment).
At the end of the episode we find out the van wasn't stolen after all but in fact rolled down a hill and was hidden behind trees. Overall, I think this was an okay episode it had its funny moments but I know Speechless can do better.
[Photo via ABC]
Speechless Season 1 Episode 10 Review: CHO-CHOIR
Summary
JJ and Ray join the school choir. JJ's wheelchair van goes missing in the Speechless midseason finale.