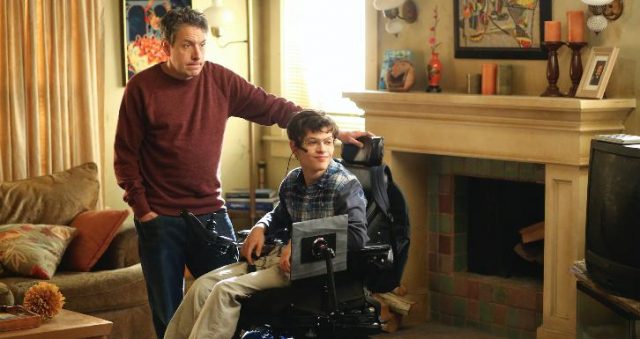 On this week's episode of Speechless Kenneth unintentionally makes Mya sick, Jimmy becomes Mr. Mom and Dylan goes to class with JJ.

When Kenneth makes Mya sick Jimmy takes over her daily duties, like getting the kids breakfast and helping out with the carpool lane. Meanwhile, Dylan helps JJ while Kenneth is sick and gets a crush on one of JJ's classmates, which causes her to change and start wearing makeup.
Jimmy starts to become cocky because he thinks what Mya does everyday is so easy. He tells the kids to use the code of silence and not say anything because he doesn't want Mya to feel bad. When JJ breaks the code of silence because he is a terrible liar, Mya shows Jimmy the actual list of things she does on a daily basis. This causes Jimmy to feel useless to his family. Also JJ fires Dylan from helping him in order to protect her from his classmate that he knows is a jerk.

When Jimmy becomes sick and everyone starts to fight with each other he realizes how important he is because he knows what to do to calm everyone down. To help calm Mya down he puts ice cream into a no fat frozen yogurt container. To help calm Dylan down he makes up a physical activity that it would be hard to do 300 of, for JJ he played light jazz, and for Ray he says something factually wrong so he can talk to him. (I thought this scene was really sweet because he knew what each individual person needed.)

At the end of the episode the whole family and Kenneth comes together to help Ray with the science project he's been working on the whole episode. At Ray's Science Fair Dylan realizes how much of a jerk JJ's classmate is and that JJ was just trying to protect her. JJ tells her that he may not be able to beat anyone up for her or drive her places but he will protect her his own way.

Overall I thought this week's episode of Speechless was really good and I'm excited to see what the show does next.

Other thoughts:

I really loved that Kenneth gave Mya a makeover and I thought it was nice of him to help everyone when they were sick.

Speechless Season 1 Episode 13 Review "S-I--SICK D-A--DAY
Summary
Jimmy becomes Mr. Mom and Dylan goes to class with JJ in this weeks episode of Speechless.