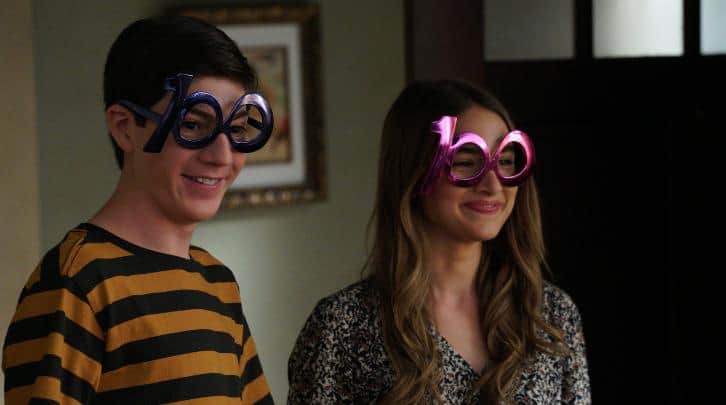 On this Week's Episode of Speechless Ray starts a fake Charity for JJ to impress Taylor. Jimmy learns how to be the boss at work and Dylan realizes how much she enjoys having Kenneth around.
The Episode opens with Ray having a family meeting and telling everyone to get their insults and embarrassing stories about him out of the way before Taylor comes over to celebrate their One Hundredth Day Anniversary. As everyone is talking and Ray is telling embarrassing stories about himself Taylor walks in which freaks Ray out. Whatever Taylor might have heard doesn't phase her and she wishes Ray a happy One Hundred Day Anniversary.
The promotion at work has Jimmy so tired that Dylan is pushing him around in one of JJ's wheelchairs. In the kitchen, Taylor talks to Ray about how their families are so similar. Both their Mom's help their Special Needs Mom friends and how both her and Ray are devoted to their brothers.
When JJ comes into the kitchen Ray tries to hug him to show Taylor how much he cares for JJ, but JJ runs him over with his wheelchair. Ray calls JJ a jerk, which upsets Taylor. Ray quickly lies and tells her it's just something they say to each other in his family and he calls Dylan a Jerk when she comes in the kitchen.
When Taylor says it seems they're not in sync on everything Ray freaks out thinking she is breaking up with him. She tells him that she's not and all she is saying is that they have some differences, which freaks Ray out even more. So when Taylor says she started a 5k Charity run for her brother Ray lies and says he started a charity for JJ called JJ's Dream.
Meanwhile, at work, Jimmy's employees are too busy playing luggage golf to do their jobs leaving Jimmy to do everything by himself. Maya shows up at the airport to surprise Jimmy with lunch when she sees Jimmy is the one doing all of the work. She tells him that he is the boss and needs to be more commanding and to imagine he is her when they are at the hospital with JJ. Maya tells him to try it and it works.
Back at the DiMeo house, Dylan is annoyed with Kenneth for always being in her space. When Dylan finds Kenneth eating the meat she was saving, she tells him the summer was great because he wasn't around and now everywhere she turns there he is.
Next, when Taylor Searches for JJ's Dream on the Internet and can't find anything she asks Ray about it. He tells her that they don't have an online presence and he was waiting for the right time to tell her that JJ's dream is dead. When she asks if there is anything she can do for him he asks for water. While she is getting Ray's water she runs into JJ and tells him she heard about JJ's dream and he has no idea what she is talking about but quickly realizes Ray lied to her. When Ray comes into the kitchen JJ makes up a story about their being a Fundraiser on Saturday and invites Taylor to come.
Kenneth tells Dylan how his Aunt Martha was always in his space growing up so from now on she won't see him in the house again because he doesn't want to be her Aunt Martha, then he disappears.
At work, Jimmy calls Maya because the employee they call Undercover Boss is too busy playing luggage golf again to do any work, so with Maya on the phone he starts to take charge again and ends up firing Undercover Boss, which makes all the other employees go back to work.
Ray goes to the Ashcroft to look at a room for the fundraiser but is shocked when he sees the cost. Meanwhile, Dylan tries to catch Kenneth lying about her not seeing him in the house when she hears him talking in the kitchen to JJ but when she walks in he is not there.
When Jimmy comes home from work he tells Maya that everyone is doing their jobs but they are all afraid of him and that there is no fun in that. He says that he tried to be her but he's not and Maya tells him he has to find a way to be the boss and be himself.
Ray stays up all night worrying about what he is going to do about the Fundraiser. When he gets up to make tea he smells a gas leak, which gives him an idea. (Nobody seems all that worried that gas is leaking in the house and did they ever get it fixed?)
Ray calls another family meeting and tells everyone about the lie he made up about JJ's Dream and when he and Taylor show up at the Fundraiser he will get a text on his phone that there is a gas leak and the Fundraiser is canceled. The rest of the family just has to show up and be disappointed. When the family won't help Ray pull off his plan he leaves upset but after he is gone JJ has a change of heart and says they should help him,
At work, Jimmy plays a round of luggage golf to get the employee he fired, Joe (Undercover Boss) back and he wins. Back at the DiMeo house, Dylan realizes that she misses having Kenneth around. Later that night just as Ray is about to fake getting the gas leak text Maya and Jimmy comes in. When Ray and Taylor walk into the ballroom it's filled with people, which makes Ray faint. When Ray asks who all the people are Maya and Jimmy tells him that they are people from Maya's Special Needs Moms phone tree and also people who are in a twelve-step program.
Dylan tells Kenneth that she didn't realize how fun he is and that she wants him to come back and he says he will. Maya gives Ray a fake award and in his speech he thanks, Taylor, and his family. He decides that he is going to do JJ's Dream for real and when Taylor asks what does JJ's Dream do JJ tells her they build playgrounds for kids of all abilities to play together.
Overall I think this was a really sweet Episode.