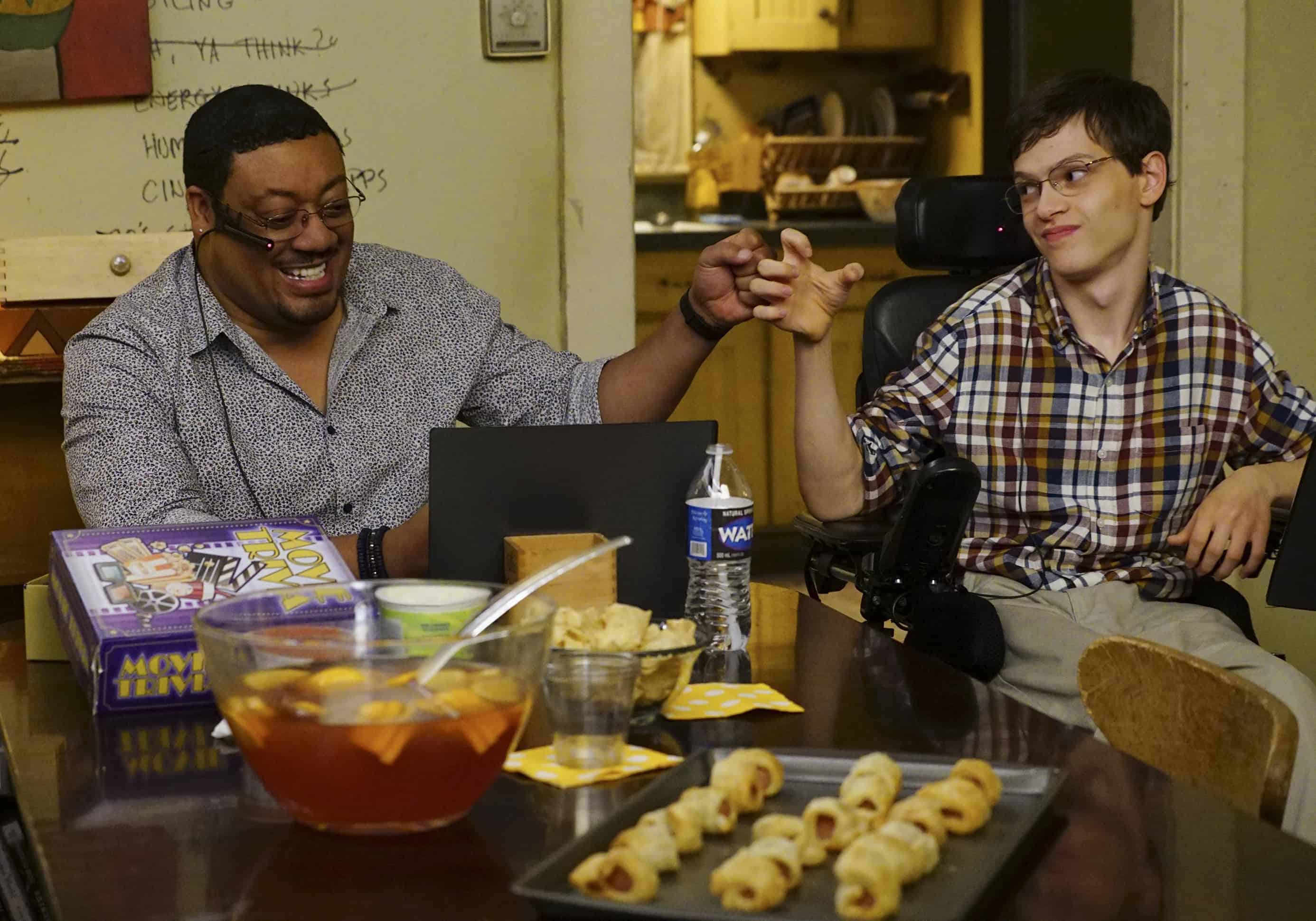 On this Week's Episode of Speechless: Mya's Oscar party doesn't go as planned and her support group adds a new member.

At the beginning of the episode everyone is looking for Mya's keys but it isn't until Ray retraces her steps that they find them. Mya's Special Needs Moms support group adds a new member named Becca. When she shows up and looks so put together it surprises Mya and the rest of the group.
When the Moms show up to the party on Sunday they are wearing makeup and their eye brows are done. When Mya ask if it's because of Becca they say yes, which causes her to undo all of the cleaning up the family did before people arrived.

When JJ and Kenneth play Movie Trivia he realizes he needs to make it fair for JJ so he uses a laser pointer and board too. When the rest of the kids at the party want to play Kenneth finds a way to make it inclusive for everybody. (Which I think was really nice)

At first Jimmy didn't want to hangout with the other Dads because they always do what they're told by their wives. He soon realizes he can use that to his advantage. He uses the dads to do things for him around the house by telling them their wives want them to do it.

Ray meets a girl named Zelda at the party and he pretends to be someone he's not to impress her. When the cable goes out and Mya's idea of watching the Oscars on her phone and relaying it to everybody doesn't work out so well, Jimmy asks her if she wants to cancel the party. She says no because the Moms need the party to prove that the way they live their lives is nothing to apologize for.
When everybody brings cups to the potluck Becca suggest they all go to her house to get food and come back. When Mya sees how put together Becca's house is and the Moms wonder why their houses can't look like that, Mya becomes even more annoyed with her.

Jimmy finds out that one of the Dads has interest in the same music as he does and he comes clean. He tells them that their wives didn't ask them to do all the different projects around his house he did. This leads to him having a support group of his own where they talk about the things they want to do for themselves.

JJ and another kid get into an argument while playing trivia and say they want to fight, Kenneth tries come up with a way for them to fight fairly.
Mya says that they can all go back to her house but all the Moms want to stay at Becca's house. Mya says that she doesn't like how Becca makes her or the other Moms feel like they are doing something wrong. But she finally loses it When Becca gives Dylan a French braid.
The other Moms make Mya apologize for upsetting Becca. Mya tells Becca that she thought she was judging her and thought she was better than her. Becca says that she was judging Mya and she does think she is better than her. This makes Mya really upset so she starts opening all of Becca's containers which causes Becca to freak out because she likes order. This causes the food fight with the vacuum sealed food.

Meanwhile, Ray takes Zelda to his school to show her around (It's nighttime how did they get in in the first place.) When Ray breaks a window to prove he is fun and Free-spirited, Zelda runs off and leaves him.
Dylan plays mediator between her Mom and Becca. After talking it out Mya and Becca become friends. At the end of the episode, back at Mya's house the dads are doing all the things they said they wanted to do for themselves, Kenneth figured out a way for everyone to fight fairly and gets caught by the Moms and Zelda kisses Ray goodbye.
Overall I think this weeks Episode of Speechless was really strange. Becca was really annoying and Rays storyline felt unnecessary
Speechless Season 1 Episode 16 Review: "O-S--OSCAR P-A--Party"
Summary
On this weeks odd episode of Speechless Mya's Oscar party doesn't go as planned and her support group adds a new member.