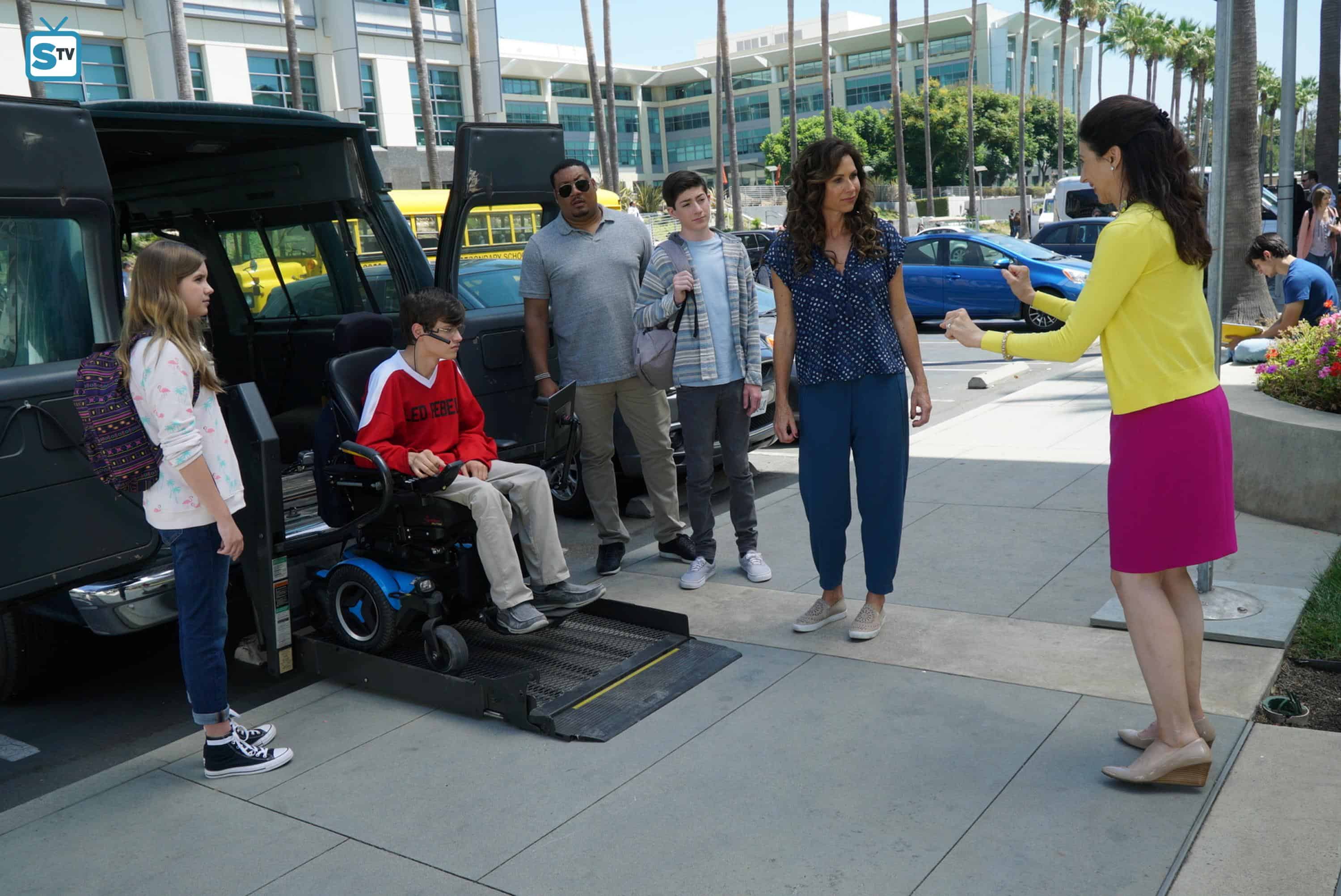 On this Week's Episode of Speechless, Ray, JJ, and Dylan go back to school, while Maya mentors the new special needs families who come to Lafayette, and Jimmy can't wait to take an uninterrupted shower.
The episode opens with Maya being excited about the kids first second, first day of school (the kids first time having a first day of school at the same school.) Jimmy wants to hurry and get them out the door so he can finally have the uninterrupted shower he has waited all summer for.
When they arrive at school Principal Miller greets them and says she wants to show them something. She introduces them to all of the Special Needs Families that are going to be enrolling at Lafayette because of Maya interrupting a special education panel that she was at and talking about how great Lafayette's Disability Program was.
Meanwhile, Dylan is asked to give a tour of the school to a new student but quickly realizes she doesn't know where anything is because she is so used to changing schools and did not think she would be back at Lafayette. JJ decides to take Spanish instead of German when he sees how much Kenneth likes the Spanish teacher Mrs. Moreno.
Jimmy decides to go for a run so that he can get dirty for his uninterrupted shower. While back at the school, Maya is talking with the newly enrolled Special Needs Families and tells them to not just take what Lafayette offers them and not to be afraid to ask for big things.
When Maya goes to see Principal Miller to thank her for introducing her to the new families Principal Miller is shocked because she is used to Maya coming in and yelling at her when she visits, but the good visit doesn't last long when Principal Miller tells her that the families request to the district were rejected. Maya leaves and comes back for a "new visit" (I thought this scene was so funny) and starts yelling at Principal Miller about going over her head to the District, which principal Miller agrees she should do.
Back at the DiMeo's house Jimmy just starts to take his shower when the water cuts of because Dylan is outside playing with the hose. Meanwhile, at school JJ tells Kenneth he signed up for Spanish because he wants to be Kenneth's wingman with Mrs. Moreno.
Next, Maya interrupts a District Meeting to fight for the other Special Needs Families request that got denied. When the Board finds out that JJ receives more then what they set aside for him Maya quickly says it was just a test and leaves.
While Jimmy is at the mall looking at things for his shower he sees Dylan out of school again.
While they are at school, JJ and Ray go through the pictures on Kenneth's phone and see that he's been dating which upsets JJ because Kenneth has been lying to him.
Maya meets with the families and tells them they should start out by asking the school for smaller things first. When the families ask her if the school won't be providing them with aide's Maya says she will figure something out.
When Jimmy finds Dylan in her room he says he doesn't know what is going on with her but she is going to school period. Dylan says she can do that and then goes to a random Catholic School because she didn't say which school she was going to.
When she gets into the car with Jimmy she explains to him that she doesn't have any friends because she didn't bother getting to know anyone because she thought they would just be moving again. Jimmy tells her to let people in and Dylan makes him promise her that they will be sticking around this time.
JJ tells Kenneth that he saw his pictures and asks him why he lied about dating. Kenneth says that he should not have lied but he likes to keep that part of his life private. JJ says that's not fair because Kenneth can have boundaries with him but he cant have boundaries with Kenneth so Kenneth agrees to be open and honest with him.
At the DiMeo house Maya brings up the idea of changing schools so that the other families can stay at Lafayette and have everything that they got, but Jimmy keeps his promise to Dylan and says no because the kids need stability. So Maya goes to principal Miller and asks her for help which takes her by surprise.
Kenneth and JJ go to see Mrs. Moreno and Kenneth tells her how he feels about her but when she says she doesn't feel the same way Kenneth plays it off as if he was talking for JJ and JJ play's along.
Back in Principal Miller's office, Maya comes up with a plan to get aides for the other families when Principal Miller says she no room in the budget to hire new people and she has to pay people who do nothing. Maya decides to take the people who do nothing and train them to be aides. Next Dylan decides to take Jimmy's advice and let people in. At the very end of the episode, Jimmy goes back to the mall looking for things for his shower.
Overall I think the shower storyline with Jimmy was completely unnecessary but other than that it was a great episode.
Speechless Season 2 Episode 2 Review: "F-I--FIRST S-E--SECOND F--FIRST DAY"
Summary
On this Week's great Episode of Speechless, Ray, JJ, and Dylan go back to school, while Maya mentors the new special needs families who come to Lafayette, and Jimmy can't wait to take an uninterrupted shower.