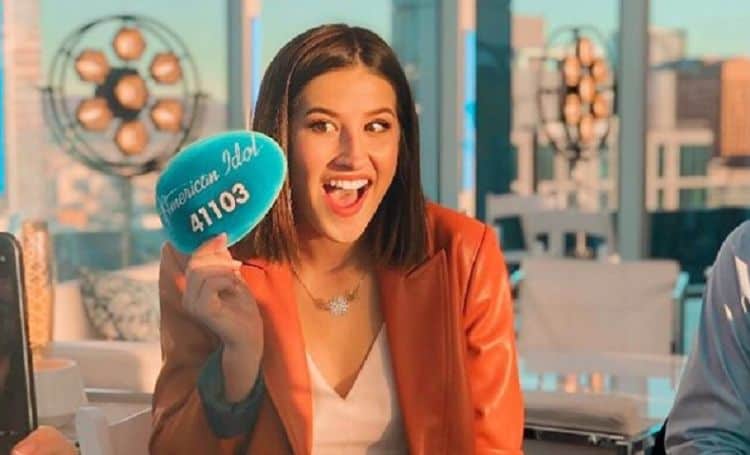 American Idol's 18th season is officially in full swing and several contestants have already stole viewers hearts. Among them is California-based singer, Sophia Wackerman. Judges are impressed wit her vocal ability and many viewers are already projecting she'll be one of the top singers in the contest. Singing may be the most important skill on American Idol, but anyone whose ever seen the show knows that the contestants' stories often make for equally as entertaining TV. Viewers tend to feel more invested in the singers who have the most intriguing stories. Luckily for Sophia, her story is equally as impressive as her voice. Here are 10 things you didn't know about Sophia Wackerman
1. She Goes to UCLA
Sophia Wackerman may be on her way to becoming the next American Idol, but before coming on the show she was just a regular college student. Sophia attends UCLA where she studies global jazz studies. If things don't work out an Idol, Sophia will have her studies to fall back on.
2. She's A Vocal Coach
In addition to being a college student, Sophia Wackerman also works as a vocal coach. Out of all the traditional jobs college students typically have, this one definitely gives Sophia a leg up in the cool department. According to her LinkedIn profile, she's been a vocal coach in the Long Beach area since 2017.
3. She Was Born In Australia
Sophia Wackerman called California home, but she was actually born in Australia. She moves to the United States with her family when she was 4-years-old. Even though she's spent the majority of her life in the states, she still reps Australia and is proud to be from there.
4. She Comes From A Family Of Musicians
Sophia's musical talent didn't just start with her. It's something she inherited from both of her parents. Sophia's mother was a professional singer who worked with Neil Sedaka, The Moody Blues, and others. Her father, Chad Ackerman, is a professional drummer who has worked with well-known acts such as Zappa. Sophia's uncle, Brooks Wackerman is also a professional drummer and songwriter who has worked with heavy metal bands like Bad Religion.
5. Her Mother Passed Away When Sophia Was A Teenager
Sadly, Sophia's mother, Noami Star, passed away in 2016 after battling cancer. Naomi and Chad Wackerman met in 1985 when Chad was on tour. When her mother passed awayThere's no doubt that Sophia wishes her mom was around to witness all of her latest accomplishments, but her mother would certainly be proud of how far Sophia has come. The young singer is already considered a fan favorite and may have a legitimate shot at winning the competition.
6. She Was A Member Of A Championship Choir In High School
Competition isn't usually a word that comes to mind when people think of singing, but shows like American Idol prove that vocal contests can be just as fierce as any other. Fortunately for Sophia, she already has some experience singing at a competitive level. She was a member of the championship show choir while a student at Los Alamitos High School.
7. She Supports Women's Rights
Don't let Sophia's age fool you. Even though she's young, she already knows what she believes in and she isn't afraid to get behind causes she thinks are important. Sophia is a strong supporter of women's rights. She even attended the Women's March in Los Angeles with some of her friends.
8. She Writes And Records Her Own Original Songs
A big part of American Idol involves singers being able to perform covers of other artists' songs. However, Sophia can do much more than that. She is also a talented songwriter who has already written and recorded some of her own work. She released her first original single "Stop Your Lying" in 2019.
9. She Has Diverse Taste In Music
Sophia Wackerman considers herself a fan of a variety of music types. Jazz may be her favorite, but she's also in to rock, soul, and pop. Being familiar with different styles of music is one way to get a leg up on the competition in American Idol. It'll be cool to see how she combines her favorite styles into her performances.
10. She Used To Work At An Ice Cream Shop
Before becoming a vocal coach, Sophia Wackerman worked at a local ice cream shop. It's not entirely clear what she did there, but she more than likely scooped lots of ice cream. Working in any kind of retail environment can downright suck, but  having ice cream around instantly makes it better.