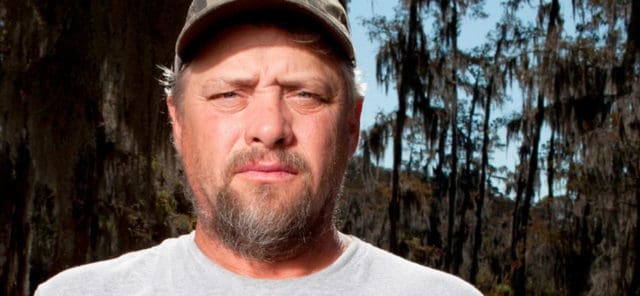 There seems to be an onslaught of what we now know as "reality shows" on TV. While reality footage had been sporadically distributed on TV and the Big Screen over the years, it had not been a part of seasonal TV programming. For the most part, all of that changed with the arrival of the "Survival" franchise. Since then, we have seen everything from Mob Wives to House Wives, and everything in between. The show Swamp People is simply another installment of reality TV – or is it?
While there are other people in the Swamp People series, Junior Edwards offers the most unique peak inside of a world that most will never experience up close.
Following are five things that you probably did not know about Junior Edwards.
1. Junior And His Son, Willie, Are Much Closer Than They Appear
For those who have watched the show for at least one season, it is easy to get the impression that Junior can't stand Willie. Heck, all he does is yell at the kid from dawn to dusk. To really get an understanding of the love that is shared between the two, you must first be willing to observe the behavior of Willie. Despite all of the yelling and screaming that Willie encounters from his dad, he is immensely loyal – never speaking ill of him. This loyalty is not misplaced. It is that he understands his father and why he so demanding, and the very fact that Junior is that invested in him reveals the primary force moving the relationship – love.
2. Junior Is Willing to Go the Distance
While Junior does much of what the other alligator hunters do on the show, such as putting in 16 to 18-hour days, hanging the bait at just the right height, and using the smelliest bait possible, he is also willing to some things that the others don't do, and that is to hand throw hooks to catch loose alligators. This is definitely more dangerous, but it produces results.
3. Unlike the Other Hunters on the Show, Junior is a Professional Fisherman
While the other hunters will move on to other things once the season is over – for the purpose of making ends meet – Junior will be fishing and hunting wild game all year long. Whatever is in season at a given time will pop up on his radar. The volatility in the fish market in this particular region makes this fact even more impressive. It has to be for the love of it.
4. Junior and Willie Were Not Fired for Asking for More Money
Contrary to popular opinion, Junior and Willie insist that they were not fired due their demands for more money. In fact, they have been on a rather intense campaign to make their version of what went down known to the public, showing up for multiple TV interviews. While Junior will not identify the source, he claims that it is a particular family in the swamps that started these rumors.
5. Junior & Willie are Worth $500,000
According to several sources, the net worth of Junior and Willie Edwards is estimated to be $500k. While there is no breakdown as to how that $500k is split between the two, it does provide some insight into why there may have been some issues with the amount that they were being paid by the History Channel. The truth is that there are many who wish they had a net worth of $500k, but for several seasons of a show that was pretty hot, they may have fallen a little short. I guess that is in the eye of the beholder.
Tell us what's wrong with this post? How could we improve it? :)
Let us improve this post!