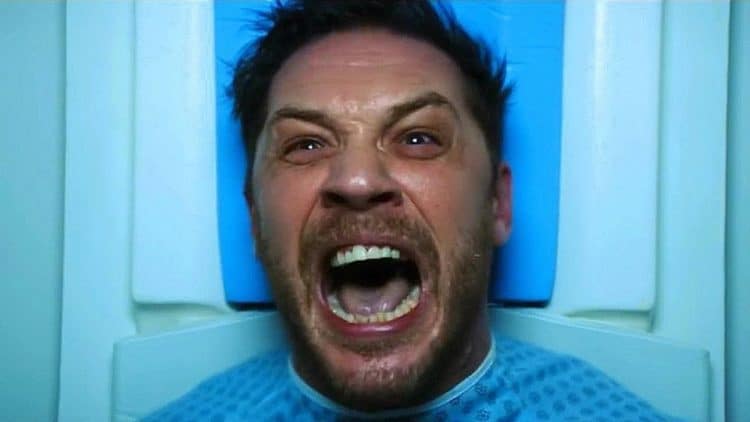 If you were to ask me who is in the top ten best actors of this generation, Tom Hardy would be on that list. The man just has that killer tough guy swagger and the natural ability to play the most intimidating characters. From the Kray twins in 2015's Legend, to the rogue soldier/MMA fighter Tommy Riordan from 2011's Warrior, and to the beefy prison brawler Charles Bronson in 2008's Bronson, Tom Hardy is one of those actors who is just a wizard at playing tough characters in more serious movies. How has he not won an Oscar yet? I have no idea, but he will in the near-future. The last time he was actually nominated for an Oscar was back when he played the treacherous John Fitzgerald in 2015's The Revenant alongside Leonardo DiCaprio. What a performance that was. I smell an Oscar his way soon. So he can play some seriously dramatic and physically challenging roles, but what about what many actors shoot for nowadays? Of course, I'm referring to the great comic book roles that they can stick with for many years. Oh, but Tom Hardy was already in one comic book movie role as the famous Batman villain Bane in 2012's The Dark Knight Rises. That is one of his best roles to date, especially if you take into account the crazy amount of physical work he put into the role. Packing on that much muscle to take on Christian Bale's Batman means serious commitment from his part.
Bane is a popular Tom Hardy role, given that it's a DC role. But what can be cooler for an actor to play a DC character? What else? They get to play a DC and a Marvel character. And as of 2018, Tom Hardy has the unique privilege of playing a DC and Marvel character and on top of that, his Marvel role is bigger than his DC role. If you're a fan of Spider-Man (who isn't?) then you probably watched Tom Hardy play one of Spidey's biggest enemies, Eddie Brock, or the first Venom. I mean, there were very many people who watched that movie, and it made over the billion dollar mark because of it. And some skeptics said the movie would never work because Spider-Man wasn't in it. Okay, I had my doubts, but the fact that it went past the billion dollar mark was just awesome.
So where does that leave Tom Hardy's future as Venom from there? Well, in about two weeks, Venom will be fighting Carnage, a live-action debut we have long-awaited to see. And what happens after that? Oh, I think we already know. It hasn't been confirmed yet, but we Marvel fans know what's coming. If Venom is going to keep appearing in movies, then he's going to have to meet his biggest enemy eventually. A Spider-Man and Venom showdown is something we need, especially since Tom Hardy is the new Venom and here to stay. Okay, as much as we all hate to remember it, the live-action battle between Spider-Man and Venom already happened. And as we all recall, it was very, very disappointing. I mean, come on, can Topher Grace really light a candle to Tom Hardy and his Venom. Not in the slightest. Now just imagine this new and improved Venom fighting Tom Holland's Spider-Man. Tom Hardy certainly has and he wants it to happen as much as we do. The question is when and where?
Well, if you've seen Tom Hardy's social media lately, you might have spotted something that would raise an eyebrow or two. What you'll see is the man himself wearing a Cobra Kai T-shirt, which is cool enough, but the real eye-popper was his hat with the Spider-Man: No Way Home logo on it. Now hold on, let's not get ahead of ourselves just yet. This could be just Tom Hardy deliberately leading us on for a laugh, but then again, Sony actually had this post taken down. Okay, now that makes us curious. Based on the rumors about what Venom: Let There be Carnage leads into, it's not too crazy to say that Tom Hardy just might appear in Spider-Man: No Way Home. Now I originally had a theory that Venom appearing in No Way Home would make things too crowded. We've seen how that played out in Sony's favor before and it didn't work out too well. After this post, however, I am more convinced that Tom Hardy can make an appearance, but I still think he won't have a major role. If anything, he'll be in a post-credits scene. We now know that Marvel has introduced the Multiverse into their cinematic universe.
No Way Home will bring in some other Marvel characters from separate cinematic universes and they're all Spider-Man-related. If we're getting multiple Spider-Man villains from past movies, not to mention the past Spider-Men, I'm sure Tom Hardy's Venom won't be too far behind. Now I don't see his Venom and Tom Holland's Spider-Man fighting just yet. I'm more excited to see Venom: Let There be Carnage now just to see that post-credits scene. Will Venom crossover into the MCU by crossing into a portal? That seems very cliche, but I'm sure Marvel will think of some creative way to make this crossover happen.
Does this post really mean anything? I would say that it does. Tom Hardy has become one of Hollywood's biggest names, not to mention that he's making it big with Marvel and Sony now. How can they possibly pass up the opportunity to redo the Spider-Man vs. Venom showdown? The answer is they won't. I'm super stoked for Tom Hardy and his symbiote partner to kill it in future Marvel movies. Maybe they can also redo the black suited-Spider-Man storyline? Oh, I do believe they can give it another shot. They can be enemies or they can be partners, but either way, I think we Marvel nuts just want to see Tom Hardy's Venom and Tom Holland's Spider-Man interact on the big-screen once again. Just properly, this time around.